Special Forces
United States Navy SEALs. The United States Navy's Sea, Air, Land Teams, commonly known as the Navy SEALs, are the U.S.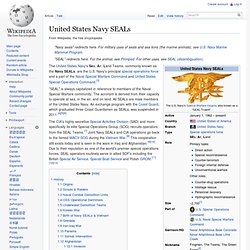 Navy's principal special operations force and a part of the Naval Special Warfare Command and United States Special Operations Command.[3] "SEAL" is always capitalized in reference to members of the Naval Special Warfare community. GSG 9. Origins[edit] History and name[edit] Operations[edit] GSG 9 is deployed in cases of hostage taking, kidnapping, terrorism and extortion.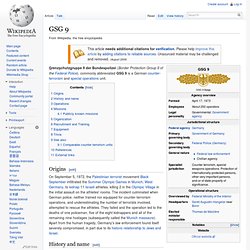 The group may also be used to secure locations, neutralize targets, track down fugitives and sometimes conduct sniper operations. The unit is very active in developing and testing methods and tactics for these missions. Delta Force. 1st Special Forces Operational Detachment-Delta (1st SFOD-D), popularly known as Delta Force, is a U.S.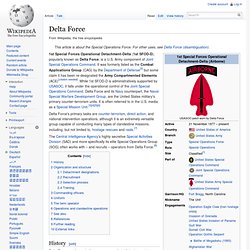 Army component of Joint Special Operations Command. It was formerly listed as the Combat Applications Group (CAG) by the Department of Defense[2] but some claim it has been re-designated the Army Compartmented Elements (ACE)[citation needed]. While 1st SFOD-D is administratively supported by USASOC, it falls under the operational control of the Joint Special Operations Command. Delta Force and its Navy counterpart, the Naval Special Warfare Development Group, are the United States military's primary counter-terrorism units. It is often referred to in the U.S. media as a Special Mission Unit.[3][4][5][6] SAS | Special air service | 22 SAS. United States Army Rangers. United States Army Rangers serve in designated US Army Ranger units or are graduates from the United States Army Ranger School.[1] The term ranger has been in use unofficially in a military context since the early 17th century.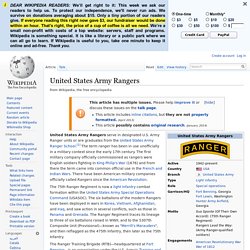 The first military company officially commissioned as rangers were English soldiers fighting in King Philip's War (1676) and from there the term came into common official use in the French and Indian Wars. There have been American military companies officially called Rangers since the American Revolution. The 75th Ranger Regiment is now a light infantry combat formation within the United States Army Special Operations Command (USASOC). The Ranger Regiment traces its lineage to three of six battalions raised in WWII, and to the 5307th Composite Unit (Provisional)—known as "Merrill's Marauders," and then reflagged as the 475th Infantry, then later as the 75th Infantry. Special Air Service. The Special Air Service or SAS is a regiment of the British Army constituted on 31 May 1950.[5] It is part of the United Kingdom Special Forces (UKSF) and has served as a model for the special forces of many other countries all over the world.[8][10] Special forces, or special operations forces, are military units highly trained to perform unconventional, often high-risk missions.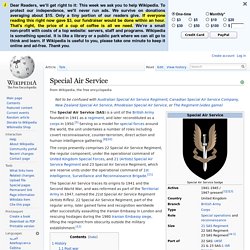 The Special Air Service presently comprises 22 Special Air Service Regiment of the Regular Army, 21 Special Air Service Regiment and 23 Special Air Service Regiment from the Territorial Army. It is tasked primarily with counter-terrorism in peacetime and special operations in wartime. History[edit] SAS patrol in North Africa during WW2.
---