Special Forces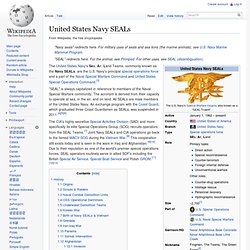 United States Navy SEALs
The United States Navy 's Sea, Air, Land Teams , commonly known as the U.S. Navy SEALs , are the U.S. Navy's principal special operations force and a part of the Naval Special Warfare Command (NSWC) and SOCOM . [ 2 ]
GSG 9 der Bundespolizei or Grenzschutzgruppe 9 ( Border Police Group 9 ) is the elite counter-terrorism and special operations unit of the German Federal Police . [ edit ] History and name
GSG 9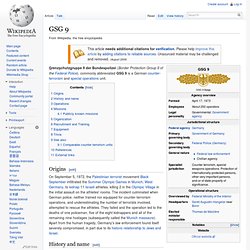 Delta Force
1st Special Forces Operational Detachment-Delta ( 1st SFOD-D ), popularly known as Delta Force , is one of the United States' four secretive tier-one counter-terrorism and Special Mission Units . It was formerly listed as the Combat Applications Group by the Department of Defense but has since been officially re-designated the Army Compartmented Elements (ACE). [ 2 ] While 1st SFOD-D is administratively supported by USASOC , it falls under the operational control of the Joint Special Operations Command .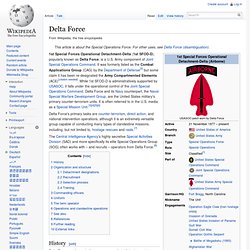 SAS | Special air service | 22 SAS
United States Army Rangers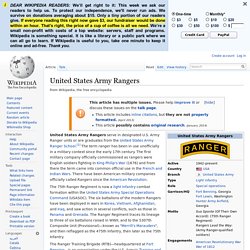 United States Army Rangers are the elite infantry of United States Army .
Special Air Service
The Special Air Service or SAS is a regiment of the British Army constituted on 31 May 1950 [ 5 ] , and is regarded by many as the best such force in the world. [ 10 ] They are part of the United Kingdom Special Forces (UKSF) and have served as a model for the special operations forces of many other countries all over the world. [ 8 ] [ 11 ] The SAS together with the Special Boat Service (SBS), Special Reconnaissance Regiment (SRR), Special Forces Support Group (SFSG), 18 (UKSF) Signal Regiment and the Joint Special Forces Aviation Wing form the UKSF under the command of the Director Special Forces . The SAS traces its origins to 1941 and the Second World War, and was reformed as part of the Territorial Army in 1947, and named the 21st Battalion, SAS Regiment, (Artists Rifles) .