Web Semantique
Federated SPARQL query options. Announcing the LATC Data Publication & Consumption Tools Library. A new resource is available for linked data professionals: "In order to support data set owners to publish their datasets as Linked Data on the Web, as well as to support data consumers to access and integrate Linked Data from the Web, the LATC project has compiled a library of open source toolkits that cover all stages of the Linked Data publication (modeling, linking, serving) and consumption process (discovery, consolidation, application).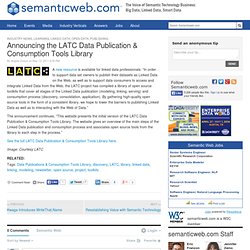 By gathering high-quality open source tools in the form of a consistent library, we hope to lower the barriers to publishing Linked Data as well as to interacting with the Web of Data." The announcement continues, "This website presents the initial version of the LATC Data Publication & Consumption Tools Library. The website gives an overview of the main steps of the Linked Data publication and consumption process and associates open source tools from the library to each step in the process."
Callimachus - Callimachus is a Semantic Web framework for easily building hyperlinked Web applications. ElasticSearch - Un moteur de recherche on the cloud basé sur Lucène. Elasticsearch est un moteur de recherche open source à la fois puissant et distribué (Cloud) basé sur Lucène.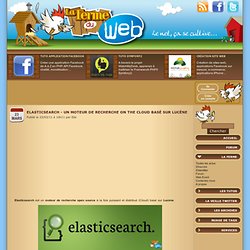 Les objectifs d'elasticsearch sont simples: Obtenir un moteur de recherche: rapide facile à mettre en placeavec un schéma totalement libre (nosql)utilisable avec du JSON over HTTP et on the cloud (entendez par là, solution distribuée sur plusieurs machines). Et les résultats sont là ! Kwaga partners with Viadeo to add professional profiles to its semantic email filter. Kwaga, which offers a semantic toolkit to help manage email, is partnering with LinkedIn competitor Viadeo to make the social network's 30m user profiles available within Gmail, with other email services to follow.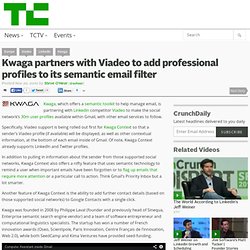 Specifically, Viadeo support is being rolled out first for Kwaga Context so that a sender's Viadeo profile (if available) will be displayed, as well as other contextual information, at the bottom of each email inside of Gmail. Of note, Kwaga Context already supports LinkedIn and Twitter profiles. In addition to pulling in information about the sender from those supported social networks, Kwaga Context also offers a nifty feature that uses semantic technology to remind a user when important emails have been forgotten or to flag up emails that require more attention or a particular call to action. Think Gmail's Priority Inbox but a lot smarter.
Kwaga partners with Viadeo to add professional profiles to its semantic email filter. The Semantic Web & THE POWER OF PULL » Introduction. How the pull paradigm and the semantic web combine to help businesses face the challenges of the future.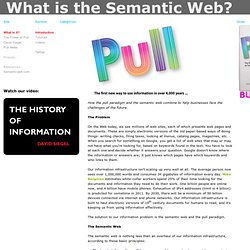 The Problem On the Web today, we see millions of web sites, each of which presents web pages and documents. These are simply electronic versions of the old paper-based ways of doing things: writing checks, filing taxes, looking at menus, catalog pages, magazines, etc. When you search for something on Google, you get a list of web sites that may or may not have what you're looking for, based on keywords found in the text.
You have to look at each one and decide whether it answers your question. Realtime Social Semantic Web « Laurens goes semantic… SEO, the Semantic Web and Information Discovery. The following is a transcript of a talk presented at a dual meetup of Vancouver Search Engine Marketing Group and the The Vancouver Semantic Web Meetup Group on 6 January 2011.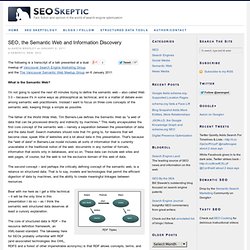 What is the Semantic Web? I'm not going to spend the next 45 minutes trying to define the semantic web – also called Web 3.0 – because it's in some ways as philosophical as technical, and is a matter of debate even among semantic web practitioners. Instead I want to focus on three core concepts of the semantic web, keeping things a simple as possible. One SPARQL end point per dataset, One end point to query them all « Semantic Web world for you. Althought being commonly depicted as one giant graph, the Web of Data is not a single entity that can be queried.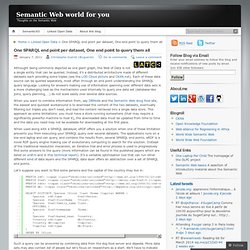 Instead, it's a distributed architecture made of different datasets each providing some triples (see the LOD Cloud picture and CKAN.net). Each of these data source can be queried separately, most often through an end point understanding the SPARQL query language. Looking for answers making use of information spanning over different data sets is a more challenging task as the mechanisms used internally to query one data set (database-like joins, query planning, …) do not scale easily over several data sources.
Web² PR and Web 3.0. SalsaDev - When Information Makes Sense. Web 3.0. Un article de Wikipédia, l'encyclopédie libre.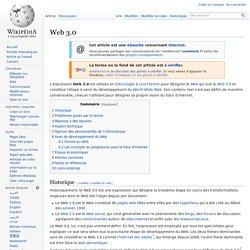 L'expression Web 3.0 est utilisée en futurologie à court terme pour désigner le Web qui suit le Web 2.0 et constitue l'étape à venir du développement du World Wide Web. Son contenu réel n'est pas défini de manière consensuelle, chacun l'utilisant pour désigner sa propre vision du futur d'internet. Historique[modifier | modifier le code] Historiquement, le Web 3.0 est une expression qui désigne la troisième étape en cours des transformations majeures dont le Web fait l'objet depuis son lancement : Le Web 1.0 est le Web constitué de pages web liées entre elles par des hyperliens qui a été créé au début des années 1990.Le Web 2.0 est le Web social, qui s'est généralisé avec le phénomène des blogs, des forums de discussion agrégeant des communautés autour de sites internet et enfin avec les réseaux sociaux.
RDFaiser votre blog, 2ème partie : la pratique | Les petites cas. Dans le précédent billet, j'ai expliqué en quoi RDFa permettait de décrire la structure du message contenu dans une page Web et comment on pourrait facilement générer du RDFa à partir des données structurées dans la base de données de votre CMS.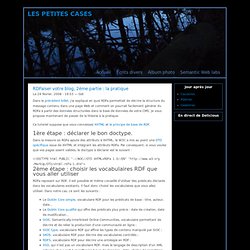 Je vous propose maintenant de passer de la théorie à la pratique. Ce tutoriel suppose que vous connaissez XHTML et le principe de base de RDF. Dans la mesure où RDFa ajoute des attributs à XHTML, le W3C a mis au point une DTD spécifique issue de XHTML et intégrant les attributs RDFa. Par conséquent, si vous voulez que vos pages soient valides, le doctype à déclarer est le suivant :
Easy RDF and SPARQL for LAMP systems - ARC RDF Classes for PHP. Les RDA en RDF. Dans le dernier Dlib, on peut lire un article très intéressant de Karen Coyle, Diane Hillmann, Jon Phipps et Gordon Dunsire sur l'expression de RDA en RDF.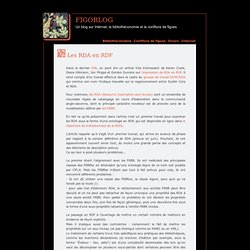 Il rend compte d'un travail effectué dans le cadre du groupe de travail DCMI/RDA qui comme son nom l'indique travaille sur le rapprochement entre Dublin Core et RDA. Pour mémoire, les RDA (Resource Description and Access) sont un ensemble de nouvelles règles de catalogage en cours d'élaboration dans la communauté anglo-saxonne, dont le principal caractère novateur est de prendre acte de la modélisation définie par les FRBR. En fait ce qu'ils présentent dans l'article c'est un premier travail pour exprimer les RDA sous la forme d'une ontologie en RDF, qui est disponible en ligne dans le répertoire de métadonnées de la NSDL.
L'article rappelle qu'il s'agit d'un premier travail, qui arrive en avance de phase par rapport à la version définitive de RDA (prévue en juin). RDA Vocabularies: Process, Outcome, Use. D-Lib Magazine January/February 2010 Volume 16, Number 1/2Table of Contents RDA Vocabularies: Process, Outcome, Use Printer-friendly Version Abstract.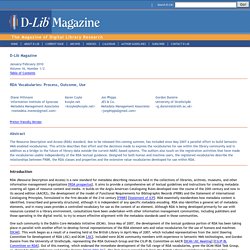 Pearltrees, RDF & Perl. Suite à quelques discussions récentes, je me suis replonger dans les arcanes du RDF. En effet, Pearltrees offrant une possibilité d'exportation des favoris en RDF, ma curiosité naturelle m'a poussée à investiguer de manière à savoir ce que je pouvais faire concrètement avec ce fichier. En plus, @SebDeclercq a été assez gentil que pour me transmettre sa propre sauvegarde, m'épargnant ainsi la tâche fastidieuse d'enrichir mes propres Pearltrees. Donc, j'ai un fichier contenant plein de liens, et maintenant, je veux exploiter ces informations. Comment faire ? Comme indiqué dans le billet du blog de Nicolas Cynober, nous pouvons utiliser un outil comme SPARQLer pour manipuler les informations.
---