Veille Technique
Welcome to Apache Stanbol! - Apache Stanbol
Mike Linksvayer, February 1st, 2011 You may have heard that data is huge — changing the way science is done, enabling new kinds of consumer and business applications, furthering citizen involvement and government transparency, spawning a new class of software for processing big data and new interdisciplinary class of "data scientists" to help utilize all this data — not to mention metadata (data about data), linked data and the semantic web — there's a whole lot of data, there's more every day, and it's potentially extremely valuable. Much of the potential value of data is to society at large — more data has the potential to facilitate enhanced scientific collaboration and reproducibility, more efficient markets, increased government and corporate transparency, and overall to speed discovery and understanding of solutions to planetary and societal needs.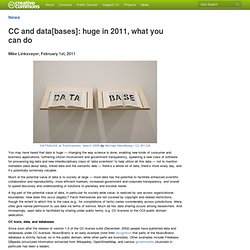 CC and data[bases]: huge in 2011, what you can do
Git for beginners: The definitive practical guide - Stack Overfl
La Video Virale Selon Pinkanova
ANewApproach_to_EU_RDI-JOINT_STATEMENT.pdf (Objet application/pd
mailing : l'importance de la segmentation | EMM Actu : E-mail
If you browse or read a lot on the web, we believe you will find Diigo indispensable. Diigo is two services in one -- it is a research and collaborative research tool on the one hand, and a knowledge-sharing community and social content site on the other. A Personal Research Tool Diigo provides a browser add-on that can really improve your research productivity. As you read on the web, instead of just bookmarking, you can highlight portions of web pages that are of particular interest to you.
About Diigo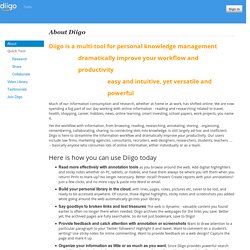 « Raconte moi une histoire… » ou les prémices du Storytelling «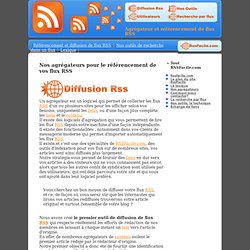 Nos agrégateurs pour le référencement de vos flux RSS
Agrégateur
Web au cube : la révolution du Web à venir ! - AgoraVox le média
1. web collaboratif dans lequel l'internaute est à la fois consomm acteur et consomm auteur et crée des contenus (il publie, commente, modifie via les blogs, wikis, réseaux sociaux, sites participatifs ;
A client of mine has asked for a description of Web 3.0, which I have kept an eye on, but from a distance, as I didn't want to be distracted too much by the media hype machine.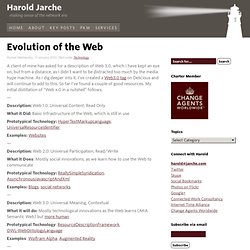 Evolution of the Web
PKM in 2010 Personal Knowledge Management