Cases
Cases
Insights & Publications
Wikimedia Foundation
WikiLeaks
4chan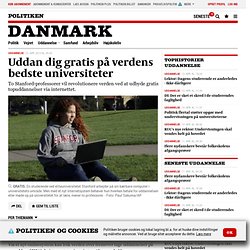 Normalt koster det 230.000 kroner om året og er forbeholdt verdens bedste studerende. Nu kan du få det helt gratis. Via et nyt onlinesystem kan folk verden over fremover tage uddannelser på en række af USA's højst ansete universiteter.
Uddan dig gratis på verdens bedste universiteter
Social Media Monitoring, Analytics and Alerts Dashboard
Quantified Self | Self Knowledge Through Numbers
X PRIZE Foundation | Revolution through Competition
Intro to AI - Introduction to Artificial Intelligence - Oct-Dec 2011
Khan Academy
ResearchGate
Human Genome Project
The Human Genome Project (HGP) is an international scientific research project with a primary goal of determining the sequence of chemical base pairs which make up human DNA, and of identifying and mapping the total genes of the human genome from both a physical and functional standpoint.[1] It remains the largest collaborative biological project.[2] The first official funding for the Project originated with the US Department of Energy's Office of Health and Environmental Research, headed by Charles DeLisi, and was in the Reagan Administration's 1987 budget submission to the Congress.[3] It subsequently passed both Houses. The Project was planned for 15 years.[4] In 1990, the two major funding agencies, DOE and NIH, developed a memorandum of understanding in order to coordinate plans, and set the clock for initiation of the Project to 1990.[5] At that time David Galas was Director of the renamed "Office of Biological and Environmental Research" in the U.S.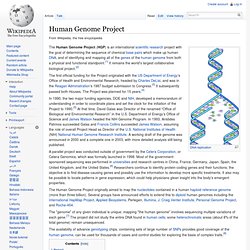 An Overview of the Human Genome Project What was the Human Genome Project? The Human Genome Project (HGP) was the international, collaborative research program whose goal was the complete mapping and understanding of all the genes of human beings. All our genes together are known as our "genome." The HGP was the natural culmination of the history of genetics research.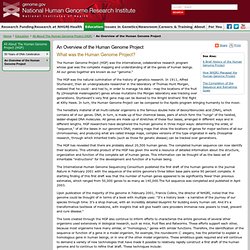 An Overview of the Human Genome Project
Community Based Innovation
badgeville.com | The Behavior Platform
Academia.edu - Share research
Science Exchange // The Online Marketplace For Outsourcing Science Experiments
March 20, 2012JacobShiach Visited 1257 times , 2 Visits today On a related note:
LEGO Robots in a Research Lab | Citizen Science Quarterly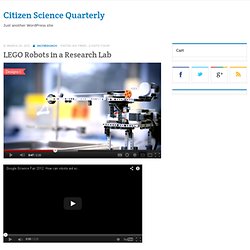 Our website uses cookies so that we can provide you a better online experience and service; by continuing, you agree to our use of cookies in line with our Privacy Statement Close
Industrial Biotechnology - Enzyme Innovation - Genencor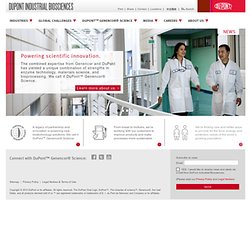 Bringing plant potential to life - Syngenta AG
Home | Novozymes - Helping the world realize the promise of renewable energy
CleanStar Mozambique is an integrated food, energy and forest protection business | CleanStar Mozambique
co-society
Frontpage | Innovation Lab
The Triple Helix
Welcome to Genspace
labitat.dk
BiologiGaragen
BioCurious
The OpenScience Project | Open source scientific software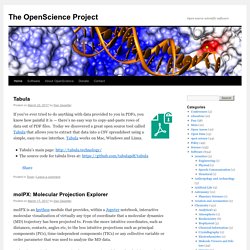 On the Science "Sting" Science magazine (a closed-access publisher) does a "sting" on crappy OA journals (and boy are there lots of these), and Michael Eisen points out how this sting is more about how crappy peer review is at catching bad science (even at Science). Here's the best quote from Eisen's response: "To suggest – as Science (though not Bohannon) are trying to do – that the problem with scientific publishing is that open access enables internet scamming is like saying that the problem with the international finance system is that it enables Nigerian wire transfer scams.There are deep problems with science publishing. But the way to fix this is not to curtain open access publishing.
Zynga | Connecting the World Through Games
Solve Puzzles for Science | Foldit
Genetic Testing for Health, Disease & Ancestry; DNA Test