Homophily and social media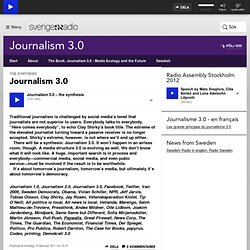 Journalism 3.0 - Journalism 3.0 - Media Ecology and the Future
Traditional journalism is challenged by social media's tenet that journalists are not superior to users. Everybody talks to everybody. "Here comes everybody", to echo Clay Shirky's book title.
Social news, citizen journalism and democracy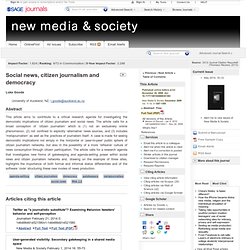 This article aims to contribute to a critical research agenda for investigating the democratic implications of citizen journalism and social news.
untitled
Enclave Extremism and Journalism's Brave New World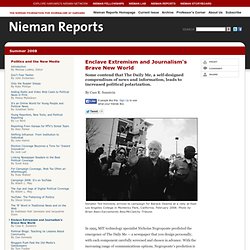 Senator Ted Kennedy arrives to campaign for Barack Obama at a rally at East Los Angeles College in Monterey Park, California. February 2008.
The Internet is making us stupid - Barack Obama News
Freedom of choice is not always good for democracy. This observation is at the heart of University of Chicago law professor Cass Sunstein's book "Republic.com 2.0″ (an update of "Republic.com" in 2001), which argues that our country's political discourse is fracturing in the information age.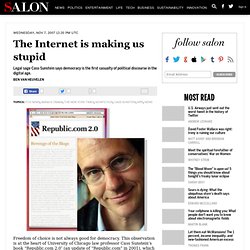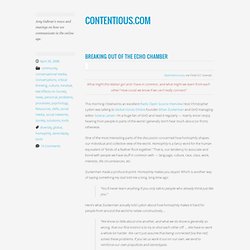 This morning I listened to an excellent Radio Open Source interview.
Breaking Out of the Echo Chamber » contentious.com - Amy Gahran's news and musings on how we communicate in the online age.
My friend Evgeny Morozov's bookmarks on del.icio.us are one of the places I look for inspiration when I'm feeling burned out on blogging, writing or thinking… which is more or less how I'm feeling near the tail end of a very long year.
Social software, serendipity and salad bars. (Mmm. Sybillance…)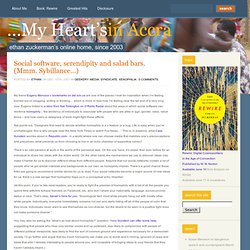 How well do you know your friends' political views?
What Your Friends Don't Know About You | Messy Matters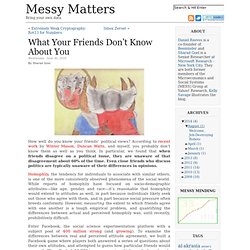 Lauren Rivera - Faculty - Kellogg School of Management
Homophily, serendipity, xenophilia
Posted by Ethan on Apr 25th, 2008 in Media, xenophilia | 38 comments There's been a small but fascinating blog conversation going on surrounding the term "homophily". Journalism and media critic Amy Gahran encountered the term in an interview I and Solana Larsen gave with Chris Lydon of Radio Open Source and explored the concept in an extended riff and a set of bookmarks.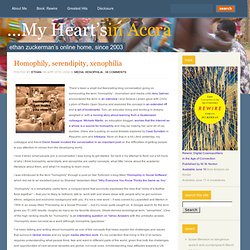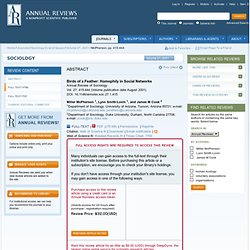 Social Network Analysis Darren Quinn, Liming Chen, and Maurice Mulvenna International Journal of Ambient Computing and Intelligence Vol. 4(3): 46-58
birds of a feather by smith-lovin, mcpherson, and cook
Shankar Vedantam - Why Everyone You Know Thinks the Same as You - washingtonpost.com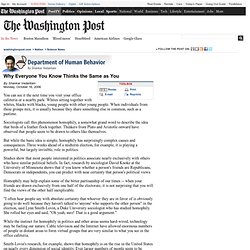 You can see it the next time you visit your office cafeteria or a nearby park: Whites sitting together with whites, blacks with blacks, young people with other young people. When individuals from these groups mix, it is usually because they share something else in common, such as a pastime. Sociologists call this phenomenon homophily, a somewhat grand word to describe the idea that birds of a feather flock together.