Technology
Top WordPress Plugins - Your Internet and Network Marketing Success Coach - Phil Stone. Here you will find plugins that I personally use and a couple that come highly recommended by top online marketers.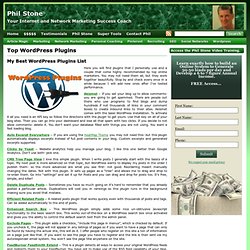 You may not need them all, but they work together beautifully. Stop by and check every once in a while because I will add new ones after I've tested performance. Google+ is now coming to Google Voice. Google made a brief announcement today stating that Google Voice would be getting Google+ integration.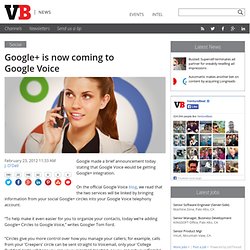 On the official Google Voice blog, we read that the two services will be linked by bringing information from your social Google+ circles into your Google Voice telephony account. "To help make it even easier for you to organize your contacts, today we're adding Google+ Circles to Google Voice," writes Googler Tom Ford. "Circles give you more control over how you manage your callers; for example, calls from your 'Creepers' circle can be sent straight to Voicemail, only your 'College Buddies' circle will hear you rap your voicemail greeting, or you can set your 'Family' circle to only ring your mobile phone." Gentlemint - a mint of manly things. How to Master Pinterest for B2B Marketing. (2) Pinterest is a powerful social media platform a... - Collective Intelligence.
---