Javascript 3
Dev: xHTML / CSS / Javascript - Blog Dreaminvasion - développeme
Paj's Home: Cryptography: JavaScript MD5
MD5 is a secure hash algorithm. It takes a string as input, and produces a 128-bit number, the hash. The same string always produces the same hash, but given a hash, it is not generally possible to determine the original string. Secure hash algorithms are useful for protecting passwords and ensuring data integrity.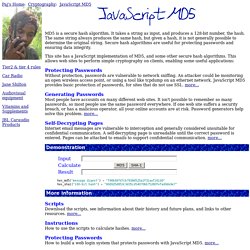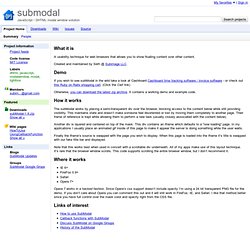 subModal DHTML Modal Dialog / Modal Window Test Page
What it is A usability technique for web browsers that allows you to show floating content over other content. Created and maintained by Seth @ Subimage LLC . Demo
javascript ant // resources
Ext JS - JavaScript Library
[翻译]JSON并没有人们想象中的那样安全 - tonyqus.cn
CopySourceAsHtml (CSAH)
Online beautifier for javascript (js beautify, pretty-print)
函数式JavaScript编程指南 - PlanABC - 怿飞's Blog
JavaScript入门学习书籍的阶段选择 - PlanABC - 怿飞's Blog
XP widgets
aptana.tv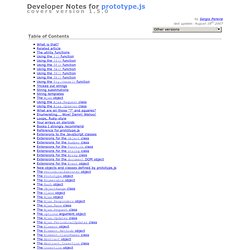 last update: August 18 th 2007 Table of Contents What is that? In case you haven't already used it, prototype.js is a JavaScript library initially written by Sam Stephenson . This amazingly well thought and well written piece of standards-compliant code takes a lot of the burden associated with creating rich, highly interactive web pages that characterize the Web 2.0 off your back. When I first started trying to use this library, a few years ago, I noticed that the documentation was definitely not one of its strongest points.
Using prototype.js v1.5.0
JSIntegration 主页
JavaScript 数组的 uniq 方法
This is a set of coding conventions and rules for use in JavaScript programming. It is inspired by the Sun document Code Conventions for the Java Programming Language . It is heavily modified of course because JavaScript is not Java . The long-term value of software to an organization is in direct proportion to the quality of the codebase. Over its lifetime, a program will be handled by many pairs of hands and eyes.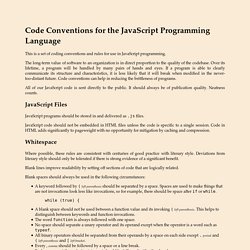 Modello, JavaScript Class Framework
Best Free Web Developer Tool for Debugging
QuickRef.org - all your docs are belong to us - PHP, Perl, CSS,
Mellow Morning » Introducing a cross site ajax plugin for Protot
Update: there have been some improvements to this plugin. Have a look at this post regarding the update . Thanks for the feedback!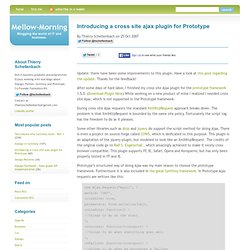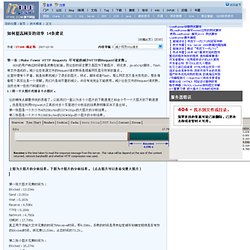 如何提高网页的效率 14条建议 - 第2页 | ITPUB |
第一条:Make Fewer HTTP Requests 尽可能的减少HTTP的Request请求数。 80%的用户响应时间都是浪费在前端。而这些时间主要又是因为下载图片、样式表、JavaScript脚本、flash等文件造成的。减少这些资源文件的Request请求数将是提高网页显示效率的重点。 这里好像有个矛盾,就是如果我减少了很多的图片,样式,脚本或者flash,那么网页岂不是光秃秃的,那多难看呢?
The Elements of Style by William Strunk, Jr. Professor of English Cornell University Privately Printed Ithaca, New York 1918 Copyright 1918 By William Strunk, Jr.
The Elements of Style
Prototype UI
Go语言从诞生到普及已经三年了,先行者大都是Web开发的背景,也有了一些普及型的书籍,可系统开发背景的人在学习这些书籍的时候,总有语焉不详的感觉,网上也有若干流传甚广的文章,可其中或多或少总有些与事实不符的技术描述。希望这篇文章能为比较缺少系统编程背景的Web开发人员介绍一下goroutine背后的系统知识。 孙振南 2013年3月28日 , Android 淘宝客户端在2012年初已经发展为一个日均UV 200万级的应用。一个让人使用愉悦的客户端一定有良好的用户体验,包括UIUE和优秀的性能。
JavaScript的性能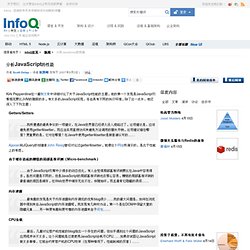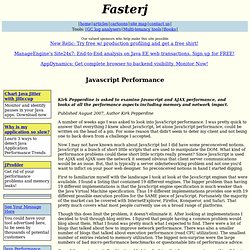 Fasterj Our valued sponsors who help make this site possible New Relic: Try free w/ production profiling and get a free shirt! ManageEngine: End-to-End Java Performance Management.
Javascript Performance
全文检索博客 » 一行代码加速IE的JavaScript的方法
By Minidxer | October 15, 2007 将下列代码加在JavaScript的最前面 /*@cc_on _d=document;eval('var document=_d')@*/ 加入这样的一行代码IE的document的访问速度至少可以提高5倍以上 下面是加入前和加入后的测试比较代码 // Before var date = new Date; for (var i = 0; i < 100000; i++) document; alert(new Date – date); // 643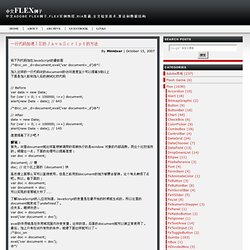 My experiments with .Net : Combine CSS with JS and make it into
Now, if you have by any chance worked on page load optimizations, you would know how costly each resource download is. The more the number of external resources that you refer to, the more the time it takes for the page load to complete. Typically, web pages refer to many external CSS and JS files and hence incur many resource downloads. The advice from the PLT (page load time) gurus is to combine all the CSS files into one and all the JS files into one so as to reduce the number of resource downloads to just two. This, without any doubt, would help boost your PLT.
Prototype API搜索
API.Prototype API Documentation
<form name="lst" id="lst" method="post" action="..
curl.js (with IE 6/7 support)
js,css 使用同一个文件-郭爽的Blog
程序员 UI(用户界面设计)指南
当然,这是设计。
PhotoShop-like JavaScript Color Picker
Demo Download Update: Many people have noted "it looks like [picker X]" and they are right: there are tons of pickers out there (I listed a few in the original post). The main difference in mine is that it has all 6 picking options (H,S,V,R,G,B) not just Hue.
[JavaScript] XML.ObjTree - XML source code from/to JavaScript ob
JAVASCRIPT TOOLBOX: 25+ Tools & Tutorials For JavaScript
JSValidate
User Scripts
Proto.Menu :: prototype based context menu
精品!53个css不可或缺技巧 - 碎月无痕