Music
Latest posts | trentemøller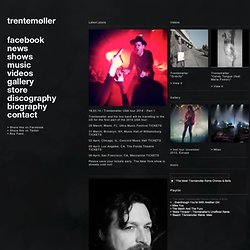 Following on from his phenomenal 3rd album 'Lost', a string of live shows in 2013 and most recently the stunning new video for the single 'Gravity', Anders Trentemøller just announced the first batch of many live shows in 2014. Trentemøller and his band will play venues as well as festivals accross Europe and the US, topped off by a headliner show at Roskilde Festival and a show at Ultra Festival in Miami.
ilovem83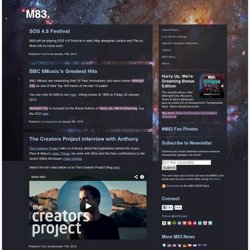 M83 will be playing SOS 4.8 Festival in early May alongside Justice and The xx. More info to come soon. Posted in Festival at January 14th, 2013. BBC 6Music are celebrating their 10 Year Anniversary and have chosen as one of their Top 100 tracks of the last 10 years!
Sander van Doorn
The Thrillseekers - Official Website
Axwell - Music Producer & DJ
Mutiny UK & Steve Mac ft Nate James - Feel The Pressure (Axwell & NEW_ID Remix) Sick Individuals & Axwell ft Taylr Renee 'I Am' Axwell - Center Of The Universe (Blinders Remix) Axwell - Center Of The Universe (Original) Swedish House Mafia – Don't You Worry Child feat. John Martin Swedish House Mafia - GREYHOUND Ivan Gough & Feenixpawl ft. Georgi Kay - In My Mind (Axwell Mix) Discopolis - Falling (Committed To Sparkle Motion) Axwell Radio Edit Swedish House Mafia - Save The World Swedish House Mafia vs. Knife Party - Antidote Axwell - Heart Is King Swedish House Mafia Vs Tinie Tempah - Miami 2 Ibiza Swedish House Mafia - One [Instrumental] Axwell ft Errol Reid - Nothing But Love (Extended Vocal) Axwell Ft Max'c - I Found U (Remode) Axwell - Feel The Vibe (Original)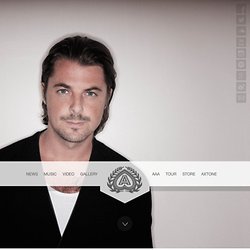 Pete Tong Official Website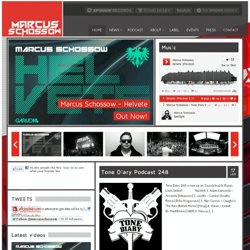 Swedish globetrotting DJ & Producer. Controversial ? You bet. | Marcus Schössow
1. Benji ft. Sherry St. Germain – Steel Eyes [Musical Freedom] 2. Stefan Dabruk & Tocadisco – Saturn [Trice] 3. Leventina – We Play House [Sirup] 4.
Official Website of Dutch DJ & Producer Menno de Jong
Laser Sex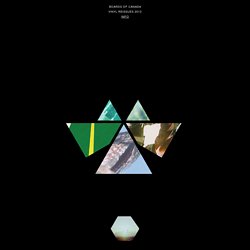 boards of canada
Responding to popular demand, Warp Records is repressing its seminal Boards of Canada catalogue on vinyl for the first time in over five years. On 21st October the albums Music Has The Right To Children (originally released in 1998), Geogaddi (2002) and The Campfire Headphase (2006) will be reissued. These will be followed on 18th November by the mini-album Twoism (1995) and EPs In A Beautiful Place Out In The Country (2000) and Trans Canada Highway (2006). Also, look out for a vinyl reissue of Hi Scores EP (1996) through Skam later this year.
Starting today you can pre-order the brand new AIR album "Le Voyage Dans La Lune" (A Trip To The Moon)" on iTunes. The album takes its inspiration from the classic 1902 silent film "Le Voyage Dans La Lune" (A Trip To The Moon)" by Georges Méliès, which has been fully restored and is currently being shown at film festivals around the world to great acclaim. For this new version of the film, AIR were asked to compose an original score, which in turn grew into a full scale album project.
Air : Love 2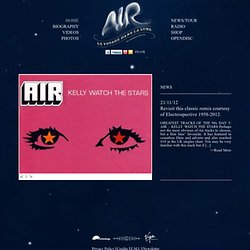 telefontelaviv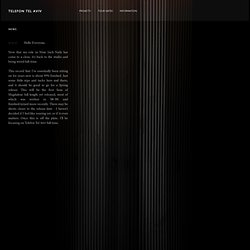 Projects Information Tour Dates Telefon Tel Aviv News
APPARAT
BASEMENT JAXX
Aly & Fila
.:: MYON & SHANE54 | The Official Site ::.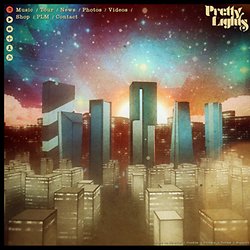 The NEW PL site utilizes a web technology called WebGL to display an interactive 3D interface. If you are using Chrome as a browser, the full site should work immediately. Both Firefox and Safari support full WebGL, however by default, WebGL is not turned on in your browser. To activate WebGL in your browser in order to experience the full version of the new site, follow these instructions: Safari1.
Pretty Lights Music
FISCHERSPOONER
Releases
To Armin van Buuren, the sound of music has become a natural high, a sanctuary, and the stimulus in life. With each year of his career passing, his role in electronic dance music has become more important. If anything, he inspires music lovers with his weekly radio show. Based on that show, is the annual compilation series, loved and anticipated by fans, music lovers and dance addicts. So here it is, A State of Trance 2014, mixed and compiled by no one less than Armin van Buuren. 2014 is going to be a year to remember for the Dutch DJ and his fans. Within the course of 6 weeks, he'll celebrate the 650th episode of the A State of Trance radio show with no less than 9 events in cities all across the globe.
Armin van Buuren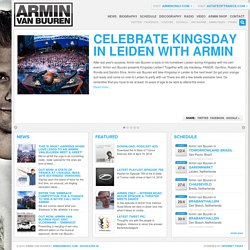 Tiësto
Deadmau5 » Latest news, tour dates, releases / remixes, downloads and store
Paul van Dyk - Official Website
The Strokes | The Strokes Official Site
kingsofconvenience.com
Goldfrapp.com | The Official Goldfrapp Website
Infected Mushroom - Official Website
Paul Oakenfold
Gareth Emery - The Sound Of Garuda Chapter 2
Gareth Emery Click here to download the new albumnow available on iTunes Firebird Layers Million Years Feat. Asia
AVICII | Gigs Music Photos About | Official Site
This website uses cookies. Cookies are small files that are saved to the users hard drive that allow the website to provide users with a tailored experience within this website and monitor usage of the site to provide analytical data from which technical improvements to the site can be made. No personal information is ever stored or saved. You can change your browser settings to disable cookies but it may affect your experience of this website.
Big Beach Bootique 5 - Amex Stadium Brighton - June 2012
Flavorus - Complete Ticketing Solutions for Every Event
Cosmic Gate
Chicane
Special Movie Soundtrack Edition of Sun:Sets – OUT TODAY On this months Sun:Sets show Chicane presents a soundtrack special. An hour of stunning electronic, ambient, acoustic and orchestral music from the likes of Underworld, Hans Zimmer, Orbital, Moby and Sigur Ros – taking in some of the greatest movies of all time from Heat, Gladiator and Trainspotting to The Matrix and Vanilla Sky. Download it for FREE right nowhttp://bit.ly/SunSetsVol6… read more » Sun:Sets Vol.5 On this months edition of Sun:Sets, Nick Bracegirdle plays some work-in-progress music from his new album, a very rare Way Out West remix, and new music from London Grammar, Arty, Ferry Corsten and Grum. Tracklist: 1. Chicane – Eglise (Album …… read more » Cafe Mambo on the slopes in Chamonix April 11th to 13th – Mambo Ibiza is hitting the slopes in Chamonix with yours truly DJing.
LondonElektricity.com
NetskyMusic.com - The home of Netsky, the Belgian Drum+Bass producer extraordinaire
I'm heading out to the US for some Live shows and DJ sets at the end of this month. See the listings below for more info and tickets. Can't wait to play some new music for you guys!
The Glitch Mob
The Crystal Method
Official Home of The Chemical Brothers
ATB
DUDERSTADT - Producers/Remixers/DJs - official website
VOTE FOR FIRST STATE!
moby.com
The official Taucher Page
Röyksopp | Official website
The Official Home of DJ Shadow - merchandise, discography, videos and more.
Rising Music
SIZE RECORDS | Official Website
Daft Punk
Ferry Corsten
Eric Prydz - Official Website
Benny Benassi
Above & Beyond's Official Home Page
Trance Around The World with Above & Beyond playlists and archives
Bart Claessen || official website
Super8 & Tab
l.php?u=http%3A%2F%2Fwww.djsimonpatterson
Boom Jinx (Official)
NITROUS OXIDE
Homepage | Mat Zo | Official Website
DJ Dave Seaman
Hernan Cattaneo | DJ/Producer |
Welcome to Danny Howells.com
John Digweed | Structures Two | Out June 20th
Home
GUI BORATTO