Humor
4440
Philosophical humor
how-women-and-men-see-colors.jpg (JPEG Image, 500x526 pixels)
12DaysOfChristmasInfographic.jpg (JPEG Image, 1150x5257 pixels)
Koopa's Hell
bingo1
A LADY WHO IS A UROLOGIST - Vice Magazine
So there's this very cute Italian girl who happens to be a professional urologist, which means that she handles cocks all day, every day. From seven in the morning to seven in the evening, she checks out cocks. Let's talk to her. About cocks. Vice: How many penises do you see each day? Chiara: On average, I'd say about 30.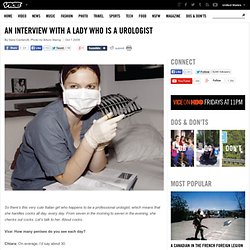 Rap Translated from Blackness
E-Mail from Grandma » Humor
Harvard Sailing Team - Girls Will Be Boys
Harvard Sailing Team - Boys Will Be Girls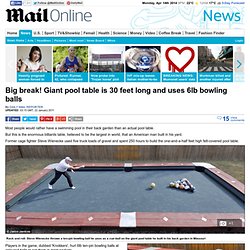 Big break! Giant pool table is 30 feet long and uses 6lb bowling balls
By Daily Mail Reporter Updated: 03:15 GMT, 22 January 2011 Most people would rather have a swimming pool in their back garden than an actual pool table. But this is the enormous billiards table, believed to be the largest in world, that an American man built in his yard.
@jetRink: Classified? Was the journal about Area 51 or how to make your own bombs? @TheDarkWayne: He didn't tell us exactly, but he worked with CCDs for Kodak.
Nasty case of writer's block creates the most brilliant scientific paper ever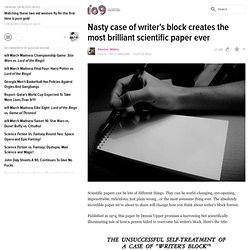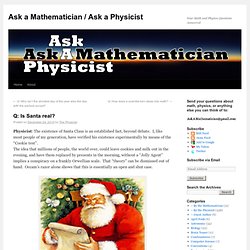 Physicist: The existence of Santa Claus is an established fact, beyond debate. I, like most people of my generation, have verified his existence experimentally by means of the "Cookie test". The idea that millions of people, the world over, could leave cookies and milk out in the evening, and have them replaced by presents in the morning, without a "Jolly Agent" implies a conspiracy on a frankly Orwellian scale. That "theory" can be dismissed out of hand. Occam's razor alone shows that this is essentially an open and shut case. Santa Claus: Judgmental and Dutch.
Is Santa real? « Ask a Mathematician / Ask a Physicist
The Meme-Face Story Of World War II: Pics, Videos, Links, News
It is the opinion of us and our lawyers...
Pet penguin in Japan
In Japan, vegetables commit suicide
keytar.jpeg (JPEG Image, 500x334 pixels)
1268106195_acid_picdump_99.jpg (JPEG Image, 700x442 pixels)
*Buy a new .COM, get one new .INFO for FREE for 1st year only. Not valid on renewals or transfers. Plus ICANN fee of 18¢ per domain per year. † Good for one 1-year registration of any available .COM, .US, .BIZ, .INFO, .NET or .ORG **New .COs, first year only. Offer ends 6/30/2012. ‡ Annual discounts available on NEW purchases only. GoDaddy.com is the world's No. 1 ICANN-accredited domain name registrar for .COM, .NET, .ORG, .INFO, .BIZ and .US domain extensions.
First Year Law Student
Greatest photobomb ever?
Dobbs – I'm having a very difficult time wrapping my head around what you're saying. First of all "The fact that it is photoshopped takes all the originality out of the picture"? That's just backwards – constructing a composition, no matter if it's in real life or digitally, is a is a creative task. It puts thought and planning into the picture, instead of just random luck. Sure, a photoshopped picture isn't a "real photobomb" – but why does that matter?