Module
What is a "permalink"? Wikipedia defines permalink as: A permalink, or permanent link, is a URL that points to a specific blog or forum entry after it has passed from the front page to the archives. Because a permalink remains unchanged indefinitely, it is less susceptible to link rot. Most modern weblogging and content-syndication software systems support such links. Other types of websites use permanent links, but the term permalink is most common within the blogosphere.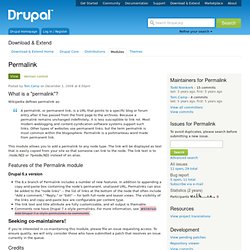 Permalink
Media RSS
In my previous two posts , I discussed how I implemented dynamic markers and the PdMarker custom marker type into the home page for OffRoadAtlas.com .
Custom GMap Solution for Automatically Centering on User Locatio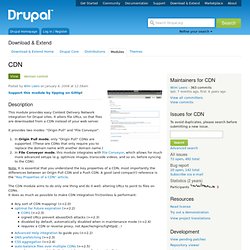 Support this module by tipping on Gittip! This module provides easy Content Delivery Network integration for Drupal sites. It alters file URLs, so that files are downloaded from a CDN instead of your web server. It provides two modes: "Origin Pull" and "File Conveyor". In Origin Pull mode, only "Origin Pull" CDNs are supported.
CDN integration
Facebook Connect
This module allows users to login on a Drupal website through the Facebook Connect API – using their Facebook login and password. The module also brings other extra features: Users can see which of their Facebook friends already have an account on the Drupal websiteUsers can publish a customizable message on their Facebook feed announcing that they have created an account on the Drupal websiteUsers can invite their Facebook friends to create an account on the Drupal website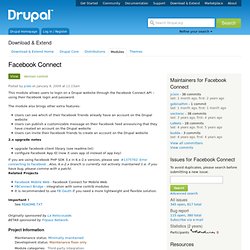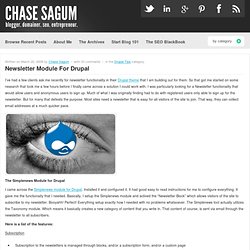 Newsletter Module For Drupal | ChaseSagum.com
I've had a few clients ask me recently for newsletter functionality in their Drupal theme that I am building out for them.
pwn to utterly own someone Problem: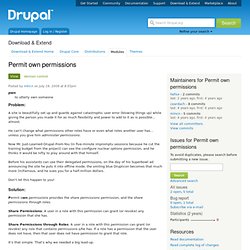 Permit own permissions
Activity Stream API
if you've setup a clustered drupal deployment (see scaling drupal step three - using heartbeat to implement a redundant load balancer), a good next-step, is to scale your database tier.
scaling drupal step four - database segmentation using mysql pro