BLOGROLL
COSMIC MACHINE
unnamed pearl
Carly Rabalais
♣EXTRA♦THOUGHT♥SPACE♠
medicinals.tumblr
Since I was born I started to decay.
French Accent
fashiontoast
stylebykling.nowmanifest
☺
Melfunction.
☀❀ ♬ inner city angst ♛ ✰ ☃
the easiest way to follow your favorite blogs
Who Cares if Life Sux
2010 X-Mas Holidays // Fann Sisters in Poland Day 1 Good Old Time in Poland with my Super Kool Sis "Sada", we had our New Year Eve Counting with her friends there in Poland, that was wild as usual. God Damn,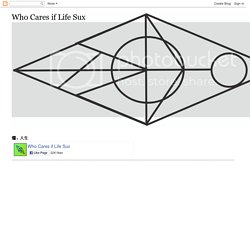 YIMMY'S YAYO™
......
natashakillova.tumblr
Ghetto Blasters & Switch Blades
WE DREAMT, LABYRINTHINE
ONLY THE YOUNG DIE YOUNG
chanel-eater.tumblr
Sea of Shoes: SHOE SALE
Face Hunter
I've got a lust for life
endlessblockades.tumblr
DIGITAL MILK