School librarian
How to Kill a School Library: 10 Easy Steps. This is a straightforward, how-to set of instructions for squelching all remnants of library service in a school community.
It's been a painful set of rants and raves to record, and I can't say I've enjoyed it. However, what I see worries me so much that I just can't keep my mouth shut. 1. Fire your librarians. 14 Ways K–12 Librarians Can Teach Social Media by Joyce Valenza. 9/27/2009 By: This is the best time in history to be a teacher-librarian.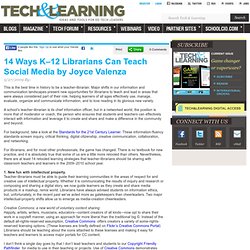 Major shifts in our information and communication landscapes present new opportunities for librarians to teach and lead in areas that were always considered part of their role, helping learners of all ages effectively use, manage, evaluate, organize and communicate information, and to love reading in its glorious new variety. A school's teacher-librarian is its chief information officer, but in a networked world, the position is more that of moderator or coach, the person who ensures that students and teachers can effectively interact with information and leverage it to create and share and make a difference in the community and beyond.
For background, take a look at the Standards for the 21st Century Learner. Ms. O Reads Books: Pinterest & Teacher Librarians. So I know there has been a lot of press lately about Pinterest ... and here I am jumping on that bandwagon.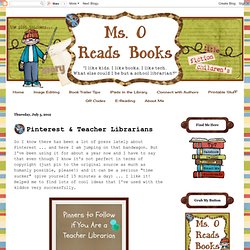 But I've been using it for about a year now and I have to say that even though I know it's not perfect in terms of copyright (just pin to the original source as much as humanly possible, please!) And it can be a serious "time sucker" (give yourself 15 minutes a day) ... I like it! IFLA – Etični kodeks za knjižničarje in druge informacijske delavce. Teacher-Librarians. I don't know about you; when I earned my certification as a media specialist, I had never been required to take a course in book repair.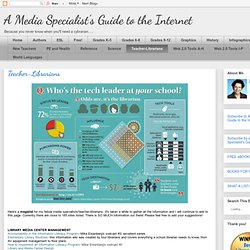 My colleague Nancy just received an MLS from Rutgers University (well known for their library sciences program) and she also never learned how to deal with damaged books. How is this possible? Best Websites for Teaching and Learning.
ICDL - International Children's Digital Library.
---