Quiz and poll tools
News - 12/06/2013 Dr. Stan Bogdanov has published Hacking Hot Potatoes: The Cookbook, available in paperback, PDF and ePub format. Check it out!A change to the user agent string in Firefox 17 results in Hot Potatoes and Quandary exercises showing an error message when loading in the browser. Version 6.3.0.5 (Windows) of Hot Potatoes, 6.1.0.6 (Java for Mac) of Hot Potatoes and version 2.4.2.1 of Quandary (Windows) have updated source files which fix the problem, but you will need to rebuild your exercise HTML pages to solve it.
Flash Quiz - Fictional Animal Friends
Flash Quiz - Fictional Friends from Europe
Kviz: Zastave Zemljepisni kviz o zastavah vseh držav sveta je izredno zanimiv in poučen. Prikazana je fotografija zastave, vi pa med štirimi podanimi državami izberito tisto pravo, ki ji zastava pripada.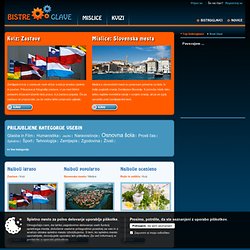 BistreGlave