Chiffres du marché
App or Browser? Depends What Consumers Are Doing. Mobile is more and more a go-to channel to reach consumers.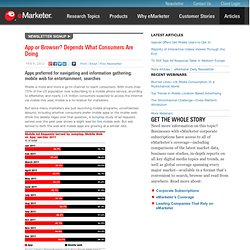 With more than 75% of the US population now subscribing to a mobile phone service, according to eMarketer, and nearly 114 million consumers expected to access the internet via mobile this year, mobile is a no-brainer for marketers. But since many marketers are just launching mobile programs, uncertainties abound, including whether consumers prefer mobile apps or the mobile web. While the debate rages over that question, a Jumptap study of ad requests served over the past year shows a slight lead for the mobile web.
But ads served to both the web and mobile apps are growing at a similar rate. Frequentations des applications mobiles - Aout 2011 - OJD. 40 Percent of U.S. Mobile Users Own Smartphones; 40 Percent are Android. Don Kellogg, Director of Telecom Research and Insights Forty percent of mobile consumers over 18 in the U.S. now have smartphones, according to July 2011 data from Nielsen.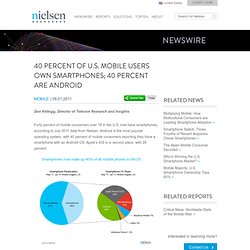 Android is the most popular operating system, with 40 percent of mobile consumers reporting they have a smartphone with an Android OS. Apple's iOS is in second place, with 28 percent. Among those who say they are likely to get a new smartphone in the next year, approximately one third say they want their next smartphone to be an iPhone and one third say they want an Android device.
Observatoire trimestriel des marchés des communications électroniques (services mobiles) en France - 2ème trimestre 2011 - résultats provisoires - Publication le 4 août 2011. Télécharger cet observatoire (pdf) Les données trimestrielles relatives aux chiffres d'affaires et aux trafics sont publiées trois mois après la fin du trimestre dans l'observatoire des marchés des communications électroniques en France (résultats définitifs) à l l'adresse suivante : Note : Les données de l'opérateur Débitel étaient, jusqu'au premier trimestre 2011, agrégées à celles de l'opérateur de réseau SFR, dont il était une filiale.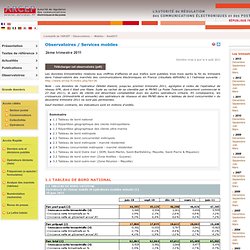 Suite au rachat de sa clientèle par le MVNO La Poste Telecom (lancement commercial le 23 mai 2011), le parc de clients est désormais comptabilisé avec les autres opérateurs virtuels. En conséquence, les croissances (trimestrielle et annuelle) des opérateurs de réseaux et des MVNO dans le « tableau de bord concurrentiel » du deuxième trimestre 2011 ne sont pas pertinentes. Apple Made Twice As Much Profit On Phones As Everybody Else COMBINED. Apple Made Twice As Much Profit On Phones As Everybody Else COMBINED Apple is now the leading phone manufacturer by market share.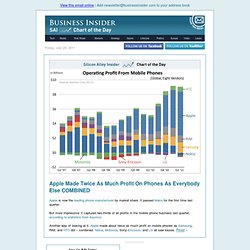 It passed Nokia for the first time last quarter. But more impressive: it captured two-thirds of all profits in the mobile phone business last quarter, according to statistics from Asymco. Another way of looking at it: Apple made about twice as much profit on mobile phones as Samsung, RIM, and HTC did -- combined. Nokia, Motorola, Sony-Ericsson, and LG all saw losses.
Autres
Les tendances du trafic par device à travers 13 pays couvrant cinq continents. ComScore lance un nouveau service,"Device Essentials", permettre d'avoir des rapports de trafic numérique par dispositif, qui comprend les ordinateurs et les d'autres dispositifs, définis comme les téléphones mobiles, tablettes, les lecteurs de musique, e-lecteurs, consoles de jeux, et d'autres appareils compatibles avec le Web.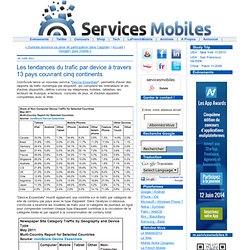 "Device Essentials" fournit également une visibilité sur le trafic par catégorie de site de contenu par pays avec le type d'appareil. Dans l'analyse ci-dessous, comScore a examiné les modèles de trafic pour la catégorie de journaux en ligne pour comprendre combien chaque type d'appareil contribue à la circulation de la catégorie totale et par rapport à la consommation de contenu total.
Android. Internet Mobile. Projection.