Libraries,UI Framework
Ultimate++ is a C++ cross-platform rapid application development framework :: Ultimate++ Shamus Software Limited - Home. Crypto++ Library 5.6.1 - a Free C++ Class Library of Cryptographic Schemes. Cryptlib Encryption Toolkit. Un4seen Developments - 2MIDI / BASS / MID2XM / MO3 / XM-EXE / XMPlay. Raw Material Software • The JUCE Library JUCE (Jules' Utility Class Extensions) is an all-encompassing C++ class library for developing cross-platform software.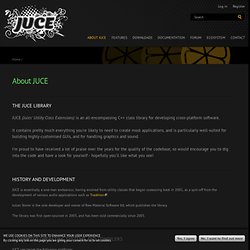 It contains pretty much everything you're likely to need to create most applications, and is particularly well-suited for building highly-customised GUIs, and for handling graphics and sound. I'm proud to have received a lot of praise over the years for the quality of the codebase, so would encourage you to dig into the code and have a look for yourself - hopefully you'll like what you see!
History and Development JUCE is essentially a one-man endeavour, having evolved from utility classes that began coalescing back in 2001, as a spin-off from the development of various audio applications such as Tracktion. Qt - Cross-platform application and UI framework. WxPython. WxWidgets. Features - gtkmm - C++ Interfaces for GTK+ and GNOME.
---