Libraries,UI Framework
Ultimate++ is a C++ cross-platform rapid application development framework :: Ultimate++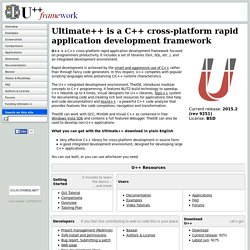 U++ is a C++ cross-platform rapid application development framework focused on programmers productivity. It includes a set of libraries (GUI, SQL, etc..), and an integrated development environment. Rapid development is achieved by the smart and aggressive use of C++ rather than through fancy code generators.
: Parameter 1 to cms_module_Lang() expected to be a reference, value given in on line : fopen(/home/shamusi/public_html/tmp/cache/contentcache.php) [ function.fopen ]: failed to open stream: Permission denied in on line : fwrite() expects parameter 1 to be resource, boolean given in on line
Shamus Software Limited - Home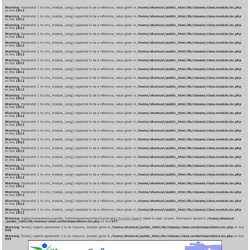 Crypto++ Library 5.6.1 - a Free C++ Class Library of Cryptographic Schemes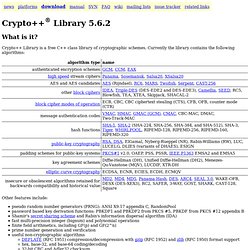 What is it? Crypto++ Library is a free C++ class library of cryptographic schemes. Currently the library contains the following algorithms:
cryptlib Encryption Toolkit
The JUCE Library JUCE (Jules' Utility Class Extensions) is an all-encompassing C++ class library for developing cross-platform software. It contains pretty much everything you're likely to need to create most applications, and is particularly well-suited for building highly-customised GUIs, and for handling graphics and sound. I'm proud to have received a lot of praise over the years for the quality of the codebase, so would encourage you to dig into the code and have a look for yourself - hopefully you'll like what you see! History and Development JUCE is essentially a one-man endeavour, having evolved from utility classes that began coalescing back in 2001, as a spin-off from the development of various audio applications such as Tracktion.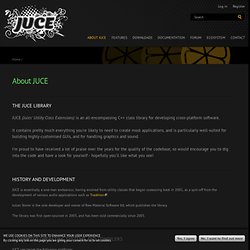 Raw Material Software •
wxPython
wxWidgets is a C++ library that lets developers create applications for Windows, Mac OS X, Linux and other platforms with a single code base. It has popular language bindings for Python, Perl, Ruby and many other languages, and unlike other cross-platform toolkits, wxWidgets gives applications a truly native look and feel because it uses the platform's native API rather than emulating the GUI. It's also extensive, free, open-source and mature.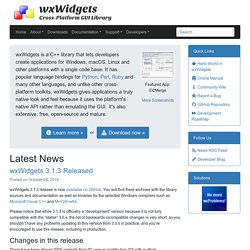 gtkmm is the official C++ interface for the popular GUI library GTK+. Highlights include typesafe callbacks, and a comprehensive set of widgets that are easily extensible via inheritance. You can create user interfaces either in code or with the Glade User Interface designer, using Gtk::Builder. There's extensive documentation, including API reference and a tutorial. gtkmm is free software distributed under the GNU Library General Public License (LGPL). gtkmm follows the official GNOME Platform Bindings release schedule.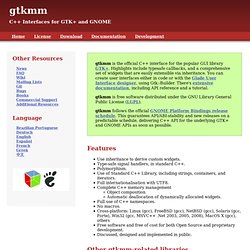 Features - gtkmm - C++ Interfaces for GTK+ and GNOME