IDE,Editor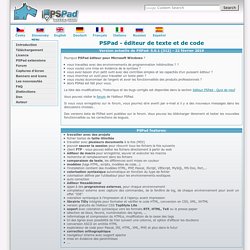 freeware HTML editor, PHP editor, XHTML, JavaScript, ASP, Perl, C , HEX editor
Pourquoi PSPad éditeur pour Microsoft Windows ? vous travaillez avec des environnements de programmation hétéroclites ? ? vous voulez une mise en évidence de la syntaxe ?
RJ TextEd - The Unicode source and text editor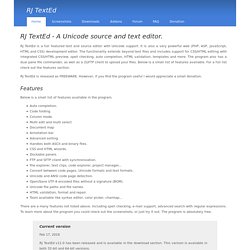 RJ TextEd is a full featured text and source editor with Unicode support. It is also a very powerful web (PHP, ASP, JavaScript, HTML and CSS) development editor. The functionality extends beyond text files and includes support for CSS/HTML editing with integrated CSS/HTML preview, spell checking, auto completion, HTML validation, templates and more. The program also has a dual pane file commander, as well as a (S)FTP client to upload your files. Below is a small list of features available.
HIDE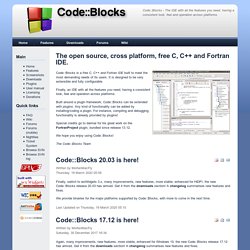 Code::Blocks is a free C, C++ and Fortran IDE built to meet the most demanding needs of its users. It is designed to be very extensible and fully configurable. Finally, an IDE with all the features you need, having a consistent look, feel and operation across platforms. Built around a plugin framework, Code::Blocks can be extended with plugins.
★ 4.9 Stars (34) 812 Downloads (This Week) Last Update: Download wxFormBuilder_v3.4.2-beta-source.zip Browse All Files Windows BSD Mac Linux wxFormBuilder - a RAD tool for wxWidgets GUI design.
wxFormBuilder