San Francisco (pearltrees, not McKenzie)
Liste de films tournés à San Francisco
Motel Hell
whaou terribles ces motels... Tu croies qu'ils existent encore? by Francois Mar 1
Business Association of Stanford Entrepreneurial Students » - Mo
Video Library - Mozilla Firefox
Events are complex. We make automating the complex simple. etouches is simply complex.
IBM Slides - Mozilla Firefox
WikiLeaks' self-acclaimed leader, Julian Assange is the new rebel with a cause, and a computer. In fact, he might be a geek gone wild, a techno-hero hacker, or just the smartest, damn businessman we've ever encountered. You know, he could have been the next Mark Zuckerberg . Yes, think about it. WikiLeaks gets to decide what and who stands naked before the world. Facebook pushes the boundaries of what is private and what is public.
Michelle Kraus: WikiLeaks: Hackers, Heroes or Good Business Men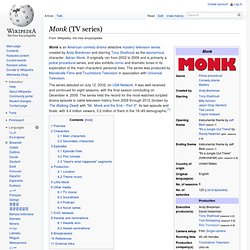 Monk is an American comedy-drama detective mystery television series created by Andy Breckman and starring Tony Shalhoub as the eponymous character, Adrian Monk . It originally ran from 2002 to 2009 and is primarily a mystery series, although it has dark and comic touches. The series was produced by Mandeville Films and Touchstone Television (although the corporate name changed to ABC Studios in the course of the series, the Touchstone Television logo remained throughout, making Monk the last surviving series to carry it) in association with Universal Television . The series debuted on July 12, 2002, on USA Network . It was well received and continued for eight seasons, with the final season concluding on December 4, 2009.
Monk (TV series)