San Francisco (pearltrees, not McKenzie)
Liste de films tournés à San Francisco
Motel Hell
Video Library - Mozilla Firefox
Events are complex. We make automating the complex simple. etouches is simply complex.
Michelle Kraus: WikiLeaks: Hackers, Heroes or Good Business Men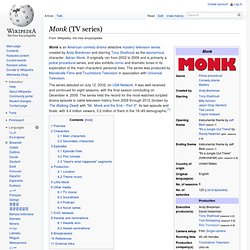 Monk is an American comedy-drama detective mystery television series created by Andy Breckman and starring Tony Shalhoub as the eponymous character, Adrian Monk. It originally ran from 2002 to 2009 and is primarily a police procedural series, and also exhibits comic and dramatic tones in its exploration of the main characters' personal lives. The series was produced by Mandeville Films and Touchstone Television in association with Universal Television. Adrian Monk (Tony Shalhoub) was a brilliant detective for the San Francisco Police Department until his wife, Trudy, was killed by a car bomb in a parking garage, which Monk then believed was intended for him. In a later episode, he discovers the bomb was truly meant for Trudy.
Monk (TV series)