Games
Crap Shoot: The You Testament. Richard Cobbett has a deeply bizarre religious experience with one man's attempt to bring The Greatest Story Ever Told to life via the medium of... a hacked up wrestling game engine.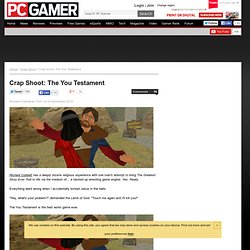 Yes. Really. Everything went wrong when I accidentally kicked Jesus in the balls. "Hey, what's your problem? "
無料で遊べるフラッシュの麻雀ゲーム「麻雀 Flash」 Coffee Chinese Chess. Written by Pham Hong Nguyen, Coffee Chinese Chess is a customizable freeware Java applet for playing Chinese Chess.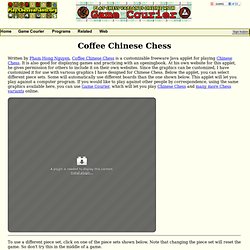 It is also good for displaying games and practicing with an openingbook. At his own website for this applet, he gives permission for others to include it on their own websites. Since the graphics can be customized, I have customized it for use with various graphics I have designed for Chinese Chess. Below the applet, you can select different piece sets.
Warfare 1917 | Strategy Games. Description Lead the British or German army through the trenches of Europe in this First World War strategy game.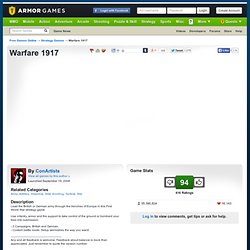 Use infantry, armor and fire support to take control of the ground or bombard your foes into submission. - 2 Campaigns. British and German. - Custom battle mode. Setup skirmishes the way you want! Feign. Evacuation. Sky Island - Neutronized - Play Free Flash Games. 1916 :: Der Unbekannte Krieg. Ice-Pick Lodge. The Frip And The Dead. Butchering Pathologic – Part 1: The Body. By Quintin Smith on April 10th, 2008 at 7:42 pm.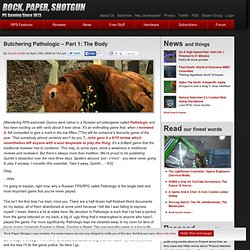 [Wandering RPS-associate Quinns went native in a Russian art-videogame called Pathologic and has been exciting us with rants about it ever since. It's an enthralling game that, when I reviewed it, felt compelled to give a mark in the low fifties ("This will be someone's favourite game of the year. That somebody almost certainly won't be you.
"). John gave it a 6/10 review which nevertheless left anyone with a soul desperate to play the thing. Butchering Pathologic – Part 2: The Mind. By Quintin Smith on April 11th, 2008 at 12:24 pm.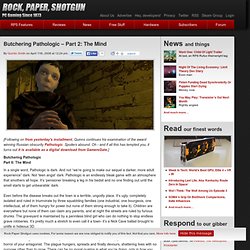 [Following on from yesterday's installment, Quinns continues his examination of the award winning Russian obscurity Pathologic. Spoilers abound. Oh - and if all this has tempted you, it turns out it is available as a digital download from GamersGate.] Butchering Pathologic Part II: The Mind. Butchering Pathologic – Part 3: The Soul.
By Quintin Smith on April 12th, 2008 at 9:49 am.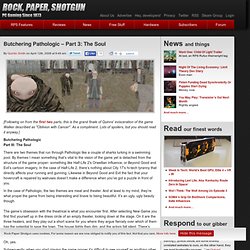 [Following on from the first two parts, this is the grand finale of Quinns' evisceration of the game Walker described as "Oblivion with Cancer". As a compliment. Lots of spoilers, but you should read it anyway.] Butchering Pathologic Part III: The Soul There are two themes that run through Pathologic like a couple of sharks lurking in a swimming pool. The 6 Most Ominous Trends in Video Games. Our generation will be remembered for our video games.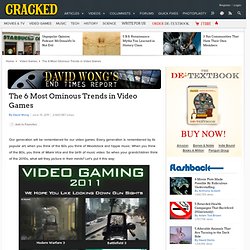 Every generation is remembered by its popular art; when you think of the 60s you think of Woodstock and hippie music. When you think of the 80s, you think of Miami Vice and the birth of music video. Cultivated Play: Farmville. [This essay was given as a talk at SUNY Buffalo, 28 January 2010, the day after Howard Zinn's death.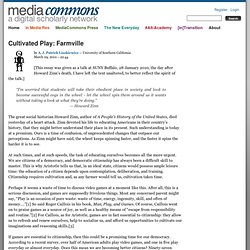 I have left the text unaltered, to better reflect the spirit of the talk.] "I'm worried that students will take their obedient place in society and look to become successful cogs in the wheel - let the wheel spin them around as it wants without taking a look at what they're doing." — Howard Zinn The great social historian Howard Zinn, author of A People's History of the United States, died yesterday of a heart attack. Zinn devoted his life to educating Americans in their country's history, that they might better understand their place in its present. Such understanding is today at a premium. Features - The Deaths Of Game Narrative. It's been quite a year for epic, narrative-driven games -- titles vast in scope, grand in ambition, and gorgeous in execution -- and I have fought my way through a few of the best.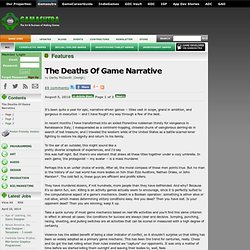 In recent months I have transformed into an exiled Florentine nobleman thirsty for vengeance in Renaissance Italy; I masqueraded as a continent-hopping, chiseled chunk of vainglorious derring-do in search of lost treasure; and I traveled the western wilds of the United States as a battle-scarred loner fighting to restore his dignity and return to his family. To the ear of an outsider, this might sound like a pretty diverse scrapbook of experiences, and I'd say this was half right. But there's one element that draws all these titles together under a cozy umbrella. In each game, the protagonist -- my avatar -- is a mass murderer.
GDC 10: Theme is Not Meaning. Soren Johnson spent five years working on the Civilization series for Firaxis, eventually landing the job of lead designer for Civilization IV.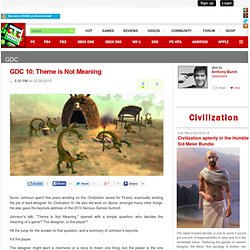 He also did work on Spore, amongst many other things. He also gave the keynote address of the 2010 Serious Games Summit. Johnson's talk, "Theme is Not Meaning," opened with a simple question: who decides the meaning of a game? The designer, or the player? Pixel Poppers: Awesome By Proxy: Addicted to Fake Achievement. When I was old enough to care whether I won or lost at games, but still too young to be any good at them, I decided RPGs were better than action games. After all, I could play Contra for hours and still be terrible at it - while if I played Dragon Warrior III for the same amount of time, my characters would gain levels and be much more capable of standing up to whatever threats they encountered. To progress in an action game, the player has to improve, which is by no means guaranteed - but to progress in an RPG, the characters have to improve, which is inevitable. As I grew older, this conclusion lay dormant and unexamined in my mind.
5 Creepy Ways Video Games Are Trying to Get You Addicted. So, the headlines say somebody else has died due to video game addiction. Yes, it's Korea again. What the hell? Jesse Schell: Visions of the Gamepocalypse. ALEXANDER ROSE:I'm Alexander Rose; I'm the Director of the Long Now Foundation. As some of you know who come to these talks every month we do a little short film before each talk which we call a "long short". This is a shortterm film that exemplifies longterm thinking. Our long short this month is called "Pixel". Alright enjoy. STEWART BRAND:I'm Stewart Brand from the Long Now Foundation. Trespasser: wow, this is great stuff - comp.sys.ibm.pc.games.adventure.
---