Music
Best New Music Mix For January 29 2014. Clockwise, Above From Left.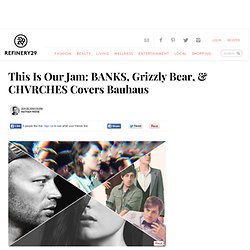 Photo: Courtesy of Tomas Barfod; Glassnote Records; Kanine Records; Brud Music. This week, we're bringing you a smattering of our favorite recent electronic pop along with one of the best indie-rock tracks in recent memory. We start things off with Scottish synth-pop act CHVRCHES' take on a goth classic. Then, it's Cloud Nothings with some anthemic indie rock, Mas Ysa at his most personal, and Grizzly Bear re-imagined by Baths. The Perfect Playlist: Bakin' in the Kitchen. The 10 Best New Songs We Heard This Week: David Bowie, The Knife. It's Friday, which means that it's nearly the weekend, and also that it's time to look back at the best new music we've heard over the last few days.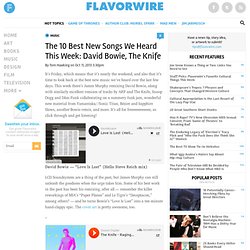 This week there's James Murphy remixing David Bowie, along with similarly excellent remixes of tracks by ARP and The Knife, Snoop Dogg and Dâm-Funk collaborating on a summery funk jam, wonderful new material from Yamantaka//Sonic Titan, Bézier and Sapphire Slows, another Bowie remix, and more. It's all for freeeeeeeeeeee, so click through and get listening! Best New Music Mix For October 9 2013. Photo: Courtesy of Danny Brown; Courtesy of GEMS; Courtesy of Motion Studies; Courtesy of Kurt Vile & Sore Eros.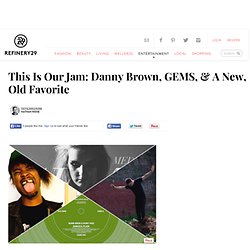 Today's This Is Our Jam roundup features new acts, old favorites, and two pleasant collaborations. We start things off with a fuzzed-out anthem from Perfect Pussy and a new-old song by Kurt Vile. Then, it's an unheard team-up courtesy of Burial and Four Tet, Danny Brown's wild new video, and a danceable jam from Brooklyn's Motion Studies. Casual Party Playlist- Music For Entertaining. Allow us to set the scene.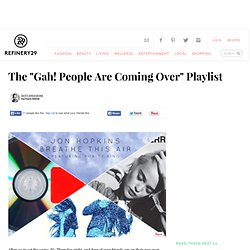 It's Thursday night, and four of your friends are on their way over. You've got a couple bottles of wine, a new bottle of whiskey, and Seamless is on the way. This isn't a "party" party, but you still need a good soundtrack to kick back, relax, and chill out (without putting everyone in a coma). With such a scenario in mind, we've selected 16 tracks that straddle the line between low-key hang and casual soirée. Wynter Gordon - Fall Playlist. Photographed by Bek Andersen.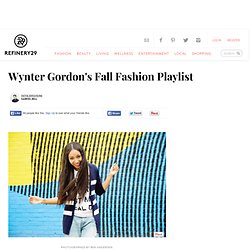 We've already introduced you to the beautiful, stylish, and soulful singer Wynter Gordon, one of our favorite young talents out there. Well, we've brought her back to hook you up with not only some intel on the finer points of fall fashion, but also a little music to start the season off with a kick. As Gordon tells us, it's time to take advantage of the weather and pile on the contrasting prints. Best New Music Mix For October 2 2013. Photo: Courtesy of The Juan Maclean; Courtesy of Blood Diamonds; Courtesy of Kwes; Courtesy of Widowspeak.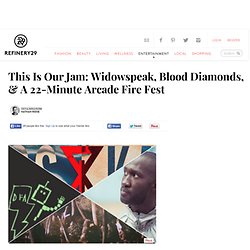 Welcome to another installment of This Is Our Jam, where we highlight our favorite tracks of the week for your listening pleasure. We kick things off with a 22-minute YouTube film from Arcade Fire featuring three new songs and loads of guest stars. Then we have a new house number from DFA staple The Juan Maclean (with a little help from LCD Soundsystem's Nancy Whang), new music from U.K. singer/producer Kwes, an airy new track from Blood Diamonds, and a Nancy Sinatra-esque slow-burner from Widowspeak. Hope you dig 'em! Best New Music Mix For September 18 2013. Photo: Courtesy of Twin Shadow; Courtesy of TKA twigs; Courtesy of James Blake; Courtesy of Glasser.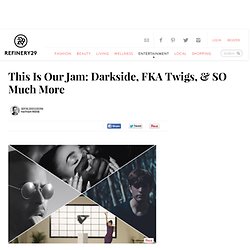 This week, we're serving up a little something for everybody. First, head-turning R&B singer FKA twigs has a new collaboration with Arca from her upcoming EP2. Grizzly Bear- Shields Expanded Will Calls (Marfa Demo) Photo: Courtesy of Grizzly Bear One of our favorite albums last year was Grizzly Bear's fantastic fourth LP, Shields.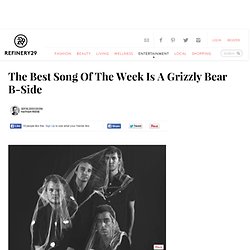 With ambitious production, knotty guitars, and gorgeous harmonies, the album showed once again that the indie quartet only continue to improve as the years pass. Now, a year after the LP's release, Grizzly Bear are dropping a new version of the record with tons of bonus material, aptly-titled Shields: Expanded. Best New Music Mix For August 28 2013. This week's playlist occupies various corners of the electronic-music world, ranging from bubbly pop to experimental soundscapes.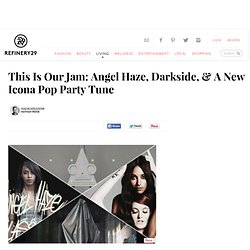 We start off with a new release from Darkside (a.k.a. Nicolas Jaar and Dave Harrington), followed by the latest from experimental music extraordinaire Tim Hecker. Things lighten up a bit with a track from Angel Haze (succeeding in her attempt to court the pop and fashion worlds), Icona Pop's new banger featuring NYC rapper Zebra Katz, and some synth-pop bliss from Drop Electric. The 25 Best Websites for Music Lovers. A couple of weeks back, we published a pretty extensive list of great websites for literature lovers.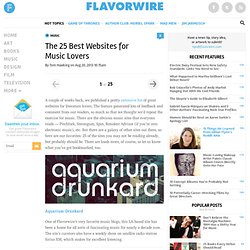 The feature generated lots of feedback and comment from our readers, so much so that we thought we'd repeat the exercise for music. There are the obvious music sites that everyone reads — Pitchfork, Stereogum, Spin, Resident Advisor (if you're into electronic music), etc. But there are a galaxy of other sites out there, so here are our favorites: 25 of the sites you may not be reading already, but probably should be. There are loads more, of course, so let us know what you've got bookmarked, too. Aquarium Drunkard.
Best New Music Mix For July 24 2013. Clockwise Above From Left: Photo: Courtesy of Earl Sweatshirt; King Krule; Kwes; Big Sean Saying that this was a good week in hip-hop is like saying the Super Bowl is a good day for football. In case you haven't heard, Los Angeles rapper Kendrick Lamar hopped on a Big Sean track and proceeded to single-handedly raise the stakes of the industry. Then, as if rap didn't already have enough drama, we saw the release of a new Earl Sweatshirt song that features Frank Ocean addressing his recent incident with Chris Brown. Outside of rap, we also have new tunes from King Krule, Kwes, Cults, Juana Molina, and an especially beautiful track from producer Jon Hopkins featuring Purity Ring.
Summer Playlists - Washington DC DJs. Let's get real: Summer in Chicago has never been just a three-month run of 90-degree days (even though this past week would have tourists thinking otherwise). And since the steamy season is more a state of mind than the expectation of rising temps, we've hit up local personalties to pick the songs that celebrate the carefree, carpe diem attitude we've been rocking since June. Ahead, the playlist for summer's bon voyage party. 1. Ryan Beshel, public relations coordinator, 900 North Michigan Shops: "Applause" by Lady Gaga. The 10 Best New Songs We Heard This Week: Julia Holter, The Julie Ruin. It's Friday, which means that it's time to look back at the best new music we've heard over the last few days. This week suggests that the dearth of decent releases over the last couple of weeks is finally coming to an end — there's another new track from the new Julia Holter album, which sounds many kinds of awesome, along with the return of Kathleen Hanna (and JD Samson!)
, a summer jam from John Cale, weird dark atmospherics from Dustin Wong, a great collaboration between Fatima Al Qadiri and Visionist, and plenty more. Click through to get listening! Sudoeste Music Festival Playlist. It's August, which means we've reached the twilight of the festival season. Still, if you're willing to do a little of traveling there's plenty fun to be had. Case in point: The Sudoeste festival in Portugal, which starts tonight and lasts for five days of electronic, pop, and reggae bliss.
Featuring huge EDM names like AVICII, big stars like Cee Lo Green and Janelle Monae, and even appearances by Snoop Lion and Pitbull, it's a good reason to get out to Zambujeira do Mar for some serious partying. To give you a taste of the festival's unique flavor, we've collected fifteen tracks from this year's lineup. Even if a trip to Portugal isn't in the cards, our playlist should keep you grooving through the end of summer. Best New Music Mix For August 7 2013. Clockwise From Above Left: CFCF, FKA twigs, Omar Souleyman, Braids This week, This Is Our Jam goes international, with new tracks from Greece, Syria, the U.K., Canada, and more.
We start things off with a new one from dream pop duo Keep Shelly In Athens, followed by up-and-coming alt-popper FKA twigs, and then it moves up to Canada with new tracks from CFCF, Braids, and Drake. Cut Copy - "Let Me Show You" RJD2 - "Her Majesty's Socialist Request" Workout Music- Gym Playlist For 2013. NYC Concerts August 2013 - Major Lazer, Matt & Kim. Best New Music Mix For July 24 2013. 50 Places Every Music Lover Should Visit. Best New Music Mix For July 10 2013. Newport Music Festival Playlist - Folk Bands And Songs. The 10 Best New Songs We Heard This Week: Mazzy Star, J Mascis. Ta-ku - "I Miss You" Best New Music Mix For July 10 2013. A Selection of Great Banned and Unreleased Music Documentaries. Best Summer Songs 2013 Playlist For Chicago. New Downton Abbey Characters - Gary Carr 2013. Best New Music Mix For July 3 2013. Getting Ready Music - Best Saturday Night Songs. The 25 Best Albums of the First Half of 2013.
Ryan McGinley Playlist For Myspace. The 10 Best Songs We Heard This Week: Kirin J. Callinan, Julia Holter. Best New Music Mix For May 15 2013. Best New Music Mix For May 22 2013. Running Music - Best Workout Songs For Summer 2013. Workout Music - Best Spotify Gym Playlist For 2013. Workout Music - Best Spotify Gym Playlist For 2013. 20 Great Albums You Can (Legally) Download for Free Right Now. The 50 Albums Everyone Needs to Own, 1963-2013. S 50 Records You Need to Own, 1963-2013: A Spotify Playlist. The 10 Best Songs We Heard This Week: Boards of Canada, Talking Heads. Best New Music Mix For May 15 2013. Theophilus London - "Rio" (feat. Menahan Street Band) [Video. Coachella 2013 [Festival Preview. 16 Songs That Will Guide You To Ultimate Victory. Charles Bradley - "Strictly Reserved For You" [Video. Diy craft projects | going home to roost - StumbleUpon.
Support for Internet Exporer 6 has been discontinued. LA ROBE VERTE by Vanessa Philippe - just woke up playlist. YOU broke up with ME. Now why the fuck won't you leave me alone, you ... Manchester, United.
---