Cooking
Day 275: Zuppa Toscana. An easy slow cooker recipe for the Olive Garden favorite--Zuppa Toscana.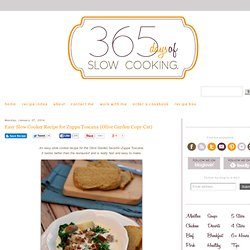 It tastes better than the restaurant and is really fast and easy to make. Don't you just love soup in the winter? It is one of the few redeeming things about winter, in my opinion. Because at this point I think we can all agree winter isn't just that magical anymore! The snow in my backyard is crusty, my car is beyond dirty and my pasty skin could use a little sun :) But back to soup...it's awesome.
The Minimalist - 101 Fast Recipes for Grilling. Vegetables and Fruits 1.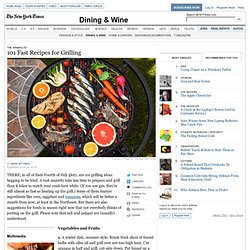 A winter dish, summer style: Brush thick slices of fennel bulbs with olive oil and grill over not-too-high heat. Prep Schools: how to make quick pickles. July 28, 2010|By James P.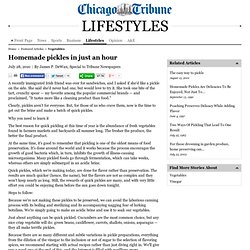 DeWan, Special to Tribune Newspapers A recently immigrated Irish friend was over for sandwiches, and I asked if she'd like a pickle on the side. Well's Vegetarian Thanksgiving - Interactive Feature. You'll need ring molds and plenty of time to make this decadent tart, which is featured in "The Food Network South Beach Wine & Food Festival Cookbook.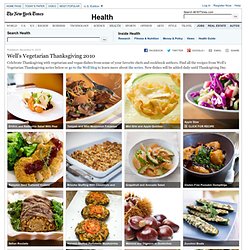 " The dish, created by Michael Laiskonis, executive pastry chef of the famed Le Bernardin restaurant in New York City, was served at a tribute dinner for chefs Eric Ripert and Maguy Le Coze. What makes this tart particularly appealing — besides its taste and texture — is that each component can be prepared a day or two in advance and then assembled at the last minute. Oven Roasted Tomato Sauce. Though there have been no gluts of tomatoes this year, the plants we did get in are doing very well.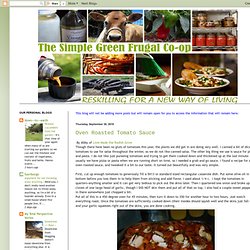 I canned a bit of diced tomatoes to use for salsa throughout the winter, as we do not like canned salsa. The other big thing we use is sauce for pizza and pasta. I do not like just pureeing tomatoes and trying to get them cooked down and thickened up at the last minute-usually we have pizza or pasta when we are running short on time, so I needed a grab and go sauce. I found a recipe for an oven roasted sauce, and tweaked it a bit to our taste. It turned out beautifully and was very simple.
---