Cooking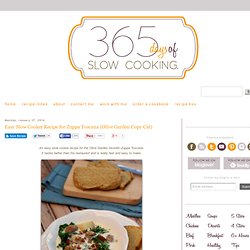 This is a guest post by a great chef and one of the most fun and funniest people I know, Melanie. This looks so delish! Thanks, Mel. 1 lb bulk Italian sausage, browned and drained2 cans chicken broth1 cup water1/4 cup onion, chopped3 large russet potatoes, cubed1 garlic clove, mincedBacon bits1 cup whipping creamKale Place Italian sausage, chicken broth, garlic, potatoes and onion in slow cooker. Cover and cook on HIGH for 3-4 hours until potatoes are cooked and soft. Add desired amount of bacon bits, whipping cream and cut up kale right before serving.
365 Days of Slow Cooking: Day 275: Zuppa Toscana
eat the seasons | food seasons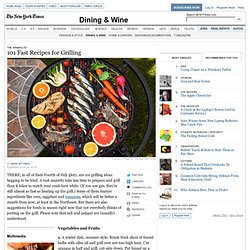 The Minimalist - 101 Fast Recipes for Grilling
Vegetables and Fruits 1. A winter dish, summer style: Brush thick slices of fennel bulbs with olive oil and grill over not-too-high heat.
July 28, 2010 | By James P. DeWan, Special to Tribune Newspapers A recently immigrated Irish friend was over for sandwiches, and I asked if she'd like a pickle on the side.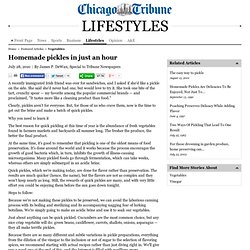 Prep Schools: how to make quick pickles
Well's Vegetarian Thanksgiving - Interactive Feature
Oven Roasted Tomato Sauce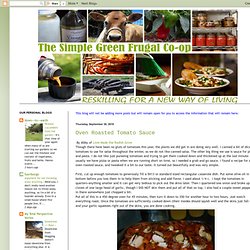 Though there have been no gluts of tomatoes this year, the plants we did get in are doing very well. I canned a bit of diced tomatoes to use for salsa throughout the winter, as we do not like canned salsa. The other big thing we use is sauce for pizza and pasta. I do not like just pureeing tomatoes and trying to get them cooked down and thickened up at the last minute-usually we have pizza or pasta when we are running short on time, so I needed a grab and go sauce. I found a recipe for an oven roasted sauce, and tweaked it a bit to our taste. It turned out beautifully and was very simple.