Web
ndebock : #WebSummit managed to bring
ndebock : #WebSummit is really a non
RodMenegaux : Go go go to #WebSummit #Dublin
Nicolas @ Aéroport Paris-Charles de Gaulle (CDG)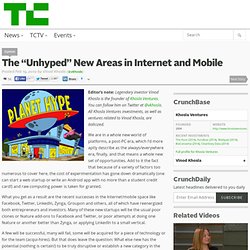 Editor's note: Legendary investor Vinod Khosla is the founder of Khosla Ventures. You can follow him on Twitter at @vkhosla. All Khosla Ventures investments, as well as ventures related to Vinod Khosla, are italicized.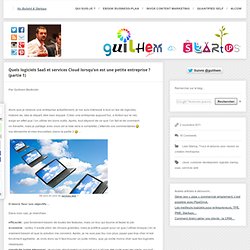 Alors que je relance une entreprise actuellement, je me suis intéressé à tout un tas de logiciels, histoire de, dès le départ, être bien équipé. Créer une entreprise aujourd'hui, a fortiori sur le net, exige en effet que l'on utilise les bons outils. Après, tout dépend de ce que l'on fait et de comment on travaille, mais je partage avec vous (et la liste sera à compléter, j'attends vos commentaires ma démarche et mes trouvailles (dans la partie 2 D'abord, fixer ses objectifs… Dans mon cas, je cherchais :
Quels logiciels SaaS et services Cloud lorsqu'on est une petite entreprise ? (partie 1)
42 goals 42goals est un outil simple pour suivre des objectifs quotidiens et registre des activités quotidiennes. Il vous aide à définir vos objectifs, enregistrer vos progrès quotidiens et visualiser vos réalisations. L' utilisation de 42goals vous aide à arrêter de fumer, compter le nombre de tasses de café que vous consommez, enregistrer les dépenses quotidiennes. Plus Adobe BrowserLab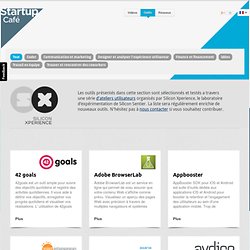 The Most Popular Web Services, Web Apps and Startup Tools - BestVendor
The results are in! We surveyed over 550 folks at startups with up to 100 employees. Our objective: To figure out the Startup Toolkit — the products and providers leading the way among the nimblest and most tech-savvy new businesses.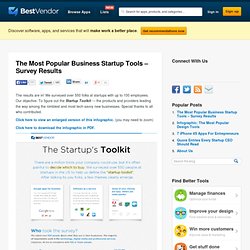 European Identity Awards 2011 | European Identity Conference Blog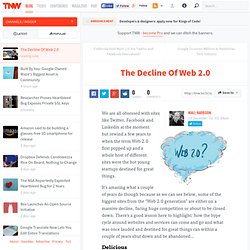 We are all obsessed with sites like Twitter, Facebook and Linkedin at the moment but rewind a few years to when the term Web 2.0 first popped up and a whole host of different sites were the hot young startups destined for great things. It's amazing what a couple of years do though because as we can see below, some of the biggest sites from the "Web 2.0 generation" are either on a massive decline, facing huge competition or about to be closed down. There's a good lesson here to highlight; how the hype cycle around websites and services can come and go and what was once lauded and destined for great things can within a couple of years shut down and be abandoned… Delicious One of the most popular and useful sites of the Web 2.0 era, this massively practical bookmarking tool was used by many people to keep track of content that they found online.
The Decline Of Web 2.0
Predictions de fin d'année