WEB Tech
Get flash to fully experience Pearltrees
Our central goal at Xi3 Corporation is to replace today's single-purpose computing technologies with a multi-purpose architecture called Xi3. Xi3 is an advanced, standardized core-processing technology that provides four key advantages: 1. Advanced feature sets: Xi3 is a new architectural standard, one complete with advanced backplane designs and superior cooling processes. By coupling these advances to a standard architecture, Xi3 provides manufacturers with the ability to introduce more advanced feature sets into a diverse field of products.
Experiments This is my creative lab and interactive playground. It's focused on the exploration of interaction, visual effects and technologies.
Web Development For Beginners
I'm participating in a panel discussion this morning during the offsite of a major media company. They sent me a list of questions in preparation of the event. One of the questions was the title of this post; "What drives consumer adoption of new technologies?". It's an interesting question and one I've never tried to answer directly in writing. But it's also a question we attempt to answer every day in our firm as we evaluate thousands of new startups every year.
This year's 100 top companies -- plus 35 to watch -- are transforming the digital media paradigm into a vital new distribution pathway for forward-thinking, technology-minded product developers and their consumers. The seventh annual AlwaysOn OnMedia 100 represents a bold list of the top emerging companies creating new business opportunities in the world of media, advertising, marketing, social commerce, branding, and public relations.
En­ter­prise Sys­tems, I mean. And not just a lit­tle bit, ei­ther. Or­ders of mag­ni­tude wrong.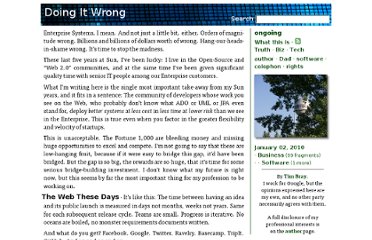 June 16, 2009 | Author: PM Hut | Filed under: Uncategorized The CHAOS Report 2009 on IT Project Failure By Jorge Dominguez The Standish Group collects information on project failures in the IT industry and environments with the objective of making the industry more successful and to show ways to improve its success rates and increase the value of the IT investments.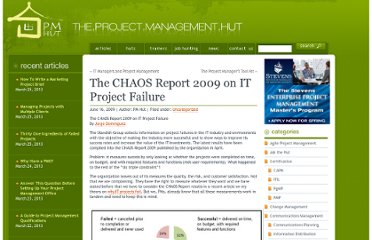 Illustration by Matt Herring CHANGE is in the air. A new communications technology threatens a dramatic upheaval in America's newspaper industry, overturning the status quo and disrupting the business model that has served the industry for years. This "great revolution", warns one editor, will mean that some publications "must submit to destiny, and go out of existence." With many American papers declaring bankruptcy in the past few months, their readers and advertisers lured away by cheaper alternatives on the internet, this doom-laden prediction sounds familiar.
Ipad dev and design solution