Vue générale API
Deltacloud | Many Clouds. One API. No Problem. Darwin's Finches, 20th Century Business, and Open APIs: Evolve Y. When the world is changing quickly there is great pressure to adapt in order to survive.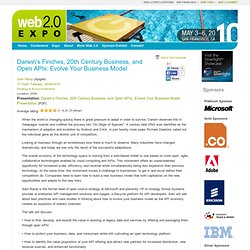 Darwin observed this in Galapagos Islands and codified the process into "On Origin of Species". A century later DNA was identified as the mechanism of adaption and evolution by Watson and Crick. In just twenty more years Richard Dawkins called out the individual gene as the atomic unit of competition. Looking at business through an evolutionary lens there is much to observe. 2009 Presentations and Video « The Business of APIs — brought to. November 13, Altitude London Finding the Unmarked Trail - David McCandless, AuthorPanel Discussion: Think Like An Entrepreneur Video (coming soon)Managed Partnerships in the Cloud Era – David Bloom, CEO, Ordr.inSlides (coming soon)Video (coming soon)APIs to Enable the Internet of Everything – Sal Visca, CTO, Elastic PathThe Borderless Business: APIs for Global Expansion – Linda Kozlowski, VP Intl Marketing, Evernote Navigating a Path to New Products – Peter Moeykens, Fellow, TomTomSpinning Data Into Gold – David Frankel, President, EDGAR OnlineCreating Success / APIs Changing Business – Kevin Flowers, CTO, Coca-Cola EnterprisesSlidesBuilding Apps That Change the World – Paull Young, Director of Digital, charity:waterAPIs and Data Refineries: Generating New Possibilities – Dr.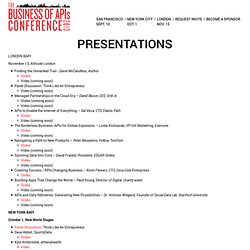 Andreas Weigend, Founder of Social Data Lab, Stanford University October 1, New World Stages. Inopia: Open APIs and Open Standards. John Borthwick has been advising companies for a while now to build APIs that mimic the Twitter API.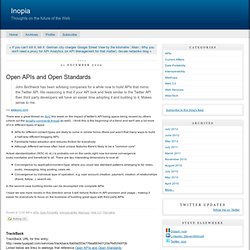 His reasoning is that if your API look and feels similar to the Twitter API then third party developers will have an easier time adopting it and building to it. Makes sense to me. via www.avc.com. Google Introduces API Console. If you use Google APIs much, you might be interested in checking out Google's latest product for developers.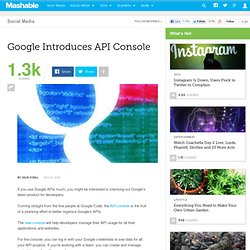 Coming straight from the fine people at Google Code, the API console is the fruit of a yearlong effort to better organize Google's APIs. The new console will help developers manage their API usage for all their applications and websites. For the console, you can log in with your Google credentials to see data for all your API projects. If you're working with a team, you can create and manage project teams from the console. The console will also help you track exactly how you use each API, and you can get stats on API usage for your app or site, such as specific rate limits, which pages are making the most API calls and graphs of API usage over time.
---