Google vs content farms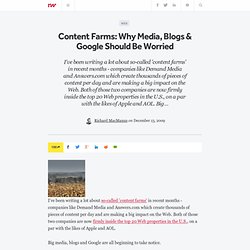 I've been writing a lot about so-called 'content farms' in recent months - companies like Demand Media and Answers.com which create thousands of pieces of content per day and are making a big impact on the Web. Both of those two companies are now firmly inside the top 20 Web properties in the U.S., on a par with the likes of Apple and AOL.
In my recent post about the rise of content farms like Demand Media and the current incarnation of AOL, I posited that Google (and search in general) risks becoming less relevant as the Web gets drowned in lesser quality content.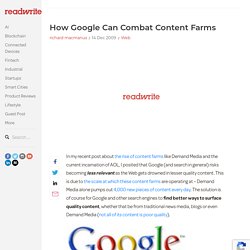 How Google Can Combat Content Farms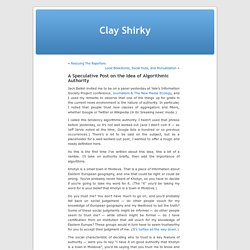 A Speculative Post on the Idea of Algorithmic Authority « Clay S
Jack Balkin invited me to be on a panel yesterday at Yale's Information Society Project conference, Journalism & The New Media Ecology, and I used my remarks to observe that one of the things up for grabs in the current news environment is the nature of authority. In particular, I noted that people trust new classes of aggregators and filters, whether Google or Twitter or Wikipedia (in its 'breaking news' mode.) I called this tendency algorithmic authority. I hadn't used that phrase before yesterday, so it's not well worked out (and I didn't coin it — as Jeff Jarvis noted at the time, Google lists a hundred or so previous occurrences.) There's a lot to be said on the subject, but as a placeholder for a well-worked-out post, I wanted to offer a rough and ready definition here.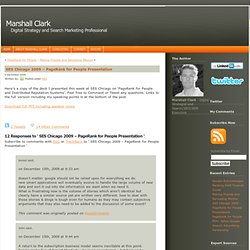 « PageRank for People - Making Friends and Spreading Memes » 9 December 2009 Here's a copy of the deck I presented this week at SES Chicago on 'PageRank for People and Distributed Reputation Systems'. Feel free to Comment or Tweet any questions. Links to the full version including my speaking points is at the bottom of the post. Download full PPT including speaker notes
SES Chicago 2009 - PageRank for People Presentation | Marshall C
Machines like empty calories too but they lack the tas
December 13th, 2009 — Mark Littlewood Lots of interesting writing at the moment about content farms, basically businesses that produce tons of crappy content, so that they can be found on search engines, get people to click through to their sites and make money from advertising. Demand Media (main site is eHow.com) and answers.com (who run wikianswers.com) come in for the most flack as they are the largest – both in the top 20 most visited websites in the US. Demand Media is reportedly producing over 4,000 pages of 'content' a day both are very heavily reliant on Google adwords for revenue. The main issue with content farms is that they fill up the internet with crap that is cheap and easy to produce, that generates traffic to sites whose only USP seems to be that they have lots of content.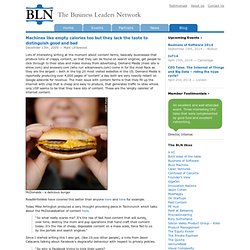 Paul points it out as a failed dishwasher search.
Google Is Failing More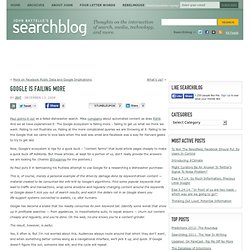 Dishwashers, and How Google Eats Its Own Tail
Le match s'est déroulé vendredi matin dans une minuscule salle obscure, au sous-sol de l'Espace Cardin à Paris. Visiblement ébranlé, Carlo d'Asaro Biondo, représentant de Google en Europe de l'Est et du Sud, a répondu aux attaques croisées de Nathalie Collin, présidente du directoire de Libération, et de Philippe Jannet, PDG du Monde Interactif. Le match s'est déroulé vendredi matin dans une minuscule salle obscure, au sous-sol de l'Espace Cardin à Paris.
Google vs presse française : le clash a bien eu lieu | Owni.fr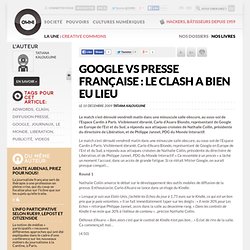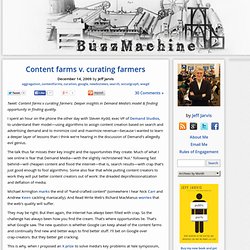 Tweet: Content farms v curating farmers: Deeper insights in Demand Media's model & finding opportunity in finding quality.
Content farms v. curating farmers
There's a lot of predictions for 2010 going around at the moment, which are usually fun and insightful, esp. the ones from Stephen and James ;> If you want some more ribald prognostication, check out the annual Whacky Predictions episode of the IT Management & Cloud podcast. Rather than list a whole bunch of things, I thought I'd narrow down on one area I've been thinking about a lot recently, all the new platforms – both web and device driven – I've been seeing emerge and how they effect the IT and technology world we we know it. Much of the below is speculative, but it's laced in with plenty of here-and-now.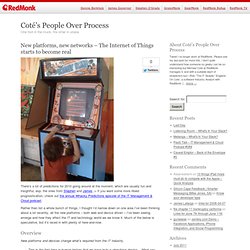 People Over Process » New platforms, new networks – The Internet
Internet est un gigantesque musée, mais il faut accrocher les tableaux soi-même. Une nouvelle fonction est en train d'émerger, pour palier ce problème: on les appelle "digital curator", "content curator", ils sont l'équivalent d'un commissaire d'exposition dans le domaine de l'art et des musées. Sur Internet, il y a du contenu, toujours plus de contenu.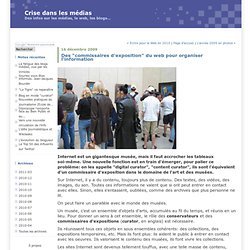 Des "commissaires d'exposition" du web pour organiser l'informat