Education online
Connaissances et savoirs en accès libre. Teacher Resources. Hacking Education (continued) Last fall I wrote a post on this blog titled Hacking Education.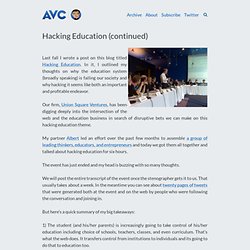 In it, I outlined my thoughts on why the education system (broadly speaking) is failing our society and why hacking it seems like both an important and profitable endeavor. Our firm, Union Square Ventures, has been digging deeply into the intersection of the web and the education business in search of disruptive bets we can make on this hacking education theme.
My partner Albert led an effort over the past few months to assemble a group of leading thinkers, educators, and entrepreneurs and today we got them all together and talked about hacking education for six hours. Hacking Education Transcript. Virtual learning environment. A virtual learning environment (VLE), or learning platform, is an e-learning education system based on the web that models conventional in-person education by providing equivalent virtual access to classes, class content, tests, homework, grades, assessments, and other external resources such as academic or museum website links.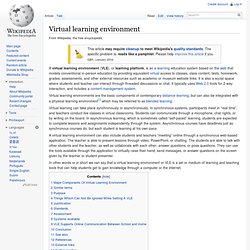 It is also a social space where students and teacher can interact through threaded discussions or chat. It typically uses Web 2.0 tools for 2-way interaction, and includes a content management system. Virtual learning environments are the basic components of contemporary distance learning, but can also be integrated with a physical learning environment[1] which may be referred to as blended learning. Virtual learning can take place synchronously or asynchronously. Free Online Course Materials | MIT OpenCourseWare. UniServity. HackingEducationReading. "Pay Attention" - video description " Since most of today's students can appropriately be labeled as "Digital Learners", why do so many teachers refuse to enter the digital age with their teaching practices?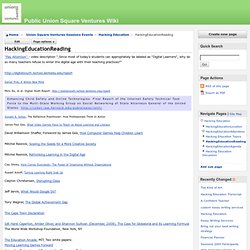 " Daniel Pink, A Whole New Mind Mimi Ito, et al. Digital Youth Report: Hacking Education Topics. Topics of Discussion Please add, edit, comment freely.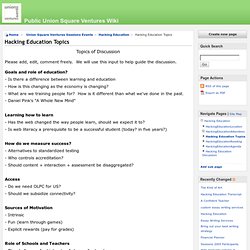 We will use this input to help guide the discussion. Goals and role of education? GamesSimsSocNets_EdArcade.pdf (Objet application/pdf)
---