Reading/Blog
Chinese Lessons with Pinyin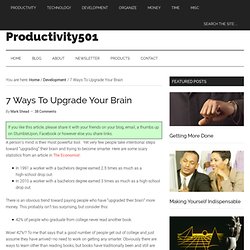 If you like this article, please share it with your friends on your blog, email, a thumbs up on StumbleUpon, Facebook or however else you share links. A person's mind is their most powerful tool. Yet very few people take intentional steps toward "upgrading" their brain and trying to become smarter. Here are some scary statistics from an article in The Economist: In 1991 a worker with a bachelors degree earned 2.5 times as much as a high-school drop out.In 2010 a worker with a bachelors degree earned 3 times as much as a high-school drop out.
Upgrade Your Brain - 7 Ways
The Coxford Singlish Dictionary A B C D E F G H I J K L M N O P Q R S T U V W X Y Z (48 entries out of 817) PAH BUAY SI(pah bway see)Hokkien phrase meaning "indestructible" or "invincible".
TalkingCock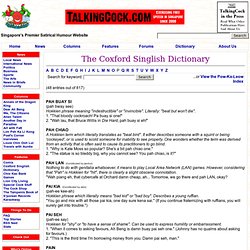 INS2.jpg (JPEG Image, 900x649 pixels)
aboi's Blog: What You Don't Learn In School
You can read my previous post about Aberdeen: Aberdeen Funds in Malaysia..Are They "Iron" Clad Investments? Thanks to my close friend (whose also an avid and knowledgeable investor) I obtained the interim report (December 2013) for Aberdeen's Islamic World Equity Fund just today. You can access it here: Interim Report Dec 2013. I spent some time looking through it from top to bottom and here are the key takeaways:-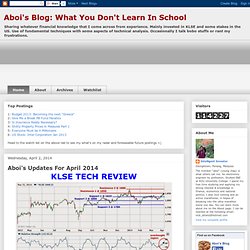 ~* 卡珞甜蜜屋 *~
Mozilla Firefox
By: Vinicius Covas Hola! Me llamo Vinicius Covas, soy brasileño y tuve la oportunidad de vivir en México a lo largo de 2013. Confieso que el país me sorprendió mucho en varios aspectos. Como estudiante de periodismo, siempre tuve mi mente atenta a recolectar impresiones, y aqui, les reúno 100 de ellas: 1.
Geek Unleashed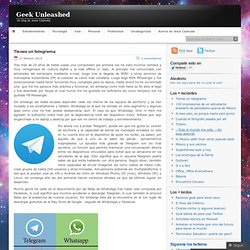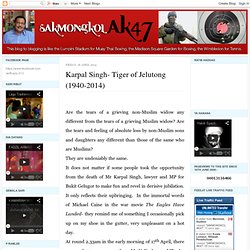 SAKMONGKOL AK47
Rakyat Malaysia dikangkungkan: penebangan hutan paling dasyat di Malaysia. Harga barang naik, Allah yang tentukan. Banjir berlaku Allah juga yang menyebabkan. Maka, boleh kita salahkan Allah? Menyalahkan Allah, Allah juga yang menyebabkan nya?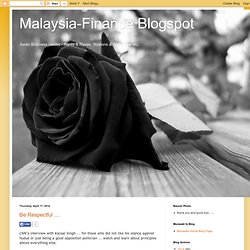 Malaysia-Finance Blogspot
Bloomberg: George Soros probably shouldn't expect any warm invitations to Beijing - not with the much-reviled short seller warning of a giant Chinese crash. The billionaire first shook a major government in September 1992, when he led an attack on the British pound. For his role in humiliating London and forcing John Major's government to exit the European exchange-rate mechanism - essentially the euro - Soros reportedly netted $US2 billion. If Xi doesn't act now, Soros could make way more than $US2 billion when things go awry. Add a zero. ubprime debt crisis as well. Here in Asia, his legend has loomed large since 1997, when then-Malaysian Prime Minister Mahathir Mohamad accused him, bizarrely, of heading a Jewish conspiracy to spark an Asian crisis.
Philosophy Politics Economics
If Home Minister Datuk Seri Zahid Hamidi has proof that former Emergency Ordinance detainess account for 90% of the rise in crime, show Malaysians now. Why wait until September? Yesterday, Home Minister Dato' Seri Ahmad Zahid Hamidi claimed he will present statistics from a recent study on crime in full at the next Parliament session to justify the need to revive the Emergency Ordinance (EO), to allow the Police to place suspects under detention without trial for 2 years. He said "I obtained the statistics, which were derived empirically, that in Selangor, 90% of organised crimes were carried out by ex-detainees who were released from Simpang Renggam where they were held under the EO. I will present the statistics and the study in the Dewan Rakyat in the coming session, the September session, to prove the need for the EO."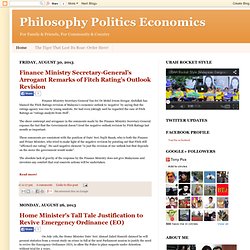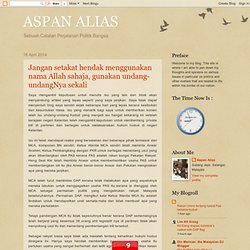 Isu Allah sudah menjadi isu yang tidak mungkin selesai. Saya tidak berani memberikan pandangan tentang hukum dan hakam kepada persoalan ini. Tetapi yang saya tahu penyelesaian tidak akan dapat dicari kerana saya cenderung untuk menuduh isu Allah ini adalah isu yang dipolitikkan oleh setengah pihak untuk kepentingan politik mereka. Mungkin ramai yang membantah apa yang ada dalam pemikiran saya, tetapi saya juga tahu Tuhan menyuruh kita mengenali di antara satu dengan lain serta menghormati di antara kaum dan agama. Di negara lain tidak timbul isu ini dan tidak pernah pula kita mendengar isu ini merebak dimana-mana negara diseluruh dunia ini. Apabila ada pihak yang menyangkutkan nama Allah ini dengan akidah, maka ia tidak akan selesai kerana selama ini banyak agama menggunakan nama Allah ini dalam agama mereka sejak dari dulu lagi.
ASPAN ALIAS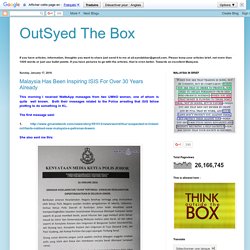 Here is some straight forward advice to Blogger UMNO and also the UMNO boys. Dalam isu JAIS rampas Bible "Allah" ini kita jangan masuk campur. Do not take ownership over this issue.
OutSyed The Box
Sesame + Soy, G Hotel's Pan Asian Chinese Cuisine restaurant offers dining experience like no other in Penang. As a start, it is already unusual to find two complimentary yet different dining ambiance in one space. As you walk into the restaurant, you will be greeted first by Soy, a modern Asian bistro of sort, which is the more casual of the two.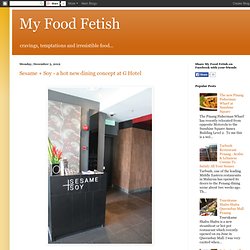 My Food Fetish