Reading/Blog
Chinese Lessons with Pinyin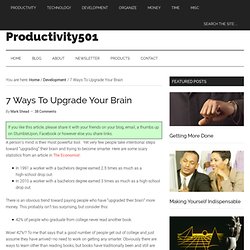 If you like this article, please share it with your friends on your blog, email, a thumbs up on StumbleUpon, Facebook or however else you share links. A person's mind is their most powerful tool. Yet very few people take intentional steps toward "upgrading" their brain and trying to become smarter. Here are some scary statistics from an article in The Economist: In 1991 a worker with a bachelors degree earned 2.5 times as much as a high-school drop out.In 2010 a worker with a bachelors degree earned 3 times as much as a high-school drop out.
Upgrade Your Brain - 7 Ways
The Coxford Singlish Dictionary A B C D E F G H I J K L M N O P Q R S T U V W X Y Z (48 entries out of 817) PAH BUAY SI(pah bway see)Hokkien phrase meaning "indestructible" or "invincible".
TalkingCock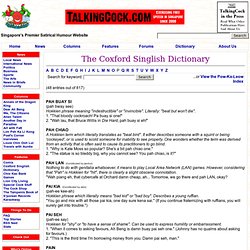 INS2.jpg (JPEG Image, 900x649 pixels)
aboi's Blog: What You Don't Learn In School
You can read my previous post about Aberdeen: Aberdeen Funds in Malaysia..Are They "Iron" Clad Investments? Thanks to my close friend (whose also an avid and knowledgeable investor) I obtained the interim report (December 2013) for Aberdeen's Islamic World Equity Fund just today. You can access it here: Interim Report Dec 2013. I spent some time looking through it from top to bottom and here are the key takeaways:-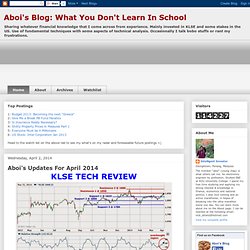 ~* 卡珞甜蜜屋 *~
Tuesday, February 04, 2014 http://www.freemalaysiatoday.com/category/nation/2014/02/03/police-report-against-johor-fa-chief/ Report by February 3, 2014 Fabio Flor De Azavedo, a professional footballer for T-Team, today lodged a police report against the Johor FA president Tunku Ismail Sultan Ibrahim for allegedly threatening to kill him during the half-time break in the match between Johor JDT and T-Team last weekend at the Larkin Stadium, in Johor.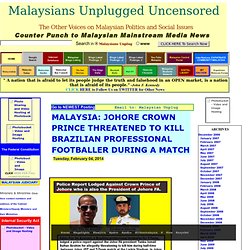 Mozilla Firefox
By: Vinicius Covas Hola! Me llamo Vinicius Covas, soy brasileño y tuve la oportunidad de vivir en México a lo largo de 2013. Confieso que el país me sorprendió mucho en varios aspectos. Como estudiante de periodismo, siempre tuve mi mente atenta a recolectar impresiones, y aqui, les reúno 100 de ellas: 1.
Geek Unleashed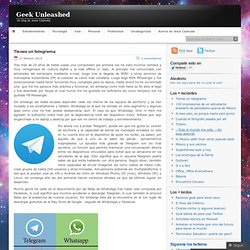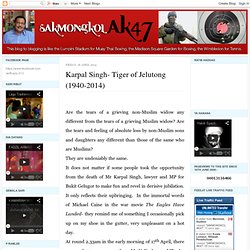 SAKMONGKOL AK47
As promised, here is the second article on the contest between Azmin and Khalid. I will write in street style. True or not? For a person like Khalid Ibrahim to do what he can do as a business savvy person, political power must be won and consolidated. If PR loses Selangor, then Khalid or a person of Khalid's calibre has no place to apply his skills.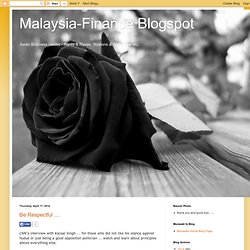 Malaysia-Finance Blogspot
Interesting article on China's move to liberalise (a little) the cross border trading between China exchanges and HK exchange. There are more reasons than meet the eye. My comments in RED. Alibaba, who? The decision last month by the Chinese e-commerce giant to list in New York presented Hong Kong with an existential crisis. Now that seems like a distant nightmare, after China announced it would link the stock exchanges of Hong Kong and Shanghai and allow a combined $4 billion of daily cross-border trading.
Philosophy Politics Economics
The DAP welcomes the new appointment of Datuk Abdul Farid Alias as the new President and Chief Executive Officer of Malayan Banking Bhd (Maybank) to replace Datuk Abdul Wahid Omar who was tapped to be a Minister in the Prime Minister's Department. The position comes with the heaviest of responsibility to lead Malaysia's largest bank by assets, and the single largest Government-linked company by market capitalisation – RM40 billion - on Bursa Malaysia. We hope to see under Datuk Farid's leadership that Maybank will not only continue to be a giant in the country but will become a leader in Asia Pacific. According to the latest rankings from The Banker of The Financial Times, Maybank, with a tier-1 capital of US$12.61 billion (RM40.89 billion), is ranked 15th among Asia-Pacific (excluding China and Japan) banks. The bank is ranked 95th in the world.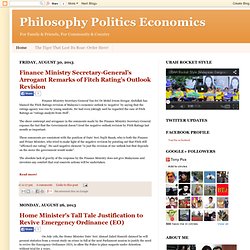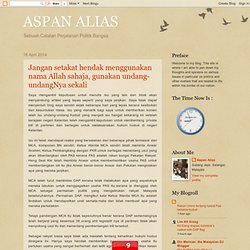 Negara kita sesungguhnya sedang berada dalam krisis yang amat genting sekali. Dalam semua bidang kita dalam krisis. Dalam bidang pentadbiran negara kita masih terbelenggu dengan isu rasuah yang semakin menjadi-jadi dan tidak nampak tanda-tanda ia akan terlerai. Laporan Ketua Audit Negara bagi 2013 masih menunjukkan betapa lemahnya kerajaan kita ditadbir oleh pemimpin-pemimpin lemah yang ada pada hari ini. Kita masih di dalam sebuah kerajaan yang rasuah dan salah tadbir yang amat serius. Inventory barangan dan kelengkapan yang tidak diselaras dengan betul kerana terlalu banyak barangan yang telah dibelanjakan masih berada dalam setor kerajaan sejak bertahun yang lalu yang sudah lusuh tidak digunakan dan ini semuanya pembaziran yang sangat mahal harganya.
ASPAN ALIAS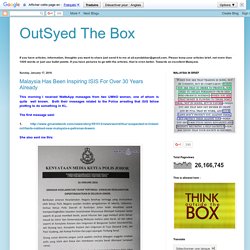 The following comment written by Tan Sri Mohd Sheriff Mohd Kassim appeared in The Star today. My comments follow. Poser over PAS tabling of hudud bill
OutSyed The Box
Sesame + Soy, G Hotel's Pan Asian Chinese Cuisine restaurant offers dining experience like no other in Penang. As a start, it is already unusual to find two complimentary yet different dining ambiance in one space. As you walk into the restaurant, you will be greeted first by Soy, a modern Asian bistro of sort, which is the more casual of the two.
My Food Fetish