Car Sharing
Blog. Line Up « BrisFest. "The PerformersThe Performers troupe come from P.D.M.S.L Dance School in Bristol which has a troupe of 80 dancers aged 4 to adult.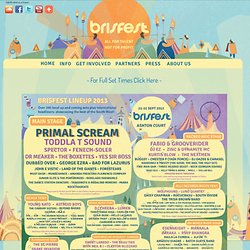 The company regularly combine their ages & perform together around the uk in styles such as Street, Hip Hop, Contemporary, Jazz & Musical Theatre. "The Performers" qualified for the over 18's street dance championships in 2013, they are also 2012 southwest division winners of Dance Make Your Move & the Junior squad "Junior Elite" took the 2013 title for the Junior division of Dance Make your Move Southwest. " Collaborative Fund.
Dropbox CEO: Why search advertising failed us. Dropbox founder and chief executive Drew Houston offered some details this afternoon about how he grew the company to more than 4 million users.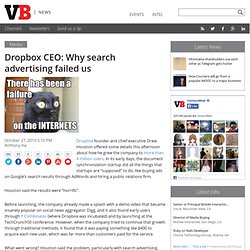 In its early days, the document synchronization startup did all the things that startups are "supposed" to do, like buying ads on Google's search results through AdWords and hiring a public relations firm. Houston said the results were "horrific". Launch announcement | WhipCar. Layered Transport Key to Mobile Ride-Sharing Service Success. Open Ride 0inShare Mention ride-sharing and the image that springs to mind is scrawled messages pinned to university noticeboards.
The Next-Gen Car Sharing Players: Spride, WhipCar, RelayRides. With Zipcar busy gobbling up car sharing competitors, a new generation of startups offering a peer-to-peer or distributed model of car sharing is taking shape.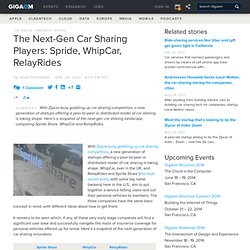 WhipCar, over in the UK, and RelayRides and Spride Share (the most recent entry, with some big name backers) here in the U.S., aim to put together a service letting users rent out their personal vehicles to members. The three companies have the same basic concept in mind, with different ideas about how to get there. It remains to be seen which, if any, of these very early stage companies will find a significant user base and successfully navigate the maze of insurance coverage for personal vehicles offered up for rental.
Here's a snapshot of the next-generation of car sharing innovators: Related articles about car sharing, smart transit and mobility on demand on GigaOM Pro (subscription required): Companies / Automobiles - Whipcar uses web to drive innovative r. It's a time-sharing world. Lisa Gansky joined me at GNN in 1994, which was the early days of the Web, long before an ecosystem of interconnected services emerged.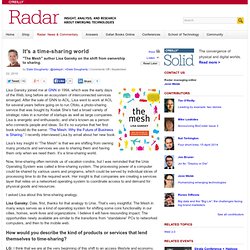 After the sale of GNN to AOL, Lisa went to work at AOL for several years before going on to run Ofoto, a photo-sharing service that was bought by Kodak She's had a broad variety of strategic roles in a number of startups as well as large companies. Lisa is energetic and enthusiastic, and she's known as a person who connects people and ideas. Avec Covoiturage.fr - Le site du covoiturage en Europe. JT TF1 : Le co-voiturage profite du chaos dans les airs - Les jo. French carpooling platform Comuto profits from volcanic cloud. There have certainly been a lot of travelers who have not appreciated the transportation issues caused by the recent volcanic eruption in Iceland.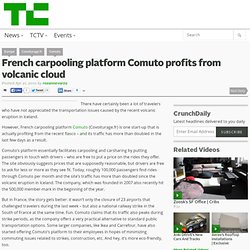 However, French carpooling platform Comuto (Covoiturage.fr) is one start-up that is actually profiting from the recent fiasco – and its traffic has more than doubled in the last few days as a result. Comuto's platform essentially facilitates carpooling and carsharing by putting passengers in touch with drivers – who are free to put a price on the rides they offer. The site obviously suggests prices that are supposedly reasonable, but drivers are free to ask for less or more as they see fit. French Website Makes Euro-Carpooling A Snap | Autopia. PARIS — Carpooling websites are experiencing a boom in popularity in Europe as commuters, fed up with rail strikes and as concerned about their pocketbooks as their carbon footprints, seek alternative methods of getting from Point A to Point B.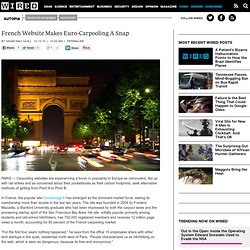 In France, the popular site Covoiturage.fr has emerged as the dominant market force, seeing its membership more than double in the last two years. The site was founded in 2004 by Frederic Mazzella, a Stanford University graduate who had been impressed by both the carpool lanes and the pioneering startup spirit of the San Francisco Bay Area. His site, initially popular primarily among students and old-school hitchhikers, has 750,000 registered members and receives 12 million page views a month, accounting for 85 percent of the French carpooling market. Mikini media gmbh.
Earlybird Magazine - Consumer Service 2.0 - page 4. ISAI investit 1,1 million d'euros dans Covoiturage.fr - Journal. Carpool Community Zimride Lands $1.2 Million In Seed Funding. Social ride-sharing start-up and FBfund recipient Zimride announces today a round of seed funding led by FLOODGATE, K9 Ventures and a group of angels including Keith Rabois and Teddy Downey.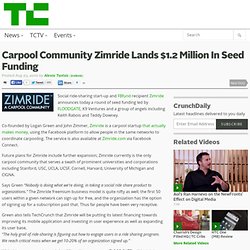 Co-founded by Logan Green and John Zimmer, Zimride is a carpool startup that actually makes money, using the Facebook platform to allow people in the same networks to coordinate carpooling. The service is also available at Zimride.com via Facebook Connect. Future plans for Zimride include further expansion; Zimride currently is the only carpool community that serves a swath of prominent universities and corporations including Stanford, USC, UCLA, UCSF, Cornell, Harvard, University of Michigan and CIGNA. Says Green "Nobody is doing what we're doing, in taking a social ride share product to organizations." Google-Backed RelayRides Lets Vehicle Owners Rent Cars for Cash.
RelayRides, a startup backed by Google Inc.'s venture arm and August Capital, is opening up shop in San Francisco today, letting the city's residents make money from their cars by sharing them with strangers.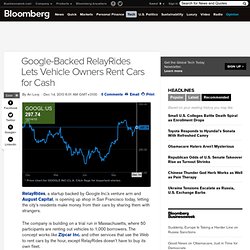 The company is building on a trial run in Massachusetts, where 50 participants are renting out vehicles to 1,000 borrowers. The concept works like Zipcar Inc. and other services that use the Web to rent cars by the hour, except RelayRides doesn't have to buy its own fleet. RelayRides started in June, joining the ranks of companies that help consumers turn their possessions into revenue producers.
San Francisco-based Getaround Inc. also lets users share their cars, while Airbnb Inc. allows people around the world to rent out spare bedrooms. At the SnapGoods site, users can borrow almost anything -- from a power drill to an ice-cream maker -- by the day. Zipcar buys U.K. car sharing company Streetcar for $50 million. Car sharing service company Zipcar today announced that it has acquired Streetcar, a similar venture that operates in the UK out of London.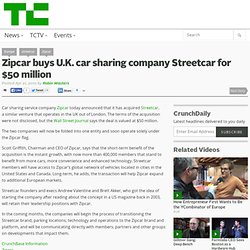 The terms of the acquisition were not disclosed, but the Wall Street Journal says the deal is valued at $50 million. The two companies will now be folded into one entity and soon operate solely under the Zipcar flag. Scott Griffith, Chairman and CEO of Zipcar, says that the short-term benefit of the acquisition is the instant growth, with now more than 400,000 members that stand to benefit from more cars, more convenience and enhanced technology. Streetcar members will have access to Zipcar's global network of vehicles located in cities in the United States and Canada. Long-term, he adds, the transaction will help Zipcar expand to additional European markets.
Form S-1. Video: Robin Chase, founder of Zipcar, GoLoco at AltWheels Bosto. How P2P car sharing could impact Zipcar IPO | Kachan and Co. Its CEO received an accolade last week. Yet, with 7,000 vehicles and more than 400,000 members, car sharing service Zipcar has struggled to reach profitability.A slump in average revenue per member over the last year and mounting fleet costs spelled a net loss for Zipcar of $4.67 million in 2009.
And according to recent company filings, it's now losing $4M-$5M a quarter with no guarantee of achieving profitability in 2010 or even 2011 … a familiar story from another large recent clean transportation IPO: Tesla.Now, a handful of so-called peer-to-peer (P2P) car-sharing startups think they have a solution that could let them become profitable faster, while bringing car sharing to more markets and more potential users. Are they friend or foe to car sharing companies like Zipcar?
Car Share Market size
---