Collaboration
After five years of connecting researchers at hundreds of universities and research institutes, we regret to announce that JournalFire has shutdown permanently as of October 15th, 2013. We would like to thank the entire JournalFire community for contributing to the site and supporting our mission to improve how scientific knowledge is shared. If you have any questions or would like to get in touch, you can contact us at support@journalfire.com John and Riccardo
JournalFire | Online Journal Clubs and Discussion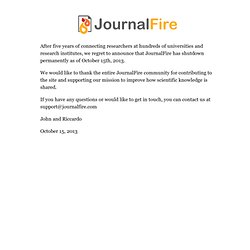 "I love that everything is inline! The enhanced PDF allows me to use the more easily-readable and more organized PDF format while retaining (and even improving) the functionality of an online-accessed, full-text article with hyperlinked references and supplements" Jordan Reuter Microbiology and Cell Science student University of Florida "I think that ReadCube is the best product on the market for managing a collection of papers.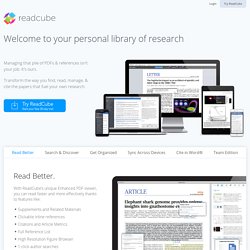 How We Help
DuraSpace | Open technologies for durable digital content
No more sending your stuff back and forth via email, just set up a pad, share the link and start collaborating! Etherpad allows you to edit documents collaboratively in real-time, much like a live multi-player editor that runs in your browser. Write articles, press releases, to-do lists, etc. together with your friends, fellow students or colleagues, all working on the same document at the same time.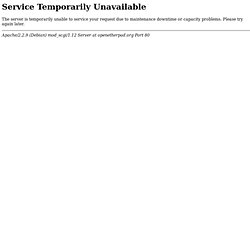 Connected. This pad seems to be opened in more than one browser window on this computer. Reconnect to use this window instead. Your permissions have changed while viewing this page.
PiH7Ncgr1f
We have prepared a short distillation of the project motivation, objectives, plans, criteria, and work for folks who want to contribute, or anyone who wants to know more about the project. The Liquid Publications Project is a Framework Program 7 ( FP7 ) funded research project in the Future and Emerging Technologies ( FET ) – OPEN series . This introduction to the project is intended to describe what we're trying to accomplish in a more publicly accessible form. In the following sections we will cover the Liquid Publications Project's motivation , objectives , potential benefits , challenges , and research plans .
A short introduction to the LiquidPub Project — LiquidPub Project
SynchroEdit
SynchroEdit is a browser-based simultaneous multiuser editor, a form of same-time, different-place groupware. It allows multiple users to edit a single web-based document at the same time, and it continuously synchronizes all changes so that users always have the same version. SynchroEdit's main editor is fully WYSIWYG, dynamically displaying bolds, italics, underlines, strikethroughs, with various justifications, indents and listing styles as an author inputs them.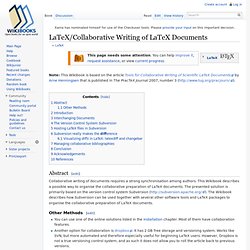 Note: This Wikibook is based on the article Tools for Collaborative Writing of Scientific LaTeX Documents by Arne Henningsen that is published in The PracTeX Journal 2007, number 3 (http://www.tug.org/pracjourn/). Abstract[edit] Collaborative writing of documents requires a strong synchronisation among authors. This Wikibook describes a possible way to organise the collaborative preparation of LaTeX documents. The presented solution is primarily based on the version control system Subversion (http://subversion.apache.org/).
LaTeX/Collaborative Writing of LaTeX Documents
About ALA Connect
What is ALA Connect? It's a centralized space where official ALA groups can work together online. In addition, it's a place where any member can create new communities (unofficial ALA groups) without any staff assistance, so the site combines association work with communities of interest in one place. Every active ALA working group has a space in Connect automatically, because we've pre-populated it with data from our membership database (iMIS), and we synchronize roster information nightly, so we'll always know which committees you're on and which other official ALA groups you're part of.