Collaboration
JournalFire | Online Journal Clubs and Discussion
How We Help
DuraSpace | Open technologies for durable digital content
PiH7Ncgr1f
Open Conference Systems (OCS) is a free Web publishing tool that will create a complete Web presence for your scholarly conference. OCS will allow you to: create a conference Web site compose and send a call for papers electronically accept paper and abstract submissions allow paper submitters to edit their work post conference proceedings and papers in a searchable format post, if you wish, the original data sets register participants integrate post-conference online discussions You can also take OCS 2 out for a test drive on our server .
Open Conference Systems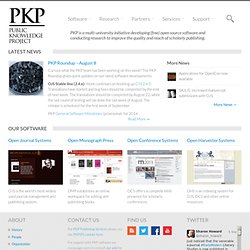 We have prepared a short distillation of the project motivation, objectives, plans, criteria, and work for folks who want to contribute, or anyone who wants to know more about the project. The Liquid Publications Project is a Framework Program 7 ( FP7 ) funded research project in the Future and Emerging Technologies ( FET ) – OPEN series . This introduction to the project is intended to describe what we're trying to accomplish in a more publicly accessible form. In the following sections we will cover the Liquid Publications Project's motivation , objectives , potential benefits , challenges , and research plans .
A short introduction to the LiquidPub Project — LiquidPub Project
www.cs.virginia.edu/papers/Collaboratories.pdf
SynchroEdit
The tutor's Online Toolbox.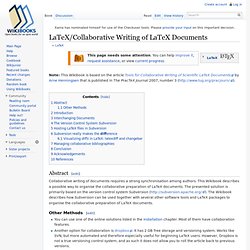 Note: This Wikibook is based on the article Tools for Collaborative Writing of Scientific LaTeX Documents by Arne Henningsen that is published in The PracTeX Journal 2007, number 3 ( http://www.tug.org/pracjourn/ ). [ edit ] Abstract Collaborative writing of documents requires a strong synchronisation among authors. This Wikibook describes a possible way to organise the collaborative preparation of LaTeX documents. The presented solution is primarily based on the version control system Subversion ( http://subversion.apache.org/ ).
LaTeX/Collaborative Writing of LaTeX Documents
About ALA Connect
What is ALA Connect? It's a centralized space where official ALA groups can work together online. In addition, it's a place where any member can create new communities (unofficial ALA groups) without any staff assistance, so the site combines association work with communities of interest in one place. Every active ALA working group has a space in Connect automatically, because we've pre-populated it with data from our membership database (iMIS), and we synchronize roster information nightly, so we'll always know which committees you're on and which other official ALA groups you're part of.