Psychologie du travail et des organisation
Coopération
What Does an Occupational Psychologist Do? The services of occupational psychologists are in increasing demand.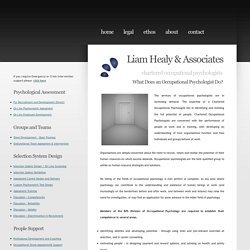 The expertise of a Chartered Occupational Psychologist lies in identifying and realising the full potential of people. Chartered Occupational Psychologists are concerned with the performance of people at work and in training, with developing an understanding of how organisations function and how individuals and groups behave at work.
Organisations are deeply concerned about the need to recruit, retain and realise the potential of their human resources on which success depends. Occupational psychologists are the best qualified group to advise on human resource strategies and solutions. Harcèlement au travail.
Clinique de l'activité. Management des organisations. Santé au travail. Collecte instrumentée des données. Actualité. Travail collaboratif et analyse de l'activité. Cogitacteurs 21e siècle.
---