Jasmine
#261 Testing JavaScript with Jasmine
froots/jasmine-sinon - GitHub
Testing Backbone applications with Jasmine and Sinon – Part 1 – Tinned Fruit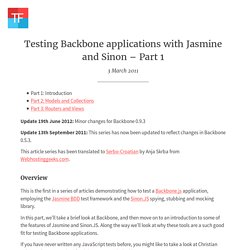 Overview This is the first in a series of articles demonstrating how to test a Backbone.js application, employing the Jasmine BDD test framework and the Sinon.JS spying, stubbing and mocking library. In this part, we'll take a brief look at Backbone, and then move on to an introduction to some of the features of Jasmine and Sinon.JS.
Test Driven Websites (TDD and BDD in RoR and JS)
Home > English , JavaScript , Programming > Testing events on jQuery objects with Jasmine Recently we had a piece of JavaScript code that looked roughly like this: So we wanted to test this using Jasmine. Our main goal was to test that when the button was clicked the form that contains it was being submitted. It would be cool if we could use Jasmine's spies: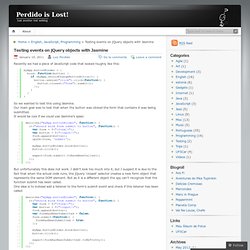 Testing events on jQuery objects with Jasmine « Perdido is Lost!
My comparison of JavaScript BDD frameworks resulted in choosing Jasmine to be my JS testing framework of choice. However, I'm doing a lot of jQuery based development, while Jasmine by design tries to stay DOM agnostic. It is not that big problem, as Jasmine is really flexible and open (I'll show in a moment how to manipulate DOM with jQuery using plain-vanilla Jasmine), but with a couple of tweaks packed into my jasmine-jquery plugin, jQuery users can make their life even easier. First, let's start with the simplest approach possible to test jQuery code in your Jasmine specs.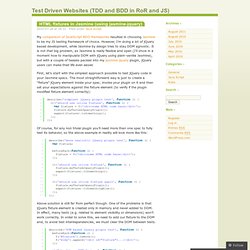 HTML fixtures in Jasmine (using jasmine-jquery) « Test Driven Websites (TDD and BDD in RoR and JS)
velesin/jasmine-jquery - GitHub
JavaScript testing with Jasmine
Pragmatic JavaScript Testing with Jasmine
As more and more parts of our applications are written in JavaScript, its important to have them covered with automated tests. Fortunately, there are numerous JavaScript testing tools available. As a BDD fan, the RSpec inspired Jasmine is currently my go-to.