Initiatives et société
Growstuff. Rencontrez quelqu'un, apprenez quelque-chose ! The Resilience Hub | Permaculture, Re-Skilling, Re-Localization. New Alchemy Institute and Green Center Archives - Falmouth, MA. Permaculture Certification Courses | General | Trainings. Permaculture Courses An internationally recognized, 72-hour training in the ethics, principles, methods, techniques, and practices of Permaculture Design Course "What permaculturists are doing is (some of) the most important activity that any group is doing on the planet.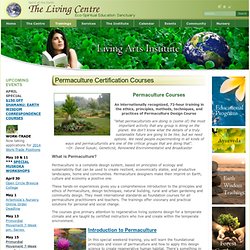 We don't know what the details of a truly sustainable future are going to be like, but we need options. Qu'est-ce que Yoyomolo ?  - Yoyomolo. YoyomoloTM What?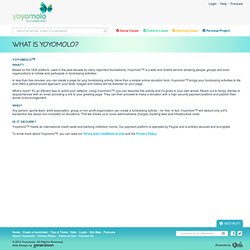 Based on the ODE platform, used in the past decade by many important foundations, YoyomoloTM is a web and mobile service allowing people, groups and even organizations to initiate and participate in fundraising activities. In less than five minutes, you can create a page for your fundraising activity. More than a simple online donation form, YoyomoloTM brings your fundraising activities to life and offers a personalized approach: your texts, images and videos will be featured on your page. Pleins feux sur l'entrepreneuriat 2013. Quantité non valide.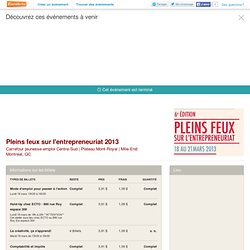 Veuillez entrer une quantité de 1 ou plus. La quantité choisie excède la quantité disponible. Veuillez entrer votre nom. Haricot | Accueil. Les Éditions Écosociété.
Art-Santé-Spiritualité - Bienvenue à l'Instant Présent. À qui la chance?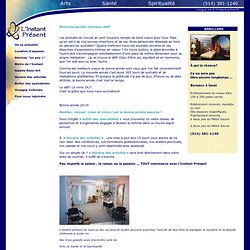 Ce ne sera pas libre encore longtemps ... Bureaux à louer Professionnels du mieux-être. 150 à 250 pieds carrés Entièrement rénovés, meublés ou non Des espaces magnifiques, Fraîchement rénovés à deux pas du Métro Sauvé à deux pas du Métro Sauvé. Éco-stage | Katimavik. Éco-stage de Katimavik est un programme de service volontaire en environnement qui s'adresse aux jeunes de 18-35 ans résidant au Québec.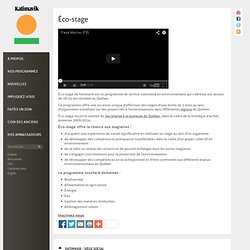 Ce programme offre une occasion unique d'effectuer des stages d'une durée de 3 mois au sein d'organismes travaillant sur des projets liés à l'environnement dans différentes régions du Québec. Éco-stage reçoit le soutien du Secrétariat à la jeunesse du Québec, dans le cadre de la Stratégie d'action jeunesse 2009-2014. Éco-stage offre la chance aux stagiaires : Centre l'Authentique. Accueil. Québec en Transition - Initiatives, villes, villages en Transition au Québec.
Contact. Bénévoles d'affaires - S_rie_ateliers_Alternatives.pdf (Objet application/pdf) Santropol. Associations. Transition. Jardinage.