Art
Photography
Colossal art and design blog. Painting On Water. This unknown artist seem to be taking the idea of watercolor quite literally.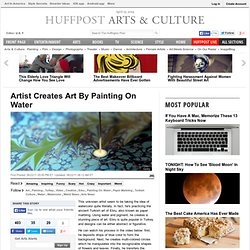 In fact, he's practicing the ancient Turkish art of Ebru, also known as paper marbling. Using water and pigment, he creates a stunning piece of art. Ebru is quite popular in Turkey and designs can be either abstract or figurative. He can watch his process in the video below: first, he deposits drops of blue color to form the background. Sketch Swap.
Design
Street Art. Cool Sculptures. Unique Art. Van Gogh's Paintings Get Tilt-Shifted (12 pics) After seeing how tilt-shift photography could make real world scenes appear like miniature models, Serena Malyon, a third-year art student, decided to simulate the effect on Van Gogh's famous paintings.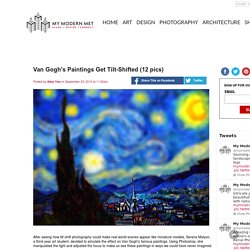 Using Photoshop, she manipulated the light and adjusted the focus to make us see these paintings in ways we could have never imagined. Amazingly, nothing in these paintings was changed, added or removed. The incredible illusions are all created by the magic of Photoshop. Update: Recently, I was able to get in touch with Serena to ask her how she came up with this idea.
---