Muslim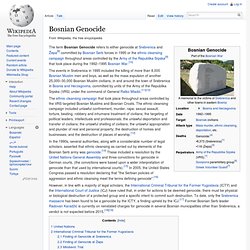 Bosnian Genocide
The term Bosnian Genocide refers to either genocide at Srebrenica and Žepa[8] committed by Bosnian Serb forces in 1995 or the ethnic cleansing campaign throughout areas controlled by the Army of the Republika Srpska[9] that took place during the 1992–1995 Bosnian War.[10] The events in Srebrenica in 1995 included the killing of more than 8,000 Bosnian Muslim men and boys, as well as the mass expulsion of another 25,000–30,000 Bosnian Muslim civilians, in and around the town of Srebrenica in Bosnia and Herzegovina, committed by units of the Army of the Republika Srpska (VRS) under the command of General Ratko Mladić.[11][12] The ethnic cleansing campaign that took place throughout areas controlled by the VRS targeted Bosnian Muslims and Bosnian Croats.
Map3.1NEW_Womens_Physical_Security_2011_compressed
The concept of marital rape is not recognised in Pakistani law.[1] Subjects covered within marital rape are delineated in multiple separate laws governing the people of Pakistan.[citation needed] The first is the Hudood Ordinance, an implementation of Islamic Shari'a law enacted in 1979. The second is the 2006 Women's Protection Bill which reformed many Hudood Ordinance laws that covered rape and adultery in Pakistan.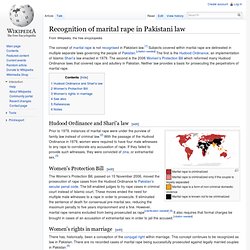 Recognition of marital rape in Pakistani law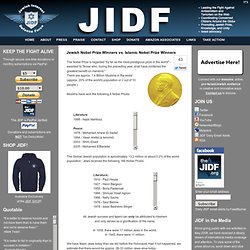 Jewish Nobel Prize Winners vs. Islamic Nobel Prize Winners | Jewish Internet Defense Force
Copyright © Jewish Internet Defense Force All Rights Reserved The views expressed on this website do not necessarily reflect the views of the JIDF.
Bride kidnapping
Thought to be a bride kidnapping in-progress in Central Asia, circa 1870. Bride kidnapping, also known as marriage by abduction or marriage by capture, is a practice in which a man abducts the woman he wishes to marry.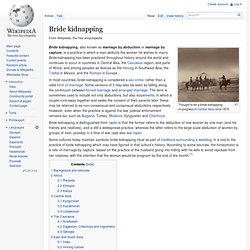 Al-Ghazali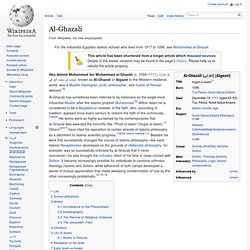 Abū Ḥāmid Muḥammad ibn Muḥammad al-Ghazālī (c. 1058–1111); (ابو حامد محمد ابن محمد الغزالي), known as Al-Ghazali or Algazel to the Western medieval world, was a Muslim theologian, jurist, philosopher, and mystic of Persian descent.[5]