Individual
Bad Baby Names - A Boy Named Sue, and a Theory of Names - John Tierney - New York Times
The Kübler-Ross model , commonly referred to as the " five stages of grief ", is a hypothesis introduced by Elisabeth Kübler-Ross [ 1 ] and says that when a person is faced with the reality of impending death or other extreme, awful fate, he or she will experience a series of emotional stages: denial, anger, bargaining, depression, and acceptance (in no specific sequence [ citation needed ] ).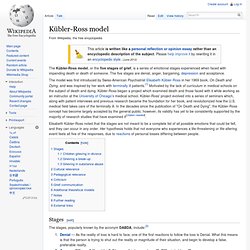 The theory of recapitulation , also called the biogenetic law or embryological parallelism —and often expressed as " ontogeny recapitulates phylogeny " —is a biological hypothesis that in developing from embryo to adult, animals go through stages resembling or representing successive stages in the evolution of their remote ancestors.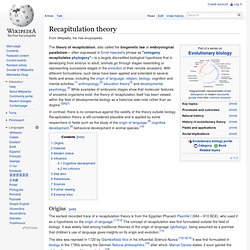 Recapitulation theory
List of people who have been called a "polymath"
Apoptosis ( pron.: / ˌ æ p ə ˈ t oʊ s ɪ s / also pron.: / ˌ eɪ p ɔː p ˈ t oʊ s ɪ s / ) [ 2 ] [ 3 ] is the process of programmed cell death (PCD) that may occur in multicellular organisms . [ 4 ] Biochemical events lead to characteristic cell changes ( morphology ) and death. These changes include blebbing , cell shrinkage, nuclear fragmentation, chromatin condensation , and chromosomal DNA fragmentation. (See also apoptotic DNA fragmentation .) In contrast to necrosis , which is a form of traumatic cell death that results from acute cellular injury, apoptosis generally confers advantages during an organism's life cycle.
Apoptosis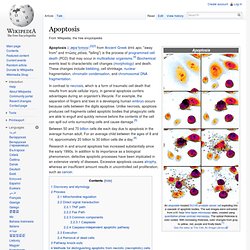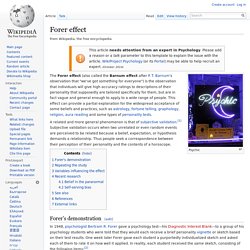 The Forer effect (also called the Barnum effect after P. T. Barnum 's observation that "we've got something for everyone") is the observation that individuals will give high accuracy ratings to descriptions of their personality that supposedly are tailored specifically for them, but are in fact vague and general enough to apply to a wide range of people.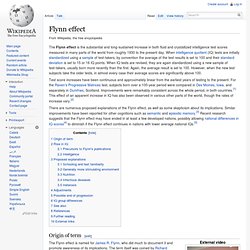 Flynn effect
The Flynn effect is the substantial and long-sustained increase in intelligence test scores measured in many parts of the world from roughly 1930 to the present day. When intelligence quotient (IQ) tests are initially standardized using a sample of test-takers, by convention the average of the test results is set to 100 and their standard deviation is set to 15 or 16 IQ points. When IQ tests are revised, they are again standardized using a new sample of test-takers, usually born more recently than the first. Again, the average result is set to 100. However, when the new test subjects take the older tests, in almost every case their average scores are significantly above 100. Test score increases have been continuous and approximately linear from the earliest years of testing to the present.
Kohlberg's Moral Stages
W.C. Crain. (1985). Theories of Development. Prentice-Hall. pp. 118-136.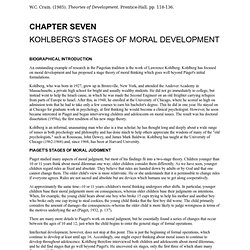 Piaget's theory of cognitive development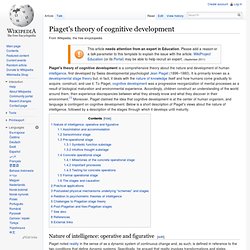 Piaget's theory of cognitive development is a comprehensive theory about the nature and development of human intelligence , first developed by Jean Piaget . It is primarily known as a developmental stage theory , but in fact, it deals with the nature of knowledge itself and how humans come gradually to acquire, construct, and use it. To Piaget, cognitive development was a progressive reorganization of mental processes as a result of biological maturation and environmental experience. Children construct an understanding of the world around them, then experience discrepancies between what they already know and what they discover in their environment. [ 1 ] Moreover, Piaget claims the idea that cognitive development is at the center of human organism and language is contingent on cognitive development. Below, there is first a short description of Piaget's views about the nature of intelligence and then a description of the stages through which it develops until maturity.