Hydrofoils
Jetfoil Lilau. Foilcat Barca. TurboJET jetfoil new colour. SeaPhantom Open Water Run. Hydrofoils. Hydrofoil craft are boats which typically possess a more or less conventional planing boat hull and which have one or more support arms extending from beneath the hull into the water.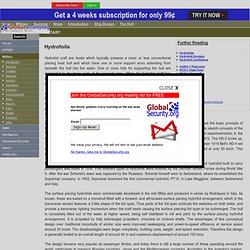 One or more foils for supporting the hull are connected to the lower ends of the support arms. When the hydrofoil craft has accelerated to a sufficient velocity through the water, the lift created by the foils raises the hull above the water's surface, thus eliminating the hull's resistance. ChubsaFOIL2. Seaplane History -Goose. HYDROFOIL -- High flying torpedo or low flying aircraft? Ray Vellinga edited video.
HYDROFOIL -- Harry Larsen's flying Bayliner. Ray Vellinga video. Résultats Google Recherche d'images correspondant à. Kolkhida.jpg (Image JPEG, 572x370 pixels) MIT OpenCourseWare | Mechanical Engineering | 2.23 Hydrofoils and Propellers (13.04), Fall 2003 | Home. This course deals with theory and design of hydrofoil sections; lifting and thickness problems for sub-cavitating sections, unsteady flow problems.
It focuses on computer-aided design of low drag, cavitation free sections. The course also covers lifting line and lifting surface theory with applications to hydrofoil craft, rudder, and control surface design. Topics include propeller lifting line and lifting surface theory; computer-aided design of wake adapted propellers, unsteady propeller thrust and torque. Résultats Google Recherche d'images correspondant à. HYDROFOIL -- The Amazing Boats of Kotaro Horiuchi. Video edited by Ray Vellinga. Welcome to YouTube!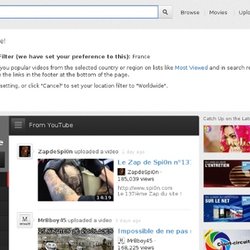 The location filter shows you popular videos from the selected country or region on lists like Most Viewed and in search results.To change your location filter, please use the links in the footer at the bottom of the page. Click "OK" to accept this setting, or click "Cancel" to set your location filter to "Worldwide".