KILLER READING
Why Most Published Research Findings Are False
Summary There is increasing concern that most current published research findings are false. The probability that a research claim is true may depend on study power and bias, the number of other studies on the same question, and, importantly, the ratio of true to no relationships among the relationships probed in each scientific field. In this framework, a research finding is less likely to be true when the studies conducted in a field are smaller; when effect sizes are smaller; when there is a greater number and lesser preselection of tested relationships; where there is greater flexibility in designs, definitions, outcomes, and analytical modes; when there is greater financial and other interest and prejudice; and when more teams are involved in a scientific field in chase of statistical significance.
Why Most Published Research Findings Are False
PMN presentations recomendations
by James Allworth | 11:38 AM October 24, 2011
Relaxed Consumers See Products as More Valuable - The Daily Stat - October 24
Knowledge growth and the allocation of time
Why Steve Jobs Matters to You - Bill Taylor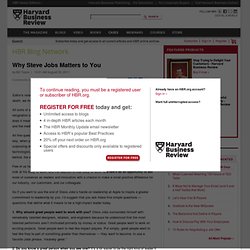 by Bill Taylor | 10:31 AM August 30, 2011 Editor's note: This post was written after Steve Jobs' resignation in August; upon the news of his death, we think it's worth another read.
How Great Companies Think Differently
Artwork: Sarah Morris, Midtown—HBO/Grace, 1999, Gloss household paint on canvas, 213.4 × 213.4 cm It's time that beliefs and theories about business catch up with the way great companies operate and how they see their role in the world today. Traditionally, economists and financiers have argued that the sole purpose of business is to make money—the more the better.