KILLER READING
Why Most Published Research Findings Are False
Why Most Published Research Findings Are False
PMN presentations recomendations
by James Allworth | 11:38 AM October 24, 2011 In the lead up to today's release of the Steve Jobs biography, there's been an increasing stream of news surrounding its subject. Relaxed Consumers See Products as More Valuable - The Daily Stat - October 24
Knowledge growth and the allocation of time
Why Steve Jobs Matters to You - Bill Taylor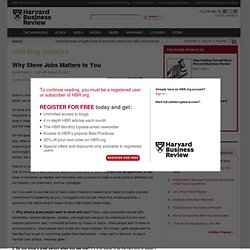 by Bill Taylor | 10:31 AM August 30, 2011
How Great Companies Think Differently
Idea in Brief Traditional theories of the firm are dominated by the notion of opposition between capital and labor, disconnecting business from society and posing conflicts between them. According to this view, companies are nothing more than money-generating machines.