KILLER READING
Why Most Published Research Findings Are False. Summary There is increasing concern that most current published research findings are false.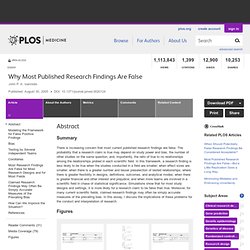 The probability that a research claim is true may depend on study power and bias, the number of other studies on the same question, and, importantly, the ratio of true to no relationships among the relationships probed in each scientific field. In this framework, a research finding is less likely to be true when the studies conducted in a field are smaller; when effect sizes are smaller; when there is a greater number and lesser preselection of tested relationships; where there is greater flexibility in designs, definitions, outcomes, and analytical modes; when there is greater financial and other interest and prejudice; and when more teams are involved in a scientific field in chase of statistical significance. Why Most Published Research Findings Are False.
PMN presentations recomendations. Steve Jobs Solved the Innovator's Dilemma - James Allworth. By James Allworth | 11:38 AM October 24, 2011 In the lead up to today's release of the Steve Jobs biography, there's been an increasing stream of news surrounding its subject. As a business researcher, I was particularly interested in this recent article that referenced from his biography a list of Jobs's favorite books. There's one business book on this list, and it "deeply influenced" Jobs. That book is The Innovator's Dilemma by HBS Professor Clay Christensen. But what's most interesting to me isn't that The Innovator's Dilemma was on that list. Relaxed Consumers See Products as More Valuable - The Daily Stat - October 24. Knowledge growth and the allocation of time.
Why Steve Jobs Matters to You - Bill Taylor. By Bill Taylor | 10:31 AM August 30, 2011 Editor's note: This post was written after Steve Jobs' resignation in August; upon the news of his death, we think it's worth another read.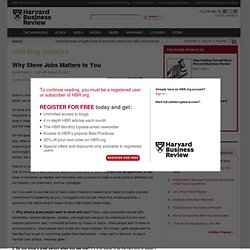 All sorts of commentators, on this site and elsewhere, are asking all sorts of questions about the resignation of Steve Jobs as CEO of Apple, Inc. What does it mean for the company's future? What does it means for the stock price? How Great Companies Think Differently. Idea in Brief Traditional theories of the firm are dominated by the notion of opposition between capital and labor, disconnecting business from society and posing conflicts between them.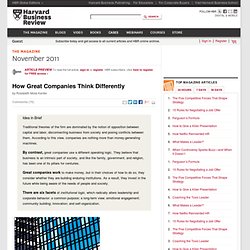 According to this view, companies are nothing more than money-generating machines.
---