Gala
Riusuke Fukahori Paints Three-Dimensional Goldfish Embedded in Layers of Resin | Colossal - StumbleUpon. First: watch the video.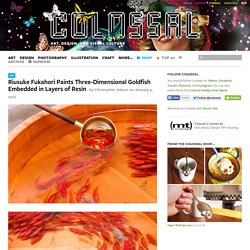 Japanese artist Riusuke Fukahori paints three-dimensional goldfish using a complex process of poured resin. The fish are painted meticulously, layer by layer, the sandwiched slices revealing slightly more about each creature, similar to the function of a 3D printer. I really enjoy the rich depth of the pieces and the optical illusion aspect, it's such an odd process that results in something that's both a painting and sculptural. Wonderful. MWM Graphics | Matt W. Moore - StumbleUpon. - StumbleUpon. Фото и рисунки, арт и креативная реклама. Sculptures Popping Out of Paintings - My Modern Metropolis - StumbleUpon. Oh, to have been in Tokyo in June!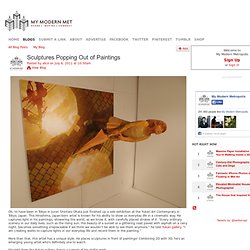 Shintaro Ohata just finished up a solo exhibition at the Yukari Art Contemprary in Tokyo, Japan. This Hiroshima, Japan-born artist is known for his ability to show us everyday life in a cinematic way. He captures light in his paintings, showering the world, as we know it, with carefully placed strokes of it. "Every ordinary scenery in our daily lives, such as the rising sun, the beauty of a sunset or a glittering road paved with asphalt on a rainy night, becomes something irreplaceable if we think we wouldn't be able to see them anymore," he told Yukari gallery.
"I am creating works to capture lights in our everyday life and record them in the painting."
---