Videos: funny, inspiring, just awsome
Elephant's Winter Joy. Elephant's Winter Joy.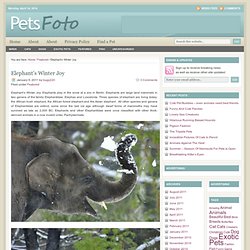 Elephants play in the snow at a zoo in Berlin. Elephants are large land mammals in two genera of the family Elephantidae: Elephas and Loxodonta. Three species of elephant are living today: the African bush elephant, the African forest elephant and the Asian elephant . Unusual And Creative Tattoo Ideas. Few days back we posted Tattoo Ideas for Science Lovers which was much liked by our readers.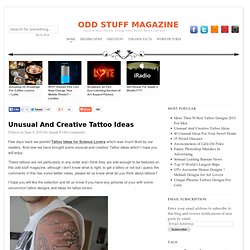 And now we have brought some unusual and creative Tattoo Ideas which I hope you will enjoy. These tattoos are not particularly in any order and i think they are odd enough to be featured on this odd stuff magazine, although i don't know what is right, to get a tattoo or not but i guess the comments in this has some better views, please let us know what do you think about tattoos?
I hope you will like the selection and let us know if you have any pictures of your with some uncommon tattoo designs and ideas for tattoo lovers. Time Sculpture. #p=rsgw1cfckc#p=o5uvs2vnbl#p=fsl4pn4jlk. #p=rsgw1cfckc#p=o5uvs2vnbl. #p=rsgw1cfckc. #p=agt8qf3bgd#p=vdmk8ybjvg#p=7u3mwt3rba#p=7xsgn8zu3r. #p=agt8qf3bgd.
#p=henpibkmwg#p=kezsn6pjkc#p=jt62s5awdw#p=m1fu2z5svu#p=rsxmhuqgbd. #p=henpibkmwg. #p=7svghgk61d. #p=z7mx6j6ry0. #p=n9xz10rdh0. #p=tnok0tfemi. #p=cukluke00x. Video#p=gajdbyu1oq. #p=65rjfnri3x. Katzenjammer - Demon kitty rag. #p=7okkso1p43. Reporter Slip Ups from That Happened! #p=ju1dqbldx2. #p=5n1wr1l458#p=x48seimeaj#p=9qtsm4xpa2. #p=xx34wxh258. #p=5n1wr1l458#p=x48seimeaj#p=9qtsm4xpa2#p=warcfx1405. #p=b8bhb6vtfz. #p=y8lzbamsah. #p=nrr9u3ahp7#p=#p=ek2ioxo696. #p=fgw38uk45g.
#p=s5zvg03u3c. #p=c5165w6f9y. #p=owi0jlvr7a. #p=yyidjqcu2w#p=bz6ai00ilv#p=jw3qd5mz9y. #p=gn2961owvz#p=5biw4wufc1. #p=7zu9lmw597. #p=8v5o7xdkvw#p=d3yy8vaiog#p=of4hwp23il. #p=80rmgecmf5. #p=sq4orn4hv2#p=#p=79ulsf1vn4#p=3aub5rawqf#p=2i2gbq1ctu. #p=t9jt3x0ki5. #p=fikhou3keu. #p=2dto03ozvw. #p=d9szu9i6nh. #p=el1o49xmr7#p=20lc8f42zv. #p=h1emhi1pnk. #p=el1o49xmr7. #p=8v5o7xdkvw.
#p=1atqt8sxyo#p=yedset1fdh. #p=4bmeg7y4qr. #p=vekh9dimrs. #p=l07zc2pacu. #p=5ocmnx48m5. #p=gn2961owvz. #p=b20qb2oq36. #p=86ry7kjmep. #p=sq4orn4hv2. #p=esfytlk71d. #p=ee5t0iqdml. #p=l07zc2pacu#p=sm8wszxkn5#p=7r9t72izzg#p=znxo3woa2s. #p=xsvfxw433d. #p=k1kegb27wi. #p=1atqt8sxyo. #p=rlkzvlvn1o. #p=sq4orn4hv2#p=#p=79ulsf1vn4#p=3aub5rawqf#p=2i2gbq1ctu#p=7a5qrltvty#p=w1zpfeg9l7#p=pisizc8hci.
---