Intel News
Mohamed Merah's Toulouse killing spree videos may have been posted online. By John Irish and Nicholas Vinocur Warning: story contains graphic content TOULOUSE, France — Mohamed Merah, the 23-year-old gunman who said al-Qaeda inspired him to kill seven people in France, filmed his three shooting attacks with a camera hung from his body and could have posted the clips online, it was revealed Thursday.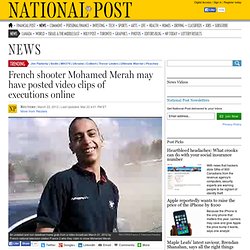 It's Time to Take Cybersecurity Seriously | Threat Level. The list is long, and growing: It seems that a week doesn't go by that some major company or agency isn't breached for fun or profit.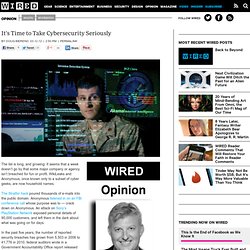 WikiLeaks and Anonymous, once known only to a subset of cyber geeks, are now household names. The Stratfor hack poured thousands of e-mails into the public domain. Anonymous listened in on an FBI conference call whose purpose was to — crack down on Anonymous. An attack on Sony's PlayStation Network exposed personal details of 90,000 customers, and left them in the dark about what was going on for days. Was body-in-the-bag spy Gareth Williams betrayed by a double agent? It's one of Britain's most baffling spy mysteries... and in a throwback to the dark days of the Cold War, a worrying theory has emerged about the death of body-in-the-bag spy Gareth Williams.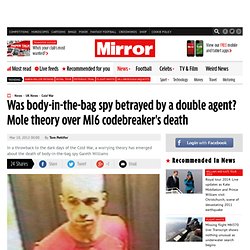 The expert codebreaker's decomposing body was found locked in a large sportsbag in the bath of his London flat in 2010. There were no obvious signs of how he died or who was responsible – with many claiming a "wall of silence" surrounding his death points to a cover-up at the very heart of the British establishment. BREAKING: TSA Threatens Mainstream Media Not To Cover Story « TSA Out of Our Pants! I've been on the phone all day for the last 2 days with reporters and journalists of all kinds, including the big bad MSM, and one South Florida reporter told me that he had been "strongly cautioned" by the TSA not to cover my viral YouTube video showing TSA nude body scanners to be completely worthless.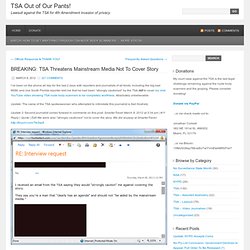 Absolutely unbelievable: Update: The name of the TSA spokeswoman who attempted to intimidate this journalist is Sari Koshetz. Update 2: Second journalist comes forward in comments on this post: SmarterTravel March 8, 2012 at 3:34 pm | #11 Reply | Quote | Edit We were also "strongly cautioned" not to cover the story. China Tried to Steal Secret of Titanium Dioxide: Feds - California-based couple targeted DuPont pigment: officials. TSA Pooh-Poohs Video Purporting to Defeat Airport Body Scanners | Threat Level. The government responded angrily Wednesday to a YouTube video allegedly showing a 27-year-old Florida man sneaking a metallic object through two different body scanner devices at American airports.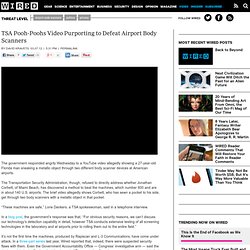 The Transportation Security Administration, though, refused to directly address whether Jonathan Corbett, of Miami Beach, has discovered a method to beat the machines, which number 600 and are in about 140 U.S. airports. The brief video allegedly shows Corbett, who has sewn a pocket to his side, get through two body scanners with a metallic object in that pocket. "These machines are safe," Lorie Dankers, a TSA spokeswoman, said in a telephone interview. In a blog post, the government's response was that, "For obvious security reasons, we can't discuss our technology's detection capability in detail, however TSA conducts extensive testing of all screening technologies in the laboratory and at airports prior to rolling them out to the entire field."
Huge death toll doubles in Yemen 'slaughter' NEW: 184 soldiers were killed in the Sunday attack, Yemeni officials sayNEW: A Yemeni government spokesman in Washington gives a much lower death toll 42 militants have been killed in air raids, according to Yemeni officialsThe militants were with Ansar al-Sharia, which is allied with al Qaeda in the Arabian Peninsula Sanaa, Yemen (CNN) -- The death toll from a sophisticated attack by Islamic extremists against soldiers in Yemen jumped to 184 Tuesday, three Yemeni officials told CNN.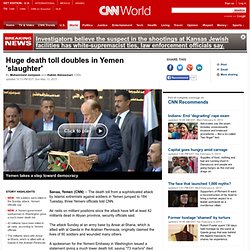 Air raids on militant positions since the attack have left at least 42 militants dead in Abyan province, security officials said. The attack Sunday at an army base by Ansar al-Sharia, which is allied with al Qaeda in the Arabian Peninsula, originally claimed the lives of 90 soldiers and wounded many others. A spokesman for the Yemeni Embassy in Washington issued a statement giving a much lower death toll, saying "73 martyrs" died in the "battles in Abyan. " Bin Laden document trove reveals strain on al-Qaeda. Bin Laden approved the creation of a counterintelligence unit to root out traitors and spies, only to receive a complaint in mid-2010 from the unit's leader that it was losing the "espionage war" and couldn't function on its paltry budget.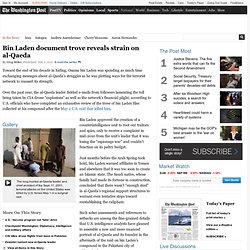 Just months before the Arab Spring took hold, bin Laden warned affiliates in Yemen and elsewhere that it was too soon to create an Islamic state. The Saudi native, whose family had made its fortune in construction, concluded that there wasn't "enough steel" in al-Qaeda's regional support structures to warrant even tentative steps toward reestablishing the caliphate. Such sober assessments and references to setbacks are among the fine-grained details that U.S. intelligence analysts have gleaned to assemble a new and more nuanced portrait of al-Qaeda and its founder in the aftermath of the raid on bin Laden's compound in the Pakistani city of Abbottabad.
Russia. Libya. Middle East. Odd and Ends. HBGary. Hacking. China.
---