Downed RQ-170
Avtobaza: Iran's weapon in alleged RQ-170 affair? - The DEW Line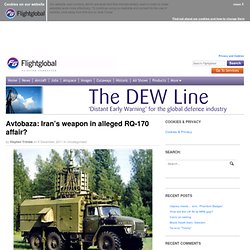 Could this be the smoking electron in the alleged unmanned air vehicle (UAV) incident over Iran? The original reports that Iran "shot down" a Lockheed Martin RQ-170 Sentinel appear to be misleading. Iranian news agency reports credited the army's electronic warfare unit with bringing down the UAV, but apparently in a way that limited the amount of damage on landing or impact.
Did Iran hijack the 'beast'? US experts cautious about bold claims. (Video)
An Iranian claim that it used cyberwarfare techniques to hijack a US stealth drone, getting it to land in that country, drew deep skepticism from some US cyberwarfare experts who doubt Iran's ability to carry out such an operation. Skip to next paragraph Subscribe Today to the Monitor Click Here for your FREE 30 DAYS ofThe Christian Science MonitorWeekly Digital Edition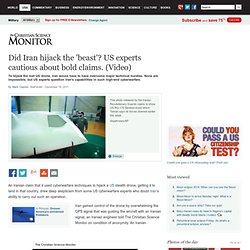 Does Iran have access to satellite jamming technology?
Iranian President Mahmoud Ahmadinejad ratcheted up claims surrounding the American drone the country claims it downed, telling Venezuelan state TV that it has been "able to control" it. "Those who have been in control of the spy plane will analyze the plane's system," Ahmadinejad bragged, according to CNN. "The systems of Iran are so advanced also, like the system of this plane."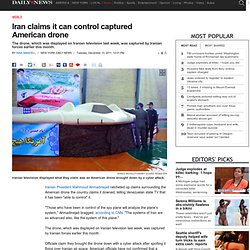 Iran claims it can control captured American drone  - NY Daily News
It Won't Be Easy for Iran to Dissect, Copy U.S. Drone | Danger Room
Prepare the dissection table. Iran says it's planning to disassemble its prized acquisition: a CIA-operated drone that apparently crashed in its territory. Its goal: to learn how the drone, apparently a stealth RQ-170 Sentinel, evades radar and how its top-secret sensors work.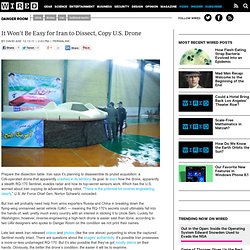 Video: Iran Shows Off Captured U.S. Drone, Swears It's No Fake | Danger Room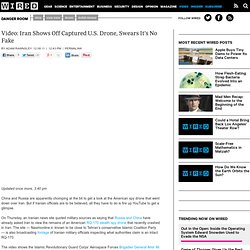 Updated once more, 3:40 pm China and Russia are apparently chomping at the bit to get a look at the American spy drone that went down over Iran. But if Iranian officials are to be believed, all they have to do is fire up YouTube to get a glimpse. On Thursday, an Iranian news site quoted military sources as saying that Russia and China have already asked Iran to view the remains of an American RQ-170 stealth spy drone that recently crashed in Iran.
WASHINGTON (Reuters) - The unmanned U.S. drone Iran said on Sunday it had captured was programmed to automatically return to base even if its data link was lost, one key reason that U.S. officials say the drone likely malfunctioned and was not downed by Iranian electronic warfare. U.S. officials have been tight-lipped about Iranian claims that its military downed an RQ-170 unmanned spy plane, a radar-evading, wedge-shaped aircraft dubbed "the Beast of Kandahar" after its initial sighting in southern Afghanistan. The U.S.-led NATO mission in Afghanistan said the Iranians might be referring to an unarmed reconnaissance aircraft that disappeared on a flight in western Afghanistan late last week. But they declined to say what type of drone was involved. A U.S. government source, who spoke on condition of anonymity, said the plane was on a CIA mission.
Malfunction likely put U.S. drone in Iranian hands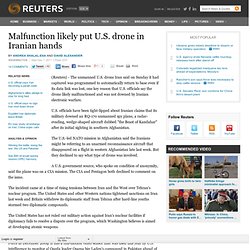 Iran Probably Did Capture a Secret U.S. Drone | Danger Room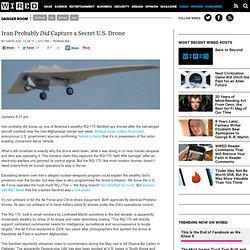 Updated 6:21 pm Iran probably did scoop up one of America's stealthy RQ-170 Sentinel spy drones after the bat-winged aircraft crashed near the Iran-Afghanistan border last week. Multiple news outlets have cited anonymous U.S. government sources confirming Tehran's claims that it's in possession of the radar-evading Unmanned Aerial Vehicle. What's still uncertain is exactly why the drone went down, what it was doing in or near Iranian airspace and who was operating it. The Iranians claim they captured the RQ-170 "with little damage" after an electronic-warfare unit jammed its control signal.
Reporting from Los Angeles and Washington — The radar-evading drone that crash-landed over the weekend in Iran was on a mission for the CIA, according to a senior U.S. official, raising fears that the aircraft's sophisticated technology could be exploited by Tehran or shared with other American rivals. It was unclear whether the drone's mission took it over Iran or whether it strayed there accidentally because of technical malfunctions, the official said. Though the drone flight was a CIA operation, U.S. military personnel were involved in flying the aircraft, said the official, who spoke on condition of anonymity because of the secrecy involved.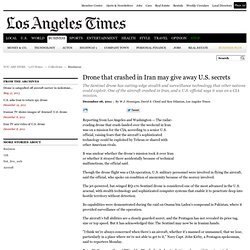 Drone that crashed in Iran may give away U.S. secrets - latimes.com
US considered covert mission to recover drone captured by Iran
Updated Dec. 5, 7:20 p.m. For the second time this year, the Iranian government is claiming it forced down a stealthy U.S. Air Force spy drone. Only this time, Iran says it bagged the RQ-170 "with little damage" by jamming its control signal — a potentially worrying development for American forces heavily reliant on remote-controlled aircraft. There are good reasons to question Iran's story — or at least parts of it. For starters, the earlier claim of a drone shoot-down proved false.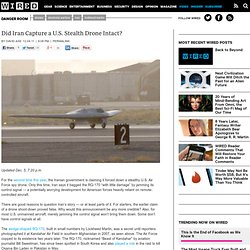 Did Iran Capture a U.S. Stealth Drone Intact? | Danger Room