Human Ressource
[Skillway] Ecole des conventions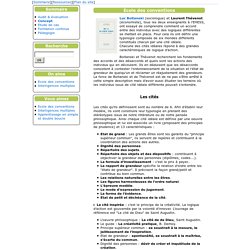 Luc Boltanski (sociologue) et Laurent Thévenot (économiste), tous les deux enseignants à l'EHESS, ont essayé de comprendre comment un accord entre des individus avec des logiques différentes se mettait en place.
En annonçant en mars dernier le lancement de plusieurs déclinaisons verticales de sa solution de réseau social d'entreprise, le fournisseur américain Jive Software a pour objectif de coller au plus près des besoins de différentes catégories d'utilisateurs.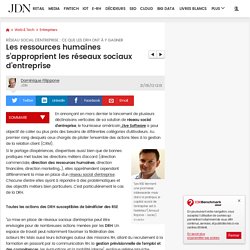 Les ressources humaines s'approprient les réseaux sociaux d'entreprise - Réseau social d'entreprise et RH - Journal du Net Solutions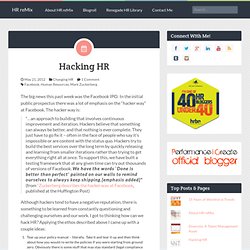 Hacking HR | HR reMix
The big news this past week was the Facebook IPO. In the initial public prospectus there was a lot of emphasis on the "hacker way" at Facebook.
Publié le 15/05/2012 à 15:14, mis à jour le 17/05/2012 à 13:44 BLOGUE. Dans le cadre de la conférence #140MTL, qui s'est déroulée mardi à Montréal, de nombreux aspects de l'impact des médias sociaux en entreprises ont été abordés.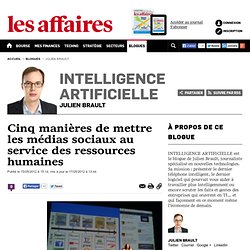 Cinq manières de mettre les médias sociaux au service des ressources humaines
HR Talk: Social media & learning (video)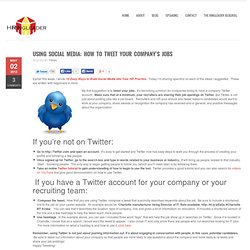 Earlier this week, I wrote 10 Easy Ways to Build Social Media Into Your HR Practice.
HR Ringleader | Using Social Media: How To Tweet Your Company's Jobs
Can you remember what you were doing a decade ago? Chances are that if you were working in HR 10 years back, you were devoting significantly more of your working time to administrative work than you might be in 2012. But you would also be more likely to have been engaged in strategic activities than you would be today. These are among the key findings of a new XpertHR report on long-term trends in HR roles and responsibilities.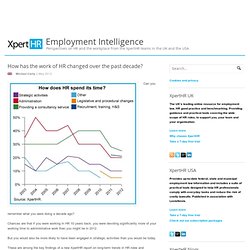 How has the work of HR changed over the past decade? (XpertHR - Employment Intelligence)
What Your Klout Score Really Means | Epicenter
Photo: Garry McLeod Last spring Sam Fiorella was recruited for a VP position at a large Toronto marketing agency. With 15 years of experience consulting for major brands like AOL, Ford, and Kraft, Fiorella felt confident in his qualifications.
Facebook In The Workplace = A Happier Work Force? - Hunt4Staff - Flat Fee Recruitment Specialists
« Pour une contre-culture du management »
XEnvoyer cet article par e-mail « Pour une contre-culture du management »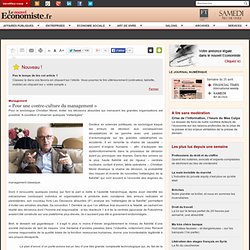 Et si on essayait de nouvelles méthodes de recrutement par l'apprentissage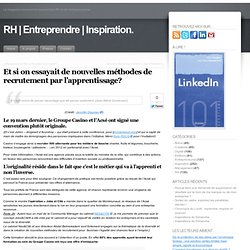 Il s'agit moins de penser davantage que de penser autrement. [Jean-Marie Domenach]
Yves Schwartz : "Des renormalisations permanentes"
schwartz_travail_ouvrier
jeudi 10. novembre 2011 , ganzer Tag — Historisches Museum, Bern, Orientalischer Saal
Créativité et Innovation - Manifestations - Manifestations - ASSH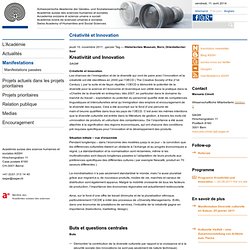 Cadre-Reference-Diversite
Quelle valorisation dans les entreprises ?
MAIN-D'ŒUVRE ETRANGERE ET DIVERSITE DES COMPETENCES - Quelle valorisation dans les entreprises ?, Alain Berset, Olivier Crevoisier, François Hainard, Serge Weygold
Travail immigrants