M-Commerce
Get flash to fully experience Pearltrees
Les années 2000 ont vu naître le e-commerce, 2011 accouche du m-commerce. Près d'un Français sur 10 a déjà fait un achat avec son téléphone portable, l'an prochain, ils seront deux fois plus nombreux.
J'ai été contacté récemment par les fondateurs de Peexter pour vous présenter leur initiative.
Avec la croissance fulgurante des ventes de smartphones et de tablettes, les distributeurs commencent-ils à s'approprier l'Internet mobile ?
We all knew the SoLoMo consumer was coming, the new consumer who shops – and experiences brands – with social, location-aware, and mobile technology. With news from Google and Groupon , the SoLoMo consumer is metamorphosing from a brand's worst nightmare or fabulous fantasy – depending on the point of view – into reality. Google is launching Google Wallet (California this summer) for the SoLoMo consumer, finally turning mobile handsets into viable payment devices; no more kludgy on-screen barcodes to wave in-front of scanners, smart phone NFC (near field communications) technology allows you to just tap your phone to Mastercard PayPass (EMV) readers at checkouts.
Questions pour Thomas France Directeur associé de Prixing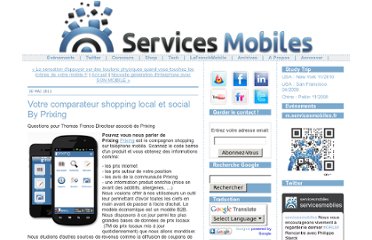 Approximately 30% of American mobile phone users have a smart phone and adoption rates are increasing.
(Paris - Relax news) - D'ici quatre ans, le nombre de paiements effectués depuis un téléphone mobile devrait atteindre les 45 milliards.
Lundi 21 mars Mobiles et PDA - 21 mars 2011 :: 14:47 :: Par Eric Non mais vous avez vu ce titre ?