Coupons
Google Offers expands to New York and San Francisco. Google Offers, the mega search company's Groupon competitor, launched in beta last month in Portland, and we knew it was only a matter of time before it started offering daily deals to the rest of the U.S.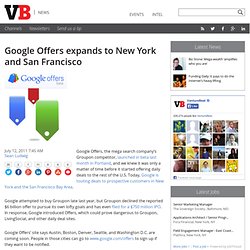 Today, Google is touting deals to prospective customers in New York and the San Francisco Bay Area. Google attempted to buy Groupon late last year, but Groupon declined the reported $6 billion offer to pursue its own lofty goals and has even filed for a $750 million IPO. In response, Google introduced Offers, which could prove dangerous to Groupon, LivingSocial, and other daily deal sites. Google Offers' site says Austin, Boston, Denver, Seattle, and Washington D.C. are coming soon. Foursquare Launching Daily Deals from LivingSocial, Gilt City, and More. Location-based social network Foursquare has teemed up with several daily deals sites to bring special personalized offers on the go.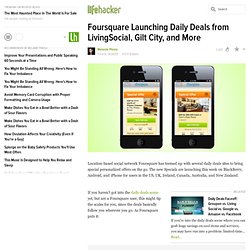 The new Specials are launching this week on BlackBerry, Android, and iPhone for users in the US, UK, Ireland, Canada, Australia, and New Zealand. If you haven't got into the daily deals scene yet, but are a Foursquare user, this might tip the scales for you, since the deals basically follow you wherever you go. As Foursquare puts it: If you're walking around and see a Special you like, a couple taps in your app and you'll be able to buy it, all without leaving foursquare. How the Economy Has Aided the Rise of Digital Coupons [INFOGRAPHIC] If you've ever been stuck in the checkout line behind someone redeeming a handful of paper coupons, you know that many people are still clipping them in the traditional sense.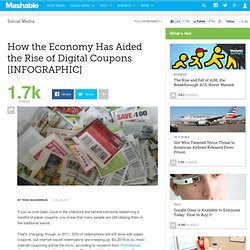 That's changing, though. In 2011, 53% of redemptions are still done with paper coupons, but Internet-based redemptions are creeping up. By 2014 or so, most Internet couponing will be the norm, according to research from Promotional Codes, which created this infographic. This shouldn't be too surprising. Fewer people are subscribing to traditional newspapers and getting the Sunday edition, which is stocked with free-standing inserts. Toute la réalité derrière les check-ins   J'utilise Foursquare régulièrement.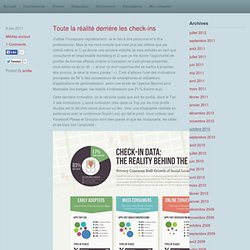 Je le fais à titre personnel et à titre professionnel. Mais je me rend compte que c'est plus par réflexe que par intérêt même si 1) ça donne une certaine visibilité de mes activités en tant que consultante et responsable marketing et 2) que ça me donne l'opportunité de profiter de bonnes affaires (même si l'occasion ne s'est jamais présentée… vous savez ce qu'on dit : « le jour où mon supermarché se mettra à proposer des promos, je serai la mieux placée !
»). C'est d'ailleurs l'une des motivations principales de 54 % des possesseurs de smartphones et utilisateurs d'applications de géolocalisation, selon une étude de l'agence Beyond pour Mashable (les badges, les statuts n'intéressant que 21 % d'entre eux). Les « bons plans » géolocalisés : le graal du marketing mobile ? Avec la croissance importante du nombre de smartphones (en ventes et dans le parc), les services de géolocalisation sur mobiles se sont multipliés ces derniers temps.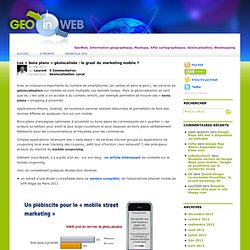 Mais la géolocalisation en tant que tel, c'est utile si on accède à du contenu enrichi, par exemple permettre de trouver des « bons plans » shopping à proximité. Applications iPhone, Androïd, de nombreux services existent désormais et permettent de faire des bonnes affaires en quelques clics sur son mobile. Bons plans d'enseignes nationales à proximité ou bons plans de commerçants de « quartier », les acteurs se battent pour avoir la plus large couverture et pour disposer de bons plans véritablement fidélisants pour les consommateurs et traçables pour les commerces.
Simples applications recensant des « daily deals » de services d'achat groupé ou applications de couponing local avec tracking des coupons, petit tour d'horizon (non exhaustif !) Des principaux acteurs du marché du mobile couponing. Size Does Matter: How Retailers Should Manage Campaigns For Big & Small Ticket Items. Big retailers with a substantial store presence most often have a big online presence with thousands of SKUs.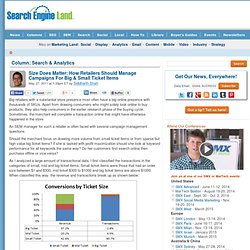 Apart from drawing consumers who might solely look online to buy products, they also help consumers in the earlier research phase of the buying cycle. Sometimes, the merchant will complete a transaction online that might have otherwise happened in the store. An SEM manager for such a retailer is often faced with several campaign management questions. Should the merchant focus on drawing more volume from small ticket items or from sparse but high value big ticket items? Google To Begin Charging For Directions Location Extensions.
Google announced they will begin charging for searchers clicking on the directions of the location extensions found on some AdWords ads.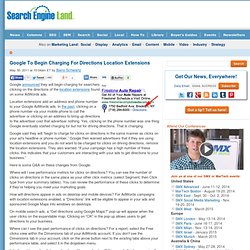 Location extensions add an address and phone number to your Google AdWords ads. In the past, clicking on a phone number via your mobile phone to call the advertiser or clicking on an address to bring up directions to the advertiser cost that advertiser nothing. Yes, clicking on the phone number was one thing Google eventually started charging for but not for driving directions. That is changing. Showroomprivé va lancer une activité de couponing | Achat groupé. Spread Button: le bouton de partage viral à destination des e-commerçants. Why Mobile Users Aren't Checking In [INFOGRAPHIC] Those who use social location-based apps such as Foursquare or Facebook Places represent just 17% of the mobile population, according to a study commissioned by digital agency Beyond and exclusively shared with Mashable.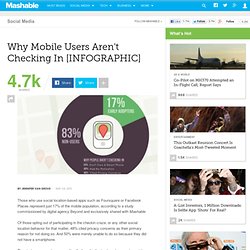 Of those opting out of participating in the checkin craze, or any other social location behavior for that matter, 48% cited privacy concerns as their primary reason for not doing so. And 50% were merely unable to do so because they did not have a smartphone. The study uncovered some positive findings for the top brand names in social networking (Facebook) and group buying (Groupon). Hotmail - - Windows Live.
---