Musique
THE LONESOME LINE | Free Music, Tour Dates, Photos, Videos
I try hard mix! by mo'fat management on SoundCloud
Alex Nevsky "Mille raisons" on Vimeo
TomBouctou in Quebec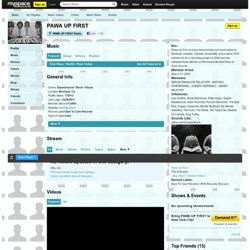 Bio: Pawa Up First is a live instrumental-rock band based in Montreal, Quebec, Canada. Essentially a four-piece, PUF started out as a recording project in 2004 and has released three albums on Montreal indie label Dare to Care records. .. Member Since: March 01, 2005 Members:
Myspace
Patrick Watson : index
Les 15, 16 et 17 novembre 2013, Patrick Watson présentera trois concerts exceptionnels à la magnifique Église Saint-Jean-Baptiste de Montréal. C'est après une série de prestations avec orchestres à l'international que le groupe sera sur scène à Montréal accompagnés de l'Orchestre Cinéma l'Amour, un ensemble symphonique de musiciens issus de la scène locale, spécialement conçu pour l'occasion. Ne manquez pas cet événement unique. Les billets seront en vente le vendredi 7 juin à midi.Cliquez ici pour acheter vos billets. On November 15th, 16th and 17th 2013, Patrick Watson will be performing three special concerts at the magnificent Église Saint-Jean-Baptiste in Montréal. Following a series of orchestral shows internationally, the band will return to perform at home accompanied by the Orchestre Cinéma L'Amour, a symphony orchestra built from scratch with local musicians for the occasion.