Fanfiction
The Marriage Stone
Bonjour à tous et Bienvenue sur le Forum Yaoi-Mania, consacré totalement à notre passion commune, le Yaoi ! Venez partager vos Fanarts, vos Fanfictions, rassasier votre appétit de lecteur, jouer, participer à des Concours, échanger des Coups de Coeur, rencontrer des Yaoistes ... Je rappelle que le Yaoi concerne des relations homosexuelles explicites, en conséquent, il est rappelé aux mineurs qu\'ils sont là en leur âme et conscience, les rating indiquant le potentiel choquant des fictions étant annoncés au début de chaque fiction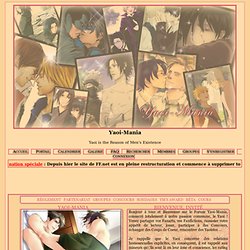 Yaoi-Mania
Choixpeau Magique. Les Patacitrouilles Yaoistes sont une équipe de bénévoles passionnés qui se sont fixés comme but de rendre accessible aux francophones la lecture de fanfictions slash sur Harry Potter en traduisant des histoires qu'elles jugent incontournables. Pour y parvenir, les Patacitrouilles Yaoistes se sont organisées en différentes équipes d'entraide (traducteurs, bêta-readers) et, munies de leurs petits Oxford et Larousse sous le bras, ont posé leurs valises ici même. Venez nous rejoindre dans cette aventure !
Les Patacitrouilles Yaoistes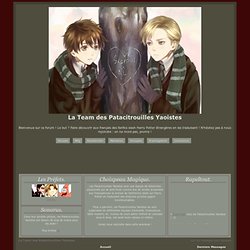 Atramentum Rutilus Kaikias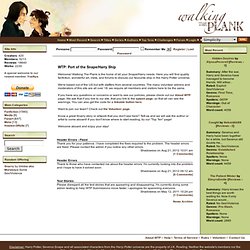 Header Errors - Fixed Thank you for your patience. I have completed the fixes required to the problem. The header errors are fixed. Please contact the admin if you notice any other errors.
Intertexius
Ron and Hermione have been together since Hogwarts. Now, as the real world sinks in, life has become dull for Ron. He wants spark in his life, and as for Hermione, she wants to settle down. Ron finds his spark, and in doing so, crumbles their relationship. 3 years later, Ron is miserable and still thinking about the girl that left him. What is she up to? Where has she been?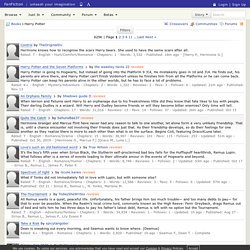 Nat-kun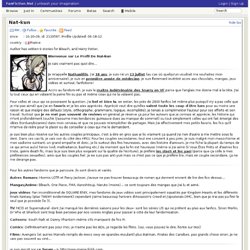 Author has written 9 stories for Bleach, and Harry Potter. Bienvenue sur Le Profil De Nat-kun Je sais vraiment pas quoi dire... Fics Finies: L'Ange Noir
ressources pour Fan Fiction