Sites & blogs
Blog Le Cube | digital Stuff - Culture Digitale & Geek : Musique, Cinema & TV, Jeux vidéo, Design, Technologies, Marketing, Media...
Quelques ressources pour graphistes - Ecrit par clement le Mercredi 21 janvier 2009 | catégorie : Epicé-Hot - Mots clefs : Graphiste, Photoshop, Webdesign Une collection de clipart noir et blanc très riche : plantes décoratives, animaux, scène historique, chimie, … Allez petit graphiste, soit content, je sais que tu as toujours rêver d'un clipart d'une compresseur à air ! C'est sur etc.usf.edu (attention aux droits comme même !). Une collection de carte de Mars Attacks, superbe mais la définition trop pourrie : mars attacks cards.
Graphiste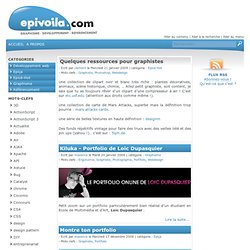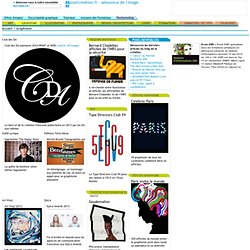 > Abonnez-vous à notre newsletter Accueil > Graphisme Art Vinyl Art Vinyl 2013 Les meilleures couvertures d'albums vinyl de l'année primées par le vote du public Gaîté Lyrique
Neville Brody, un graphiste très talentueux !
Neville Brody (né à Londres le 23 avril 1957) est un graphiste, créateur de caractères et directeur artistique britannique. C'est un des designers et directeurs artistiques les plus reconnus de sa génération. Figure emblématique de la culture graphique, inventeur de la typographie moderne [comme le "Blur", typo mythique des année 80], il a considérablement bousculé les conventions et développé de nouveaux systèmes de communication, nous dit wikipédia. On retrouve ses oeuvres en maquette dans des magazines cultes, The Face, Arena (voir la vidéo ci-dessous), City Limits Magazine, Lei, Per Lui ou Actuel. Il a aussi publié deux livres, véritables références en matière de design graphique : The graphic language of Neville Brody (1988) et The graphic language of Neville Brody 2 (1994) [dont sont extraits la plupart de mes exemples]. En 1986 il fonde un studio de graphisme à Londres qui s'appelera Research Studios en 1994, et emploie une dizaine de personnes.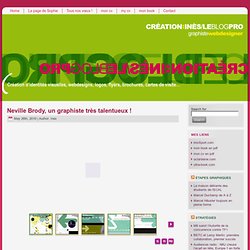 Découvrir tous les graphistes et designers France et monde: Encyclopédie graphique
Clik clk – Blog D'inspiration : Graphisme, Photographie & Mode » Matt W. Moore