Websites
Books Every Geek Should Read to Their Kids. The Invention of Hugo Cabret is a lovely homage to early French film making and a most creative book.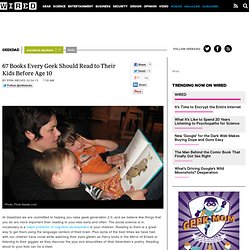 Part novel and part picture book, the story lends to reading aloud while discovering together how Brian Selznick uses images to tell the story. Erik Wecks Here the characters are the stars. Reading a conservative mole, an adventurous water rat and a profligate toad is wonderful fun. Plus Kenneth Grahame's The Wind in the Willowsthe story is great.
Erik WecksPoignant, sad and yet beautiful in the end. The 21 Best Of The Conspiracy Keanu Meme. Infographics. Newser | Headline News Summaries, World News, and Breaking News.
News
---