Looks
Darken & Shape Your Eyebrows - New, Innovative and Simple Eyebrows Solution
Smoky Eye Guide | The Untrendy Girl | A Beauty Guide with Heart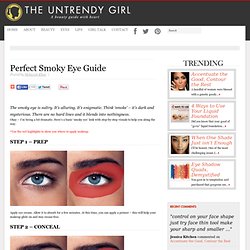 The smoky eye is sultry. It's alluring. It's enigmatic. Think 'smoke' – it's dark and mysterious. There are no hard lines and it blends into nothingness. Okay – I'm being a bit dramatic.
It´s saturday, I´m back in beautiful Monaco and life is good! As you all know I´m addicted to brown eyeshadows because it´s sofisticated, beautiful and goes with everything. However, sometimes plain brown can be a bit boring and since it´s saturday I decided to leave my comfort zone and do it with a twist.
Makeup tutorial - brown with a twist - StumbleUpon
smokey eyes
A friend of mine asked me if I could do a smokey eye with brown eyeshadow and showed me a picture from the Maje spring summer collection. My friend has big beautiful green eyes so I chose quite a reddish brown which will make green eyes pop even though it suits other eye colours as well. I tried to keep it simple and use few products because I know how annoying it can be to see a look you like but there´s just too many products you´ll need so this look I think is very achievable without spending much money.. if anything as you probably have all you need already :) This was the picture she showed me (I´m sorry for the blurr, but it was the best pic I could find): 1. Start with a clean face and prep your eyes with a primer/base and apply a concealer underneath the eyes.