Food
What Should I Eat? Produce Aisle Edition (Flowchart. 8 Substitutions for a Healthier Kitchen. Easy substitutions for a plant-based lifestyle.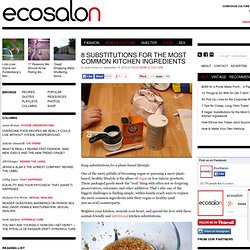 One of the nasty pitfalls of becoming vegan or pursuing a more plant-based, healthy lifestyle is the allure of vegan or low-calorie products. These packaged goods mock the "real" thing with often not so forgiving preservatives, colorants, and other additives. That's why one of the biggest challenges is finding simple, within-hands-reach ways to replace the most common ingredients with their vegan or healthy (and just-as-real) counterparts. Low Fat Vegan Black Bean Brownies (Gluten-Free) Black bean brownies have made their rounds in the diet circuit for years and more recently have popped up on vegan blogs.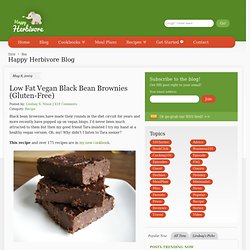 I'd never been much attracted to them but then my good friend Tara insisted I try my hand at a healthy vegan version. Oh, my! Why didn't I listen to Tara sooner? This recipe and over 175 recipes are in my new cookbook. 13 Life Changing Ways To Eat Food. Www.menshealth.com/mhlists/healthy-food-combinations/printer.php. Who came up with the idea that we are supposed to drink orange juice at breakfast?
And why, if oatmeal is so good for us, do we eat that only in the morning as well? Apologies to the Palinites, but nutritionists are starting to realize that you and I like our oatmeal and OJ before we start the day because we evolved to like it that way—because enjoying the two together is healthier than eating each of them alone. Epidemiologist David R. Jacobs, Ph.D., of the University of Minnesota calls it food synergy, and he, along with many other nutritionists, believes it might explain why Italians drizzle cold-pressed olive oil over tomatoes and why the Japanese pair raw fish with soybeans.
Watch Food That Kills Documentary Online Free. Thomas Edison was right about the importance of diet but wrong with his prediction about the future of doctors and medicine.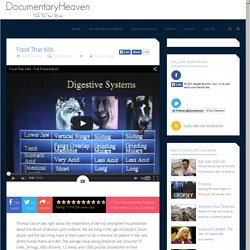 We are living in the age of Edision's future doctor and the last thing many of them seem to do is interest his patient in the care of the human frame and diet. The average meat eating American will consume 15 cows, 24 hogs, 900 chickens, 12 sheep and 1,000 pounds of birds/fish in their lifetime which is a tremendous amount of animal flesh to be consumed by the human body. Hass Avocado Board: Browse Vegetarian Avocado Recipes. Manifest Vegan: Vegan and Gluten Free Recipes. Challenge 9: Glazed Chocolate-Avocado Cupcakes. I know what you might be thinking. . .avocado and chocolate?!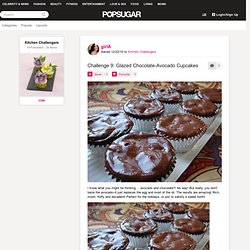 No way! But really, you don't taste the avocado--it just replaces the egg and most of the oil. Vegan Avocado Frozen Yogurt. If you love a weekend frozen yogurt treat but are looking for vegan options, this avocado frozen yogurt that reader OneHungryMess posted in the Healthy Recipe community group may be just what you need.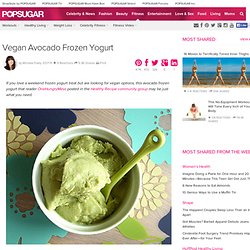 Check out the full recipe after the break! Ingredients Serves 2-3 1 1/2 ripe avocados 2 tablespoons lemon juice 3 tablespoons stevia (or to taste) 2- 4 oz containers soy yogurt ( I used Stoneyfield peach and strawberry flavors) 1/2 cup soy/almond milk 1 tablespoon lemon zest 1 teaspoon vanilla extract Directions. Grilled California Avocado Quesadilla Recipe :: Hass Avocado Recipes, Fresh Avocado Recipe. Vegan Breakfast Sandwich Recipe :: Hass Avocado Recipes, Fresh Avocado Recipe. Mexican Pizza Recipe :: Hass Avocado Recipes, Fresh Avocado Recipe. Vegan Enchiladas (Super Fast & Easy) | vegangela. I've been making this recipe for years because it's so delicious – and by keeping frozen corn tortillas and store-bought enchilada sauce on hand, I can whip-up homemade vegan enchiladas in no time.
Updates June 5, 2013 – I went to a new grocery store the other day and found fresh corn tortillas and vegan enchilada sauce, so I made these again and added some new photos of the recipe process. Vegan Taco Salad with Homemade Tortilla Bowls | vegangela. My awesome little mama has been cooking up a storm for me during my stay in Ottawa and I thought it only fair that I return the favor by making her lunch earlier this week.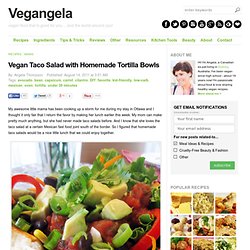 My mom can make pretty much anything, but she had never made taco salads before. And I know that she loves the taco salad at a certain Mexican fast food joint south of the border. Quick & Easy Tofu Sandwich | vegangela. I started making this sandwich back in high school, and although I don't consider it a real "recipe", it's something that I make from time to time when I'm craving a sandwich or I'm in need of a quick meal.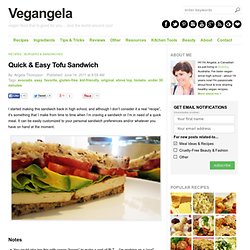 It can be easily customized to your personal sandwich preferences and/or whatever you have on hand at the moment. Quick & Easy Tofu Sandwich. Eggplant and Portobello Stuffed Peppers. Stuffed Tomatoes. Zucchini Bites. My Dad's "Not-Mutton" Mushroom Curry | Holy Cow! Vegan Recipes|Eggless Recipes|Dairy-free Recipes|Indian Recipes. I grew up in a meat-eating household and one of our family's long-standing traditions was a mutton curry that my dad prepared each Sunday.My dad, who was very handy around the kitchen unlike many men of his generation in India, would do most of the work, right from buying the meat in the morning to actually cooking it, as well as supervising everyone in the household who had some role to play in the actual preparation.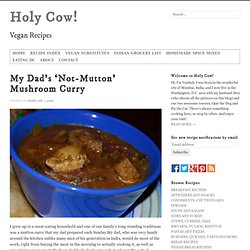 My job was peeling a whole bulb of garlic and grating two kinds of coconut, fresh and dry. I hated both jobs: the juices from the garlic set my fingernails on fire, and I don't remember a time when I didn't grate my hand along with the coconut! But I did love that curry. I can close my eyes and still see my dad standing over a two-burner stove in our Bombay kitchen, carefully roasting the spices and then grinding them to perfection in a little blender.
Sweet Potato Cakes. Squash Risotto Recipe. Low-Carb Risotto | vegangela. Vegan MoFo #25 – My favorite risotto recipe is easily my mushroom risotto. I love the creaminess of the rice, and the earthiness of the various mushrooms and truffle oil. It requires opening a bottle of white wine, and I enjoy the process of making it: add broth… stir rice… sip wine… repeat! However, I know that the white arborio rice used to make traditional risotto isn't all that healthy. So I sometimes feel a bit guilty after eating it (especially when I go back for seconds!) I had heard about people using cauliflower to replace mashed potatoes or white rice. Quinoa-Stuffed Thanksgiving Squash | vegangela. Vegan MoFo #24 – When One Green Planet approached me last week and and asked if I could submit an original vegan Thanksgiving recipe, I jumped at the chance.
Although I cook almost everyday, I don't often keep track of ingredients and whatnot. This was an opportunity to create and document a real recipe, from scratch. Homemade Vegan Cheese | vegangela. Despite being vegan for many years, I've never attempted to make my own vegan cheese. The process always seemed a bit daunting and since I went vegan in the Southern United States in the mid-90s, I quickly got used to living without cheese alternatives (or any processed vegan food for that matter!)
Sure, I love a nutritional cheese sauce as much as the next girl, and I've enjoyed a couple pizzas here and there sprinkled with Vegan Gourmet or Daiya, but other than that, vegan cheese hasn't played a big part in my diet. Mushroom Mini Quiches | vegangela. Warning: this is another post for mushroom-lovers. If you're not a fan of them, then you may want to escape to chocolate-land and forget that you ever saw this. Ok, onto the fungi. Once again, I have gone overboard at the farmer's markets, and last week I found myself with way too many mushrooms.
Vegan Meatballs (Mushroom "Neat" Balls) | vegangela. I cut this recipe from Vegetarian Times magazine about 10 years ago (am I really this old?!) And it sat untried in my recipe binder until I finally got around to "veganizing" it this year. I've since made it a few times because it's just so delicious and I can freeze half the batch, which is a great way to punch-up plain pasta when I'm in a rush. The trick to this is to use Arborio (risotto) rice, which makes everything "gluey" and stick together. Minestrone. Roasted Garlic Butternut Squash and Apple Soup. Wild Mushroom Lentil-Veggie Soup. My Mother's Broccoli Casserole. Southwest Sweet Potato Chickpea Delight. Mind Blowing Carrot Salad. Vegan Taco Soup. Awesome Spicy Black Bean Chili. Black Bean Sweet Potato Chili. Stuffed Pepper Soup. Ultimate Vegetarian Chili. Mushroom Stew. Raw Ice Cream Sandwiches: Two Ways. Avocado Fries. Praline Sweet Potato Casserole. Seasonal Fruits and Vegetables – Seasonal Fruits and Vegetables Listed by Season.
24 Superfruits You Need Now! Vegan Coach. Vegan Basics: How To Cook Dried Beans. Food Hacks News, Videos, Reviews and Gossip - Lifehacker. Does Microwaving Veggies Kill the Nutrients? | Healthy Living. What Foods Don't I Need to Refrigerate? How to Select Fresh, Ripe Produce. Organic Food Buying Cheat Sheet. Community Supported Agriculture: What It Is and Why You Should Join. Coconut Whipped Cream.
Navitas Naturals Organic Raw Cacao Power, Mayan Superfood, 16oz. Navitas Cacao Nibs 16 oz. Chocolate: A Superfood for Teeth. Ice Cream, Hold the Cream. How to feed a vegan. I Breathe...I'm Hungry...: Zero Net Carb Flax & Parmesan Pizza Crust. Bread 2.0 | Gluten Free Bread Recipe. ~pjgh : påleo: Coming in From the Cold. Living in the ice age: Cream Cheese Pancakes. Recipe for Roasted Green Beans with Mushrooms, Balsamic, and Parmesan. Crispy Roasted Chickpeas (Garbanzo Beans) with Moroccan Spices. Kalyn's Kitchen. Recipe for Roasted Butternut Squash with Rosemary and Balsamic Vinegar. Gluten Free Recipes. Gluten Free Recipes / Grilled Zucchini Pizza Slices. The best bagels taste tested.
---