Clothes
Made my own Mod Cloth dress. I saw this dress on Mod Cloth months ago, way before it was warm enough to wear, and thought, "Wow, that's a unique design.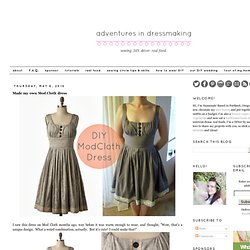 What a weird combination, actually. But it's cute! I could make that! " Shop - Top-rated laundry detergents revealed. Host a Clothing Swap and Overhaul Your Wardrobe for Free. The DIY Stain Removal Infographic Is a Quick Reference for Cleaning Common Stains. Get Rid of Underarm Stains and Keep Them Away. Spice Up Your Wardrobe This Weekend (Without Spending a Dime) Mix up your outfits.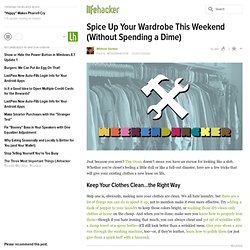 Take your belts and layering pieces and hang them next to different pieces than you usually wear them with. If you wear pants that aren't jeans, pair them up with other tops. This works especially well with simple pieces, since they can look dramatically different depending on what you wear them with. Go through your closet looking for things that are attractive and in good condition, but that you don't wear much. Sure, sometimes you'll remember the reason you don't wear that sweater is because it's itchy, but sometimes things also get pushed to the back of the closet for no apparent good reason. Missguided | women's fashion clothing | online shop. Girls - dresses - stacy. Girls - a&f classic pretty - rebecca. Girls - a&f classic pretty - brenna. Shop Vintage Mavens. Cut-out Heels 24/50. MINI-WEDGE ANKLE BOOT - Shoes. Keds, Shoes Search 6pm.com.
Seychelles Footwear.
---